Adlouni will be speaking at Canadian Lawyer's LegalTech Summit, on Tuesday June 29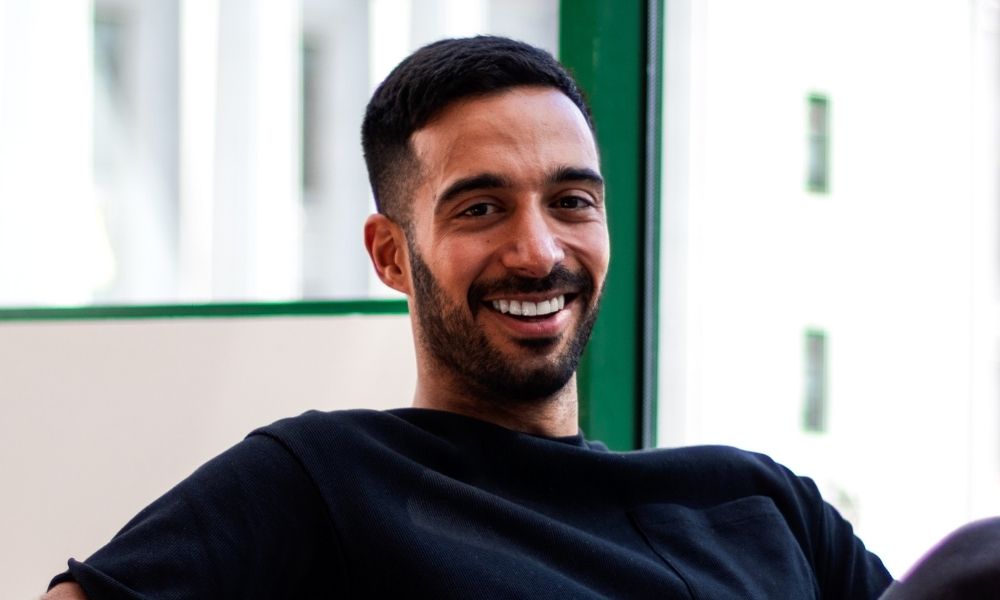 Having turned his side-hustle into a law firm, Toufic Adlouni encourages the lawyers working for him to pursue extra-curriculars of their own. The experience they gain as start-up founders helps them relate to the firm's client-base, he says.
Adlouni is co-founder and managing director of Renno & Co, a law firm focussed on emerging technology law. The majority of Renno & Co's clients are in cryptocurrency, but the firm also works with start-ups in virtual reality, robotics, medical technology, electric vehicles and fintech.
"If all our lawyers are starting companies, and they know how it feels to start a company, then we're going to be better at advising our clients on how they can start companies," Adlouni says.
"I presented the culture and the framework to be a start-up law firm that helps start-ups, rather than a law firm that just helps start-ups. And I think it really has boded quite well for what we've been doing because we've been able to really walk two miles in our clients' shoes."
Adlouni will soon appear at Canadian Lawyer's LegalTech Summit, on Tuesday June 29. He will participate in the panel "Transforming the legal client experience and business process of running a law firm," from 10:55 am to 11:25 am. Adlouni will be joined by fellow speakers Nikhita Iyar, head of strategic business at Moxtra, and Paul Saunders, chief innovation officer and Partner at Stewart McKelvey.
Adlouni began his legal career as a litigator, but quickly found the role ill-suited to his interests. Aside from a dynamic with clients he found unpleasant – "people come to litigators not in their best of times," he says – the firm was not tech-forward in its practice approach. As he found, in 2017, when he implemented Clio, it was also resistant to change.
At the time, Adlouni was also involved with Montreal's crypto and blockchain community, attending meet-ups and learning about the technology.
"A lot of folks would ask me, 'Hey, we need a real lawyer to do X, Y, and Z.' And I didn't really want to take them to my firm, because they didn't know what a Bitcoin was… So, I started taking them on the side, until the side-hustle kind of became the main thing."
Though he had no formal project management training, Adlouni's clients showed him what it looked like to start and run a business. He was able to gain second-hand mentorship from entrepreneurs who had been through sophisticated programs such as the Creative Destruction Labs, Y Combinator and 500 Startups.
He launched Renno & Co in 2018, incorporating as a start-up rather than an LLP.
"The whole mission was to support emerging tech companies in the most technologically advanced way possible," says Adlouni. "I thought I could reinvent the way a law firm could be built, because I learned how the traditional law firm was run – And I thought it was just terrible."
The firm's practice is "fully digital," having decided to "always leverage the best in what technology has to offer" and never sacrificing efficiency for the top line, he says.
And instead of specializing in a specific legal domain, Renno & Co aimed for an industry-specific expertise. They work with "high-technology start-ups," offering general legal services, says Adlouni.
Also learned from Adlouni's start-up clients is the concept, practised at Renno & Co, of professional autonomy. The company's office space fits less than their employee capacity and lawyers can work there, at home or wherever else they want (one of Adlouni's colleagues works out of Miami). There is no limit on vacation days and the firm has no billable hour goal, though there are incentives to bill more.
"I didn't know my love of crypto was going to become a full time job," says Adlouni. "… I thought I was just trading here and there, and it was just a fun project."
"I'm really happy to be able to work with really high-end crypto companies. I'm essentially perched on the shoulder of innovation every day, going into these companies and seeing all the technological financial innovations that they're doing. It's a real pleasure to be in the office, I would say."
As Renno & Co encourages its lawyers to develop a side-gig, Adlouni's is an app called LUCA Theory. It uses collective intelligence to help people make better decisions, he says.
The idea was hatched at the firm. Adlouni's business partners had an investment club and to help them pick stocks, they built a combination of technologies that allowed for automated and systematized decision-making. The technology is currently being used for recruitment and general investment decisions.
Building LUCA gave Adlouni more of the first-hand experience to apply to client service that he sees as a feature of Renno & Co.
"We went through incubators. We went through accelerators. We raised – or at least attempted to raise – funds. We bootstrapped. We've applied for grants. We've hired people, fired people and everything in between," Adlouni says. "So, I rely heavily on my experiences of running LUCA to become a better practitioner."