It's a mistake to focus only on junior lawyers when pushing out a new technology product, said experts at a May 28 legal innovation panel.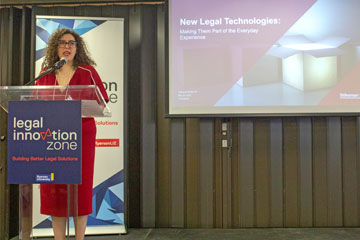 It's a mistake to focus only on junior lawyers when pushing out a new technology product, said experts at a May 28 legal innovation panel, even if firms may be tempted to just embed technology into the training for new lawyers coming into a firm.
"We should not forget about the senior people. They get a bad rap. But, in my experience, they are interested and they need to get it. They are the ones that are going to give the associates the green light when it comes to using that diligence tool on a new mandate," Adriana De Marco, director of knowledge management and innovation at Stikeman Elliott LLP in Toronto, said at Ryerson University on Wednesday.
Participants at the "Leaders in Legal Innovation" event, hosted by Ryerson's Legal Innovation Zone, worked in teams on startup-style exercises to solve a problem they'd experienced, ranging from legal aid clinic intake to e-discovery.
Ginevra Saylor, director of innovation programs at Gowling WLG, noted that lawyers can be some of the most difficult audiences to pitch on new technology because they can be risk averse.
De Marco said that she appeals to lawyers' competitive spirits — or fear of missing out — to nudge along technology adoption in the firm. Letting lawyers know that the technology is being used by rival lawyers or law firms can highlight that slower adopters may be letting others gain the competitive edge, De Marco said.
"We are not trying to increase lawyer anxiety," she said. "We are trying to catch the stragglers and connect them to the tools that are going to help them in their practices. . . . The client's needs are the catalyst for the adoption of technology. A client complains they are paying too much and work is on a fixed fee, so we need to protect our margins."
Rather than presenting a tool as "intuitive," De Marco said she tries to be realistic and upfront about the learning curve. Then, she said, she gives kudos to those still willing to volunteer to use the tools, letting those lawyers know they are taking one for the team. She said that all tools introduced to lawyers at the firm should be intuitive, but putting too much focus on the ease of use could undermine the credibility of the tool when a glitch or disruptive upgrade arises.
"Part of our role as innovation leaders is helping our users manage expectations," De Marco said. "They will know that changes are coming. We don't want people to get frustrated."
Saylor said one mistake she used to make when implementing new technologies was rattling off the features and trying to build enthusiasm that way.
"By the time I was done, I'd look up and if I was lucky I'd see a really quizzical look and the person would say, 'Why on earth would I want that?' Or, on a bad day, I would get a sneer and the person would say, 'Why are you people always coming in here cramming these toys down our throat instead of asking us what we want?'" Saylor said. "Never start a conversation the way I used to: What you are introducing and why it's great. No one cares."
Now, she said, she involves lawyers early on in the process, observing when they get frustrated as they work, talking to different groups and getting inside their heads.
"Remember, always talk about the things that matter to the person; you will have opportunities to talk about everything else once you get their curiosity and interest going," Saylor said. "Make them think it was their idea."
Laura van Wyngaarden, co-founder of contract analysis software company Diligen, said audiences of lawyers tend to be more skeptical, so she prepares for their objections.
Before she dives into any pitch, van Wyngaarden said, she makes sure she knows what each group already knows about the process she's pitching. The same tool could be called something totally different by law firms, legal service providers and legal departments, let alone sales and marketing people, she said. Whenever she is pitching new technology, she said, she is prepared to take an audience with zero knowledge of the product all the way to 100-per-cent buy-in, so it is helpful to repeat key, basic points and use an easy-to-follow narrative. Even seasoned entrepreneurs can forget to give an audience those two simple lines that describe the basic function of their product, she said.
"I've been in so many meetings before where I've seen two groups of people . . . using their own acronyms, jargon and what they're excited about and it's not landing at all — because the [other] team doesn't know what it means for them," van Wyngaarden said.
She also noted that someone who doesn't necessarily have a fancy title can still be an influencer within their firm — and anyone pitching a new technology should find that person in the room.
"Sometimes, the person sitting there with their arms crossed, not having any of it — that person who objects the most ends up being your biggest supporter if you can bring them on board," van Wyngaarden said.