If allegations are true judge's perceived bias would have chilling effect on some litigants: lawyer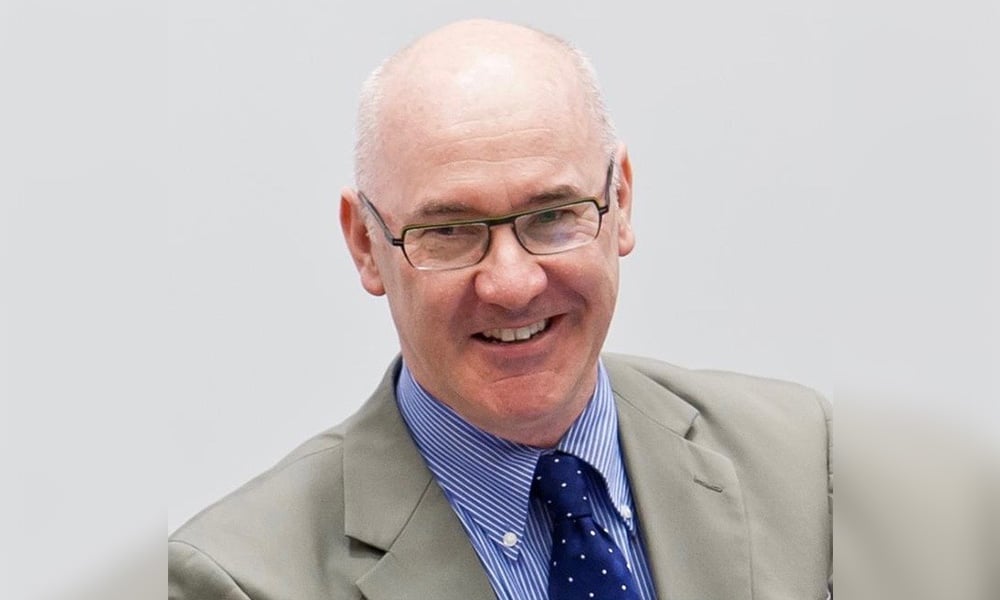 Queen's Law Professor Leslie Green says he is waiting for word from the Canadian Judicial Council about whether they intend to investigate the allegations that Justice David Spiro of the Tax Court of Canada improperly interfered in the hiring process at the University of Toronto's International Human Rights Program.
Green made the complaint after reading media reports that Spiro had allegedly pressured Dean of Law Edward Iacobucci to reverse a job offer made to an academic because of her scholarship related to Israel's human rights abuses against Palestinians.
"I thought, that's as wrong as it can possibly get if it's true," says Green, who holds a part-time appointment as professor of law and is a distinguished university fellow at Queen's. Green is also a professor of the philosophy of law and fellow of Balliol College, Oxford and teaches in the areas of jurisprudence, constitutional theory, and moral and political philosophy.
CJC director of communications Johanna Laporte told Law Times that the complaint is currently being reviewed by the CJC's executive director. If the executive director decides the complaint warrants consideration, the executive director will refer it to the chairperson, she says.
The chairperson can then either instruct the director to retain an investigator or to gather further information on the matter, Green says. The investigator is then supposed to conduct confidential interviews, gather relevant evidence and give the judge a chance to answer the complaint, he says.
According to CJC rules, they have a legal duty to investigate the allegations against Spiro, Green says. Osgoode Hall Law School Professor Craig Scott also lodged a complaint with the CJC and asked his complaint be consolidated with Green's.
The controversy at the University of Toronto's International Human Rights Program has captured international headlines. On Sept. 17, the Toronto Star reported that the faculty advisory board of the IHRP had resigned, after Iacobucci was accused of rescinding an offer for the IHRP's directorship to Dr. Valentina Azarova, a scholar of international law and human rights. Iacobucci and Kelly Hannah-Moffat, vice-president of human resources and equity, both denied a job offer had been made in the first place. Two former IHRP directors, Carmen Cheung and Samer Muscati, contradicted that assertion in a letter to Iacobucci, saying the U of T had arranged an immigration lawyer to advise Azarova – who lives in Germany – and that she had begun planning the move to Canada.
The former IHRP directors also alleged that Iacobucci's decision to reverse the job offer came under pressure from a sitting judge on the Tax Court of Canada who objected to Azarova's work on Israel's human rights abuses in Palestine. The Star later reported that sources had named the judge: David Spiro, a "major donor to the faculty."
Green first wrote to the CJC the same day the Star and Globe reported the story. He requested that the Council investigate and take appropriate action, if necessary. He wrote that "it would be wrong for a judge to attempt to influence a university appointment in this way, no matter in what direction or with what outcome." If it were true that the judge – whose identity was unknown at the time – had interfered out of disapproval of Azarova's research on Israeli occupation of Palestinian lands, that would be "very troubling" and "put the integrity and impartiality of the Court in jeopardy," wrote Green.
For example, as a judge on the Tax Court, Spiro may deal with an officer in a Palestinian charity, which is facing a challenge of its charitable status, says Green.
"Then if you're the Palestinian charity, and you're before that court, you might think, 'Am I going to get a fair hearing?' And that would not be a crazy thing. That would be a reasonable ground for apprehension of bias," he says.
"It's a very basic rule. Judges, not only can they not be biased, but they mustn't be seen to be biased. It's a very high standard. But there's reason for it. It's where the buck stops."
Yavar Hameed is an Ottawa-based human rights lawyer, who has represented organizations that have done charitable work in the Palestinian territories and has represented Palestinians in human rights and defamation cases. Hameed says having a sitting judge on any court who has demonstrated the bias of which Spiro is accused would create "a huge chilling effect" for any Palestinian litigant before the court.
"Generally speaking, in respect of any court… where a judge has a certain preconceived view that goes against international human rights law, that marginalizes Palestinians, that would be a huge concern," he says.
Law Times contacted the Tax Court of Canada for comment and asked to speak with Spiro. Executive Legal Counsel to the Chief Justice Sophie Matte responded that the court would not comment on the matter.