Current and former students of the University of Toronto Faculty of Law say the school should cap annual tuition to $40,000 per year until the school can perform a financial review.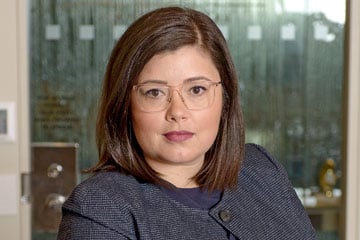 Current and former students of the University of Toronto Faculty of Law say the school should cap annual tuition to $40,000 per year until the school can perform a financial review.
Alumni and students are also urging the school to release information around how alumni donations work, how much students at the school receive in financial aid and the expenses to which the school is currently committed, such as faculty.
Lawyers who support the tuition cap say spiralling student debt is contributing to issues facing the profession, such as mental health struggles and lack of lawyers from diverse socioeconomic backgrounds.
"I don't know if, even with financial aid, I would be able to attend the Faculty of Law now. I find it extremely regrettable. It just goes against many of the inclusiveness and recruitment initiatives I know the faculty does," says Mireille Giroux, an associate at Koskie Minsky LLP in Toronto, who graduated in 2012.
"At this point, many of us [alumni] feel that we are becoming less able to recommend young people to attend the University of Toronto Faculty of Law because the tuition fees are so high, and, ultimately, can just be so limiting in someone's life and career afterwards that it's just not worth it."
At the end of September, the law school announced a goal to raise $20 million from alumni for student financial aid by December 2019.
The campaign — called "Excellence without Barriers" — was the largest bursary-focused campaign at any Canadian law school, the university said in an announcement.
The university also said in its announcements of the fundraising campaign that the University of Toronto Faculty of Law is the only law school in Ontario to offer "strictly needs-based student financial aid" and that "privately supported endowments" are about a third of the yearly financial aid budget.
The University of Toronto says on its "Alumni & Giving" website that government funding for Ontario law schools has fallen 30 per cent since the mid-1990s.
Mark Wiseman, co-chairman of the alumni donation campaign and senior managing director at BlackRock, says he is actually delighted that students are engaged in the discussion around financial aid, adding that the debate is a great example of the diversity of opinion and debate for which the school is known. Wiseman says that even if tuition were frozen or lowered, he would continue to try and raise more funds from alumni for student aid because there will always be future students that need assistance.
"We have the same goals: to ensure that anybody who has the credential and the academic ability to attend the University of Toronto law school is able to do so and that those students at the law school are able to make choices that are not based solely on income," says Wiseman, who splits his time between Toronto and New York.
However, a counter-campaign was announced Oct. 26 with an open letter, which has now been signed by more than 300 students and alumni.
The campaign, called Barriers to Excellence, includes an open letter to dean Edward Iacobucci, saying that students "applaud" the school's fundraising campaign. However, students also say tuition costs must be addressed, because of the faculty's "accessibility crisis and its effects on access to justice and student well-being."
"Achievement, not debt tolerance, ought to be the sole criteria of admission," said the letter.
The letter asks that the school reveal how many students will graduate more than $100,000 in debt, as well as the average incomes of parents of students since 2015. It also asks for a breakdown of money budgeted for student clubs, clinics and financial aid, as well as more information about how the school makes money.
India Annamanthadoo, in her second year at the law school, says that she saw many of her classmates feeling defeated when the second-year recruitment process seemed to be driven by landing jobs that would service their debt.
Then, they saw angry responses to the university's campaign and decided to ride the momentum, handing out buttons and promoting the letter on social media all under the same Barriers to Excellence umbrella.
"There have been so many initiatives over the years and none of them have worked," she says.
In the winter of the 2003 to 2004 school year, first-year law students paid $16,000 in fees, according to the earliest data on the University of Toronto fee website. In the 2017 to 2018 winter term, first-year law students' fees had more than doubled to $34,980, the website says.
Iacobucci said in an e-mail statement to Law Times that the school continues to "attract the best and brightest students from diverse backgrounds, even as funding sources other than tuition have significantly diminished and are taking a number of steps, including fundraising for student aid, to ensure that this remains the case."
But Toronto lawyer David Baker has a different take. Baker is a member of the class of 1975, and he says many of his classmates came from modest backgrounds. Baker says that when classmates at a reunion in 2015 heard about the private debt loads on current students, they were "absolutely flabbergasted."
"We just could not see how it was possible for students from families of modest income to go to U of T law school and we thought that was wrong. And we thought the law school needed to correct it rather than turn to alumni and assume that alumni could somehow reverse this," he says.
Renatta Austin, like Giroux, graduated in 2012, and says she will not be donating to the University of Toronto's alumni campaign this year as she is still paying her own tuition.
She says she is "living proof of why people don't do this work and can't afford to do this."
"I primarily practise family law in a community setting — I do the work that we encourage young lawyers to do, focused on access to justice," says Austin, who runs Toronto law firm Eglinton West Law Office through the Renatta Austin PC.