The legal profession brings forward new ideas for change 'all the time,' Downey told Law Times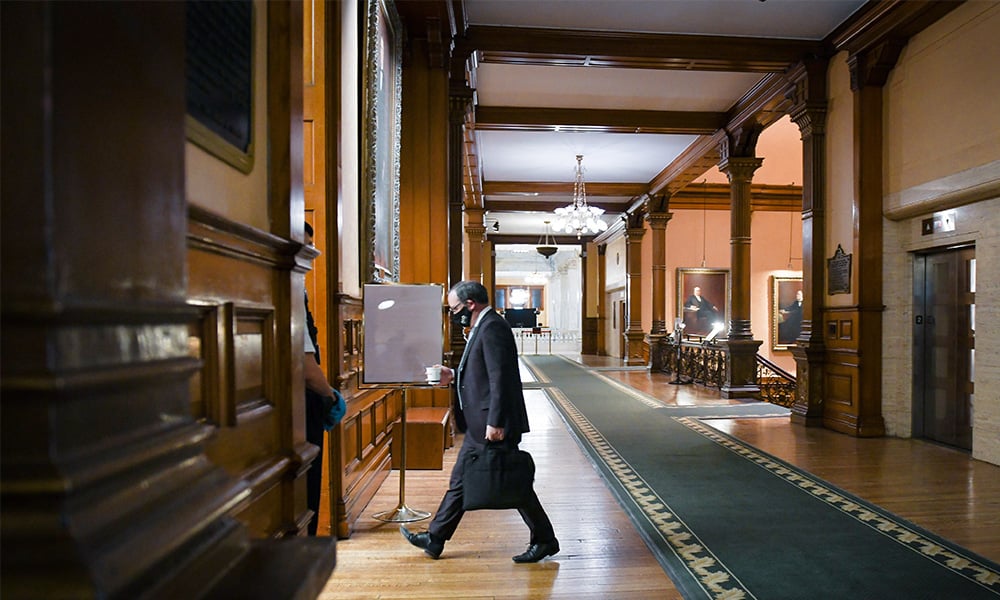 The Ontario Ministry of the Attorney General introduced a series of justice reforms last week and Attorney General Doug Downey told Law Times more can be expected in the future.
"There's just so much to do. It's been neglected for so long," says Downey. "We've changed the culture of how groups are interacting with us and how were doing consultations… People are feeling comfortable that we're actually going to do change, so they're bringing forward ideas all the time."
On Feb. 16, Downey's Ministry introduced the Accelerating Access to Justice Act. The reforms touched on judicial appointments, family law, land tribunals, estates law, child-protection law and access to French language court services.
The Act proposes consolidating Ontario's five land tribunals – the Local Planning Appeal Tribunal, Environmental Review Tribunal, Board of Negotiation, Conservation Review Board and the Mining and Lands Tribunal – into just one to be called the Ontario Land Tribunal. Downey says this move was "client-focused," aimed at making it easier for people to access the system.
"It's going to make them move better. Sometimes in front of these land tribunals, you end up in front of more than one at the same time. And there's inherent inefficiencies and overlap in that," he says.
Efficiency was also the goal in the proposed amendments to the Children's Law Reform Act, says Downey. Currently, if a child is owed $10,000 or more, through an inheritance for example, the parents must get a court order appointing them the child's guardian of property to access the money. The legislation would remove the $10,000 threshold and increase that number by regulation, which Downey says will amount to triple its current level.
"That is going to take a whole segment of people out of having to go to court to get money that is rightfully belonging to the children. And there's really no winner in having an extra court process in that when the children are the beneficiaries," he says.
The Ministry's proposed legislation also includes measures aimed at increasing access to justice for French speakers in Ontario. Amendments to the Courts of Justice Act would expand the filing of documents in French to all Ontario courthouses.
"I think we've done more in the last short while to expand French services than previous governments in a very, very long time," says Downey. "And are we done? Absolutely not. Like many things, I wanted to get done what we could do as fast as we could. But there is more work to do."
In December, the Ministry of the Attorney General announced a new initiative to improve French-language court services in North Bay, Ont., which was modelled on similar actions taken in Sudbury, Ont. and Ottawa.
The Attorney General's Access to Justice in French Advisory Committee, chaired by Court of Appeal Justice Paul Rouleau, guides Downey's office on strategies and priorities related to access to justice in French and the provision of French language services. Downey says the committee is "working on more ideas all the time," which he welcomes.
Lee Akazaki, who serves clients in both English and French, says the legislation will need to be bolstered by French-speaking judges and court staff to be effective.
"As with any public policy initiative we want to succeed, the infrastructure has to be ready ahead of the promised legislation," says Akazaki, who is a certified civil litigation specialist and partner at Gilbertson Davis LLP." "It is one thing for a litigant to be able to file a lawsuit in French at the local courthouse. It is another thing to expect there will be a judge who can read the documents and hear submissions without an interpreter. I would expect the province will seek to hire bilingual court staff to meet the legislation."
The Accelerating Access to Justice Act would also change the composition and function of the Judicial Appointments Advisory Committee, which recommends candidates to the Attorney General for provincial court appointments. The Ministry of the Attorney General said this measure is intended to allow them to fill judicial vacancies more quickly.
The Criminal Lawyers' Association opposes the change, arguing it undermines the committee's independence and risks politicizing the process.
"Any change is disconcerting for some people, certainly people who want to protect the status quo," says Downey. "But this is an area that hadn't been looked at for some time. And I don't think that any part of our justice system is working perfectly or is sacrosanct."