A Law Society of Ontario tribunal has opened the door for a former lawyer to practise law again after he was disbarred for assisting in $2.8 million worth of fraudulent real estate transactions.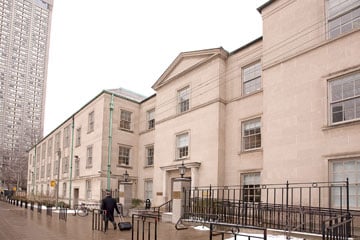 A Law Society of Ontario tribunal has opened the door for a former lawyer to practise law again after he was disbarred for assisting in $2.8 million worth of fraudulent real estate transactions.
The tribunal found that Francesco Puchiele met the test for good character, which is one of the hurdles disbarred lawyers have to get over in order to be re-licensed. In Puchiele v. Law Society of Upper Canada, the three-member panel determined Puchiele took steps to "make things right" and to demonstrate he had really changed.
"I think it's a great statement for the law society to recognize that people who make mistakes can start again and re-establish their reputation and good character," says William Trudell, one of the lawyers who represented Puchiele in the proceedings.
Puchiele was disbarred in 2011 after he admitted to committing professional misconduct, which included "knowingly assisting fraudulent or dishonest conduct in nine real estate transactions," according to the decision.
A law society discipline tribunal found Puchiele had acted on the transactions between Feb. 2007 and March 2008 that amounted to around $2.8 million in total.
In an Agreed Statement of Facts, Puchiele admitted that he was willfully blind to the fact that the transactions involved fraudulent or dishonest conduct and that he failed to make reasonable inquiries about possible wrongdoing despite obvious red flags.
He also admitted that he failed to be honest with clients and care for their funds.
When considering whether a disbarred lawyer meets the good character requirement, tribunals will weigh a number of factors. These include the nature and duration of the misconduct, the applicant's behaviour since, whether they've been remorseful and their rehabilitative efforts, as well as the amount of time that had passed since the misconduct and revocation.
In Puchiele's case, the tribunal said there is not one "mathematical formula" that can be applied and that the factors should be weighed differently in each case.
The tribunal also found that there is "no magic number" or set amount of time that must pass before a disbarred lawyer can successfully apply for re-licensing. Generally, the period of revocation should last considerably longer than the longest suspensions that the tribunal imposes, which are around two years, the decision said.
The tribunal acknowledged that while this amount of time is an important factor, it is "the quality of the rehabilitation efforts that occurred during that time that is really at issue." The panel ultimately found Puchiele had rehabilitated himself during the seven years since his licence was revoked.
Trudell says the decision sheds light on this particular factor in the test for good character. He adds it was important that the tribunal did not impose an arbitrary time frame.
"Obviously, you have to wait a certain period of time, but it's what you do with that time that is really important," he says.
Called to the bar in 1999, Puchiele worked as in-house general counsel for a few years before opening a sole practice focusing on corporate and commercial real estate, as well as some wills and estates work.
Before the law society revoked his licence, Puchiele did not have any prior discipline history with the law society.
After he was disbarred, Puchiele faced a number of lawsuits from various lenders and title insurers who lost money from the transactions.
LawPRO defended Puchiele at first in these lawsuits and paid out one of the claims, but it stopped once the law society revoked his licence.
Puchiele decided not to declare bankruptcy, but he made arrangements with his creditors under the Bankruptcy Act to settle the remaining claims.
At first, Puchiele said he directed a lot of anger at everyone except himself, but he later took full responsibility for his actions.
Sue Heakes, who was counsel for the law society in the proceedings, argued that Puchiele failed to meet the good character requirement. She contended that Puchiele does not fall high on the "remorse continuum" as he had failed to fully pay back or apologize to his victims and "continues to deflect blame for his conduct."
But the tribunal found that there is clear evidence that Puchiele has taken personal responsibility for what he did.
Heakes also argued that Puchiele had not taken any counseling to rehabilitate himself. Puchiele, however, said he had been working through the issues on his own, engaged in significant self-reflection and has taken steps to make sure the misconduct does not happen again.
From 2012 to 2016, the law society granted the applications of only two former lawyers who were re-licensing as lawyers following good character hearings and one former lawyer who applied to become licensed as a paralegal.
Lawyers say that the test that lawyers have to meet in order to prove they have rehabilitated themselves is rightfully rigid. Trudell says the law society is "very jealous" in protecting its reputation as well as that of its members in the public interest.
Toronto lawyer Matt Maurer says the law society might want to look at better defining the good character requirement to implement a "bright line" approach.
"Does the law society want to set more rigid rules so that the public and lawyers know if you do this there is no coming back from it or do they want to maintain a flexible approach so that they can consider everything on a case-by-case basis?" says Maurer, a partner with Minden Gross LLP, who was not involved in the Puchiele matter.
Maurer says the decision shows that there is some flexibility for lawyers who have lost their licences to make a living once again as lawyers, provided they meet the requirements, are generally remorseful and have worked hard to rehabilitate themselves.
Now that Puchiele has met the good character requirement, he will still have to face another hearing to see if there will be any conditions to grant him a licence to practise law.
Puchiele has said that his plan is to hopefully return to work in an office where there are other lawyers who can provide mentorship and help.