The Law Society of Ontario has come to a disciplinary agreement with a Brampton, Ont.-based lawyer regarding his advertising practices and an agreement he made to pay a Florida-based company for referrals.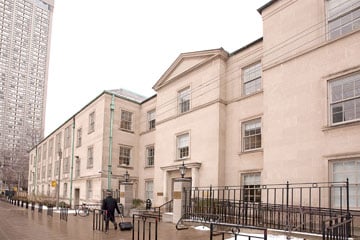 The Law Society of Ontario has come to a disciplinary agreement with a Brampton, Ont.-based lawyer regarding his advertising practices and an agreement he made to pay a Florida-based company for referrals.
According to an agreed statement of facts that was reached between the LSO and lawyer John D'Alimonte on May 31, D'Alimonte entered into a professional partnership agreement with Howard Merricks, a Florida-based lawyer with the Merricks Law Group.
According to the statement of facts, D'Alimonte formed the Merricks Law Firm with Merricks and was listed as the Canadian managing lawyer on the firm's website.
The arrangement attracted the attention of the Law Society of Ontario after Merricks Law Group entered into an agreement with a company identified as 1-800-Ask-Gary, a phone referral service operating out of Florida, to which Merricks Law Group agreed to pay fees for referrals.
The service, whose Ontario advertisements describe it as an "auto accident and injury helpline," violated Rule 3.6-7 of the Rules of Professional Conduct that prohibits entering into an arrangement to pay a non-licensee for client referrals.
Darryl Singer of Singer Barristers in Toronto, who represented D'Alimonte in the matter, says the matter was ultimately resolved jointly with the tribunal's counsel and that D'Alimonte would be issued a reprimand — the lowest form of formal discipline under the Law Society Act.
"Mr. D'Alimonte was indeed found guilty of professional misconduct; he acknowledged that misconduct," says Singer, noting that while D'Alimonte may have entered into an arrangement to pay an improper referral fee, no payments had been made.
Singer says the process to revamp the Merricks Law Group website to comply with the law society's rules began last year after the LSO began its investigation.
It was taken down entirely in April, before re-launching recently, and is now in compliance with LSO rules, says Singer.
Jordan Goldblatt, a partner with Adair Barristers LLP in Toronto, who was not involved in the case, says lawyers are always concerned about where the limits are when it comes to what they can say in advertising their services.
"There is a tension between the lawyer who's trying to make a business and the lawyer who has professional obligations and obligations to the administration of justice generally," says Goldblatt.
The agreed statement of facts states that D'Alimonte hired corporate counsel to provide him with legal advice before launching his firm or starting with any marketing in Ontario and that he contacted the LSO's Practice Management Helpline in October 2015 to discuss issues of compliance with his proposed partnership with Merricks.
The statement also notes that he asked about the use of the 1-800-ASK-GARY service as his firm's marketing tool, but the statement notes that the Helpline does not review documentation or provide formal oral or written opinions.
The statement also noted that there were concerns with D'Alimonte's website, which described the office as being in Toronto rather than its actual Mississauga, Ont. location.
It also indicated that there was a plurality of lawyers, whereas only one — D'Alimonte — was licensed to practise in Ontario and that the "100 years of combined experience" was four years in Ontario.
As well, the firm claimed to specialize in representing injured people despite having received no specialist certification from the LSO.
The statement noted that D'Alimonte was co-operative and responsive throughout the LSO's investigation and that he had removed his website and directed 1-800-ASK-GARY to stop running advertisements in Ontario.
"We were in discussions with the law society to make sure that what he did was make his advertising [compliant]," says Singer.
"He is no longer involved in a referral fee arrangement that would violate the rules. The website has been revamped in a manner that is consistent with the law society's requirements and the television ads have all come down."
The agreement states that D'Alimonte has been advised that the LSO will seek an order for a reprimand, plus $5,000 to cover the law society's costs.
"Because he had come into compliance and was working to maintain compliance with the rules, the law society's prosecutors were agreeable to what is essentially the tribunal equivalent of a plea bargain," says Singer. "There's no suspension from practice."
The LSO would not comment on the matter.
Ron Bohm, president of the Ontario Trial Lawyers Association, says it's imperative that the LSO ensure that lawyers' ads are in compliance with its rules and, in particular, that they are not misleading as D'Alimonte's were found to be.
"[The] OTLA applauds the LSO effort to ensure that marketing practices are tightened up as there are still too many examples of contentious, misleading ads, questionable marketing practices and bogus awards," Bohm said in an emailed response.