Some in-person matters will resume July 6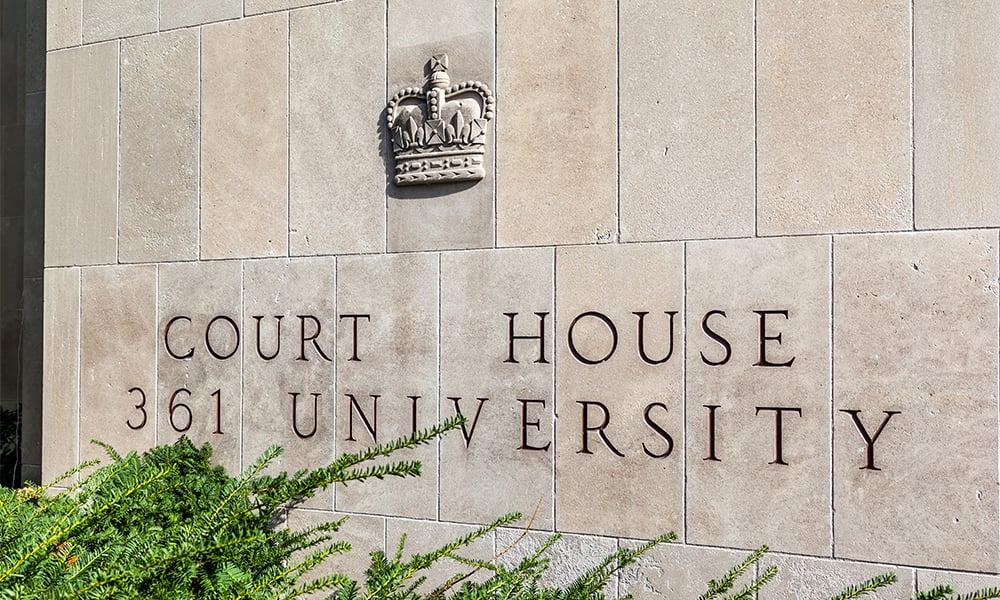 Three people per interview room — two per elevator: A video posted by the Ontario government shows a courthouse with a long queue, plexiglass barriers on Crown attorney and defense tables, hand sanitizer stations and floors covered in arrows and social distancing dots, a look at what litigators may face when courthouses begin to reopen.
In addition to ongoing remote hearings, some in-person matters will resume July 6, said a June 25 notice to the profession.
At the Superior Court of Justice, this will include access to at most 56 courtrooms — and before entering, lawyers and their clients are expected to leave a 30-minute window for "extra screening requirements." Anyone entering will be required to wear a facemask and court staff will give out disinfectant wipes for people to wipe areas they have touched. The government also suggested people use a pen or keys to press elevator buttons, and wash their hands before and after sharing documents and exhibits.
The Ontario government said that there will be more cleaning in the courthouses, specifically: light switches and power outlets; handrails; entrance areas; paper towel and toilet paper dispensers; door knobs, handles and plates; sinks and faucets; desks; chairs and public service counters. In bathrooms, courthouses are closing every other urinal.
The reopening is far from complete, as most superior court matters have been adjourned to September: There will be little access to robing rooms and no robing requirements, and the courts are still ironing out how to perform jury selection in larger, offsite locations. In addition, only one superior court room is available in northwestern Ontario (Room 205 in Thunder Bay's 125 Brodie St.) The Ontario Court of Justice expects 93 courtrooms to be available in July, but full service may not resume until November.
Before the opening, courts have been scoped out by the Ministry of the Attorney General's courthouse site assessments, "to implement health and safety precautionary measures," according to Chief Justice Geoffrey Morawetz's notice on the Ontario Courts website. These inspections have been "guided" by Ontario's Chief Medical Officer of Health, a Public Health Ontario physician specializing in communicable diseases and emergency preparedness and response,and the Chief Prevention Office for Ontario from the Ministry of Labour, Training and Skills Development, Morawetz said.
"The ministry will not re-open a Phase One site on July 6, 2020 if it concludes that the health and safety of courthouse participants cannot be adequately protected on this date," Morawetz said.