Court balances freedom of expression with protection of reputation: lawyer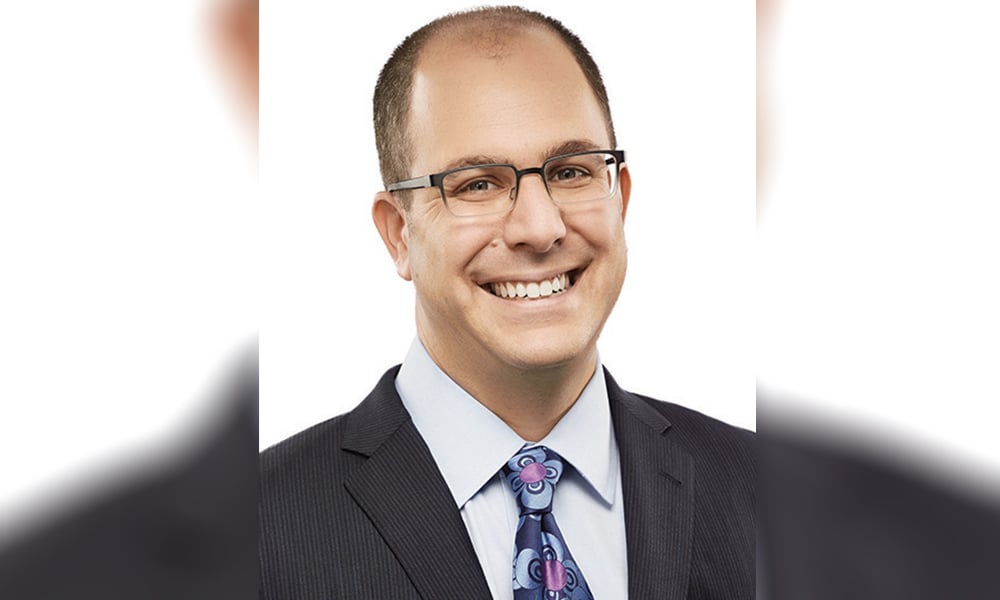 The Supreme Court of Canada delivered two decisions Thursday, both concerning Ontario's anti-SLAPP law. The court set out a framework for lower courts to assess anti-SLAPP motions, and answered the important question of whether anti-SLAPP applies only to defamation cases or also in other matters in which someone's expression is the subject of the dispute, says Andrew Bernstein, partner at Torys LLP.
In the wake of #MeToo and the Harvey Weinstein case, the decision has implications for whistle-blowers and for sexual assault or harassment claimants, who may be under a contractual obligation to keep quiet, he says.
"It will be defamation cases this applies most frequently, but there's going to be the unusual circumstances, from time to time, in which somebody invokes anti-SLAPP as a means of defending themselves against the breach of a confidentiality agreement," says Bernstein.
The court delivered its decisions in the two appeals, which originated in Ontario: 1704604 Ontario Ltd. v. Pointes Protection Association and Bent v. Platnick.
Ontario introduced the law seeking to prevent strategic lawsuits against public participation – anti-SLAPP – in 2015, by adding s. 137.1 to the Courts of Justice Act. The legislation's purpose is to encourage expression and debate on matters of public interest, and ensure litigation is not used to silence it. When a defendant brings a motion under s. 137.1, the judge is supposed to dismiss the proceeding against them if satisfied it has arisen from an expression that relates to a matter of public interest. But if there are grounds to believe the proceeding has substantial merit, the moving party has no valid defence in the proceeding or that the harm suffered from the expression outweighs the public interest in protecting it, the motion should be dismissed.
Bent v. Platnick concerned a doctor suing a lawyer and former president of the Ontario Trial lawyers Association for defamation. Dr. Howard Platnick worked for insurance companies to review medical assessments in automobile accident injury cases. Lerners LLP partner Maia Bent acted in two insurance coverage disputes involving Platnick and sent an email to an OTLA listserv containing 670 OTLA members, accusing Platnick of altering doctors' reports and decisions concerning an accident victim's level of impairment. Platnick sued Bent and Lerners for defamation, claiming damages of $16.3 million. Bent countered with s. 137.1,and was successful with the motion judge in the Superior Court, who dismissed the defamation proceeding. But the Court of Appeal disagreed, set aside the motion judge's ruling and sent the defamation case back to the Superior Court.
In Bent v. Platnick, the court dismissed the anti-SLAPP motion, in a 5-4 split. In the majority were Justices Richard Wagner, Michael Moldaver, Suzanne Côté, Russell Brown and Malcolm Rowe in the. Justices Rosalie Abella, Andromache Karakatsanis, Sheilah Martin and Nicholas Kasirer dissented.
Tim Danson, who acted for Platnick, says there had been debate as to whether the anti-SLAPP legislation changed the substantive law of defamation in Ontario.
"There's lawyers like myself who said it did not. And clearly the Supreme Court of Canada has affirmed that we will maintain this careful and sensitive and delicate balance between free speech and protecting reputations," he says.
"I'm pleased to see that the Supreme Court of Canada has reaffirmed a very important principle, which is not withstanding the high premium and importance that we put on free speech and freedom of the press in this country, that does not give people license to defame and destroy people's reputations."
In 1704604 Ontario Ltd. v. Pointes Protection Association, the non-profit Points Protection and six of its members were sued for $6 million by a land developer. At an Ontario Municipal Board hearing, Points Protection's president had said a proposed development would result in ecological damage, which the developer claimed was breach of contract and sued for $6 million. Pointes Protection brought an anti-SLAPP motion to have the action dismissed. The motion was initially dismissed, but granted by the Court of Appeal, which dismissed the breach of contract.
The Supreme Court unanimously dismissed the developer's appeal, finding the action lacked substantial merit and that they could not demonstrate the public interest was weighted in their favour.