The prominent litigator will launch podcast, 'The Art of Persuasion,' next month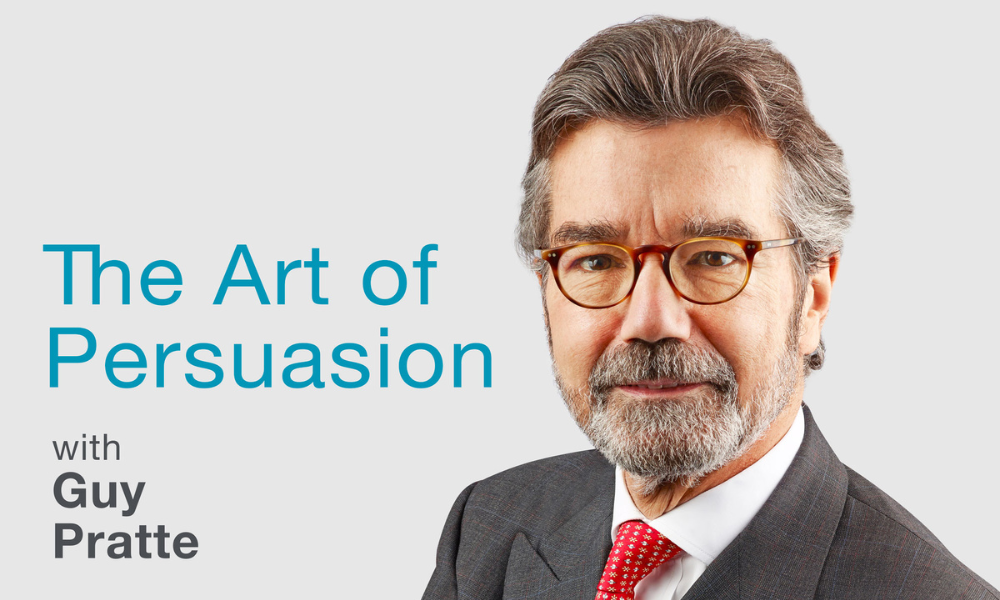 As a litigator, Abraham Lincoln was famous for making reasonable concessions to the opposing party on points that were either relatively unimportant to the overall case or that were clearly not in his favour. This tendency allowed the future president to appear fair and balanced, which built him trust – an essential component in the art of persuasion, says Guy Pratte.
"When you talk to judges, you realize how the vast majority of them dislike the bickering and the aggressiveness or failure to concede points that should be conceded," says Pratte, a senior counsel at Borden Ladner Gervais and former president of the Advocates' Society. He recently heard from a judge that the top criminal lawyers tend never to fight useless battles over trivial details. "If the other side said something that's clearly right, then they just acknowledge it."
Pratte will soon launch a new podcast, "The Art of Persuasion," in which he and his guests will discuss the techniques and strategies they use to successfully persuade – as advocates, either in the legal sphere or other professions. Pratte's guests will include Marie Henein, former Prime Minister Brian Mulroney, member of the UK House of Lords David Pannick, and Chilton Varner, a commercial litigator at King & Spalding and former president of the American College of Trial Lawyers.
In persuading a judge, more than the technical legal argument and the caselaw and statutes cited, litigators must cultivate a deeper connection with the decision-maker, says Pratte.
"That feeling of trust, I think, is the thing that advocates – like anybody who's involved in persuasion – has to develop and keep shining. That comes from not only candour but huge preparation."
He says that many advocates – including himself, at an earlier stage in his career – sometimes neglect the preparation necessary to answer the most challenging questions the court is likely to put their way. He says it helps to find the weak spots in the argument, and if unable to turn that weakness into an asset, to at least try and mitigate it.
"To prepare for the weak sides of your case, and try to deal with them as best you can, is essential," he says.
When he first decided to tackle a podcast on the topic of persuasion, Pratte initially imagined he would organize several conversations with prominent lawyers or judges. But as he thought more about it, limiting the project to the legal profession seemed presumptuous. He says almost everyone is involved in persuasion, whether they are a teacher, actor, marketer, or an orchestra conductor.
The first season of "The Art of Persuasion" consists of eight episodes. Along with his legal-sector guests, the season includes interviews with Dr. David Goldbloom, a mental-health advocate, author, and professor of psychiatry at the University of Toronto; Alexander Gordon Shelley, music director of the National Arts Centre Orchestra in Ottawa; and Tanya Taylor, a prominent fashion designer.
"They're all involved in the same craft," says Pratte. "I think opening our minds to what we can learn, as advocates, from different trades, will be fun.
The podcast will launch April 21 on the various podcast platforms.