Sheikh and two other female lawyers are joining Howard Levitt as named partners at Levitt LLP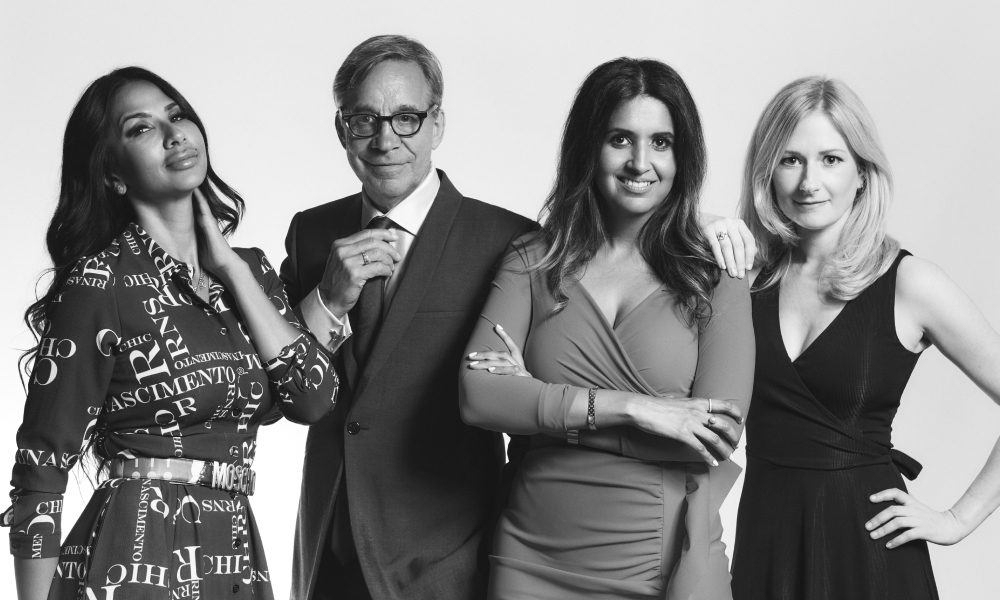 Employment and labour firm Levitt LLP is adding three named partners as part of a wider firm revamp. All three are women. And one, Muneeza Sheikh, says she hopes the move sends a message to young female lawyers who are on their way up the ranks at Bay Street firms but are unsure if they fit the mould.
Among other changes at the firm rolling out in the next few weeks, Levitt LLP will become Levitt Sheikh Chaudhri Swann LLP, with Sheikh, Sunira Chaudhri and Tatha Swann joining Howard Levitt on the marquee. The firm has offices in Toronto and Richmond Hill, Ont.
"There's this whole narrative on Bay Street about a woman's inability to get to the senior partnership level," says Sheikh. "So while we certainly have a decent number of women who are in law school and in the junior lawyer position, we're still finding that women are generally leaving law before they hit that senior partnership track."
As a mentor, Sheikh hears frequently that women are dispersed at the junior and mid-level ranks and venture out of private practice once they decide to have a family or have a desire for greater work-life balance. She also finds younger women lack mentorship, generally, with a "significant gap" in "powerful, senior women lawyers" who can guide someone who wants to pursue big cases that will advance the law, as well as make partner.
"We find that the legal environment, especially at the leadership level, is not as friendly to younger women," she says.
Sheikh says that, despite the common explanation for female attrition, she and her colleagues have maintained a demanding practice while raising families. Sheikh has and eight-year-old and an 11-year-old, Swann has a three-year-old child and Chaudhri is expecting her first in January.
"For me, it isn't about work life balance. I don't work 9 – 5 job by any means," says Swann. "Rather, it's about finding joy and purpose in your work and demanding recognition for your achievements, particularly as a woman. The rest of the equation and impact on your personal life flows from achievement of these two things."
"Our firm is not a work-life firm. But it recognizes skill, ambition and achievement and rewards these qualities."
But while much is said and written about women and men struggling to balance family with career, the careers of Sheikh and her co-partners demonstrate the balance is even more crowded than that. Sheikh is ethics and integrity commissioner and lobbyist registrar for the City of Brampton. These are time-consuming commitments. For example, in her role as integrity commissioner, in August Sheikh carried out an investigation into Brampton city Councillor Gurpreet Dhillon, who had been accused of sexual assault and harassment. She delivered a 268-page report which determined Dhillon had sexually harassed the woman and recommended he be suspended without pay for 90 days.
Sheikh also regularly appears on the CBC, writes a column for the National Post, does regular speaking engagements and plans to start a mediation practice. Chaudhri has a weekly column for the Toronto Sun and is a weekly panelist and contributor to Newstalk 1010. She also serves on the board of the Canadian Taxpayer's Federation.
"We know that being a successful lawyer means being multi-faceted and separates us from other firms," says Chaudhri. "Our firm attracts those with an entrepreneurial spirit. The four of us are always finding creative ways to attract new business and we are excited to build on the momentum we have already achieved this year as a bigger team."
"There's that ability to have the autonomy to do what you want. And again, that's just something that we need our women to hear, our racialized lawyers to hear. It's super important," says Sheikh.
In 2018, only three months after giving birth to her son, Swann held a press conference, with more than 20 media outlets, with the four female actors who launched a public claim against the Soupepper Theatre artistic director Albert Schultz.
Howard Levitt says he is thrilled to have Sheikh, Chaudhri and Swann join him.
"I have incredible respect for my partners. They are doing incredible things in employment law and have been an essential part of my firm for a long time. I accept nothing less than the best, and they are."
Sheikh, a Pakistani-Canadian, is also a practising Muslim. She also has a desire to dispel the myth that lawyers with religious boundaries are forced to suffer professionally for their chosen lifestyle.
"There's this myth that if you're not able to go out with the clients and schmooze and do the drinking, that you're not going to be able to retain good a good roster of corporate clients. And that's completely false," she says.
"The quality of your work should be able to speak for itself. I know for myself and for the other female partners at the firm, while we may not be out until late schmoozing and hanging out with our clients, either because it doesn't align religious values or we need to get home to our children or because of some interest outside of the office more important than sitting and hanging out with clients drinking, it's the quality of the work that speaks volumes."