Seven months after legalization, there is still a long line for production licences and a mad, unpredictable scramble for intellectual property rights, say lawyers advising clients in the cannabis sector.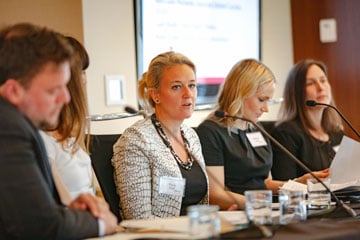 Seven months after legalization, there is still a long line for production licences and a mad, unpredictable scramble for intellectual property rights, say lawyers advising clients in the cannabis sector, during a panel discussion called Innovating in the Medical Cannabis Space, hosted by Blake Cassels & Graydon LLP and Business of Cannabis, a cannabis business media platform.
The panel, which explored the legal considerations for players in medical cannabis, included Blakes patent agent Leah Rodin, Melanie Baird, a partner at Blake's Toronto office, Tricia Kuhl, a Blakes partner at the Montreal office, and Mary Jane Richards, associate general counsel at Shopify.
Recently, Rodin combed through the Canadian and U.S. patent databases to see the trends in cannabis-related products since they began flooding the patent offices 20 years ago with the legalization of medical cannabis. In the early 2000s, she found, major pharmaceutical companies were responsible for an influx of patent applications aimed at compounds and medical uses — many of which are now on the market — but in the last few years, patents for technology, extraction techniques and devices are on the rise, she said.
She is also seeing patents for product formulations, synthetic derivatives, genetic strains and even for manufacturing, cultivation and extraction processes. Rodin said she expects to see more innovation in delivery methods such as vaporizers and, with the legalization of edibles and cannabis-infused beverages on the way in October, she expects to see plenty more patents.
"So, really, the sky's the limit. And it's really up to the imagination of those innovators out there," she says.
Because patents aren't public until 18 months after being filed with the patent office, companies should expect a "minefield" of surprises, said Baird, whose practice focuses on intellectual property and commercial litigation. Companies may be facing patents held by others on products they may have spent substantial time and resources on developing, she said.
But just because someone else got there first doesn't take you out of the game. Once a company identifies a patent exists for a product they're selling or a process they're using, they don't have to wait to be sued, said Baird, but can seek a declaration of non-infringement — a record establishing they are not in violation — or they can try to invalidate the patent. The granting of the patent is not the "final word" and challenges raised on obviousness and anticipation, among other claims, can undo the patent, she said.
"There are a lot of ways to say 'Actually, this patent is too far or explaining too much' or 'You didn't originally invent this' or 'This was obvious to do or obvious to try,'" she said.
But invalidating a patent will clear out the space not only for you but any other competitor as well, so Baird said there are strategic ways to avoid that impact; for example, only seeking to invalidate the claims in the patent you are infringing. That way, what remains of the patent could still trip up competitors, she said.
There are currently hundreds of applicants lined up with Health Canada to be licensed producers of cannabis in some form or fashion, said Kuhl, who does corporate and commercial law, M&A, commercial transactions, intellectual property and regulatory matters.
So cannabis companies have two options: Line up and wait for what she said is a "very lengthy process" or get in with a licensed entity.
"For those of you who've gone through the process, it's very, very time consuming, very onerous," she said. ". . . But we're starting to see more and more or joint ventures and strategic alliances, partnerships, where folks are trying to get in the business and bring their innovative ideas to the cannabis industry without having themselves to wait in that several-hundred-queue lineup."
Internationally, Kuhl said, there is a lot of confusion as to what is permitted when it comes to cross-border investment, import and export. According to the Cannabis Act, only cannabis for scientific or medical research purposes can be sent abroad or brought in, but a licence has to be obtained for each shipment.
"In my view, there is a wealth of opportunity for international export and import of scientific or medical related products," she said.
Last year, the U.S. legalized hemp with the passage of the Agriculture Improvement Act of 2018. Taking hemp — which is less than 0.3 per cent THC — out from alongside heroin in the schedule-one narcotic category has led many cannabidiol products to the market, including even a cannabidiol-infused cheeseburger from Carl's Jr.
"So there's a lot of beneficial products that are being put forward," Kuhl said.
When e-commerce platform Shopify opted to enter the cannabis sector, it was the company's first experience facilitating the sale of a highly regulated product, said Richards. With other items, Shopify wouldn't do any due diligence, vetting of merchants or auditing; it would simply require merchants to comply with applicable laws and rely on reporting under their acceptable use policy, which includes bans on products and services that involve child exploitation, harassment and bullying, hateful content, terrorist organizations and other unethical commercial purposes. With cannabis, Shopify had to address risk management in a due diligence process instead of part of the contract, change its due diligence program in general as the life-cycle of the contracts are different when dealing with a regulated product and address the legal requirements for the data emanating from the activity.
"We really have to be careful that any non-compliance by a merchant doesn't create liability for Shopify, so we added some additional clauses to our contract, broadened out our indemnities, gave ourselves broader termination rights and audit rights," Richards said.
Shopify also couldn't just rely on the contracts but had to check that merchants were authorized to sell cannabis by seeing their physical licence, verify ongoing compliance with the law and ensure that the mode of sale was permitted by the licence, she said. They also required that those contracting to sell cannabis with them had no U.S. operations at the same time because the product is still illegal under federal law.
"There's varying levels of sophistication among licensed cannabis sellers, and some require a bit more hand holding than others, so just making sure that they understand what they need to provide to us and that we will be checking in regularly to make sure that they're in compliance," Richards said.