PM JustinTrudeau said provincial cuts have thrown vital services into jeopardy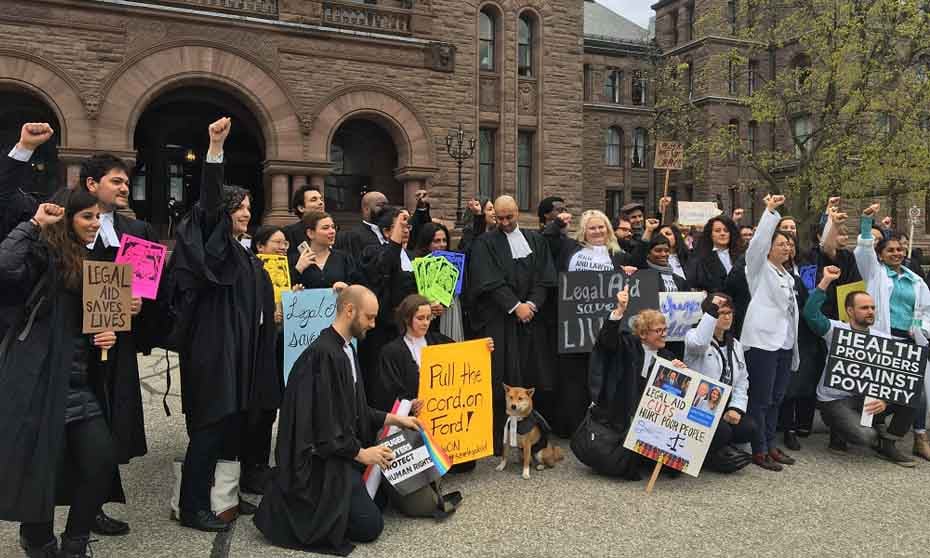 Prime Minister Justin Trudeau on Monday announced a one-time contribution to Ontario's legal aid services, amid budget cuts from the provincial government.
The prime minister's office said the federal government will allocate $25.7 million toward immigration and refugee legal aid in Ontario, as well as $1.16 million to British Columbia and $20,000 in Manitoba.
Trudeau said in a statement that the government is "stepping in" because "in Ontario, provincial cuts have thrown these vital services into jeopardy."
On April 11, the Ontario government announced a provincial budget that included $133 million less funding to Legal Aid Ontario this year. The province said in the budget it hopes to save $164 million each year starting in 2021 on legal aid. Then, earlier this summer, Legal Aid Ontario announced that 22 per cent of its initial budget cuts would be focused on immigration and refugee services. The reduced legal aid budget sparked protests from legal groups throughout the summer.
The Canadian Bar Association said in a statement that proper legal aid funding is an "ongoing access to justice issue in Canada" and that without it, refugees risk deportation.
"This money, along with funding earmarked in the federal budget for legal aid for immigrants and refugees, is a necessary commitment if Canada is to continue calling itself a humanitarian country, founded on the rule of law," said CBA President Ray Adlington in the statement.
On Monday, prime minister's office said that the one-time investment in legal aid will bring participating provinces up to 100 per cent funding for this year "as we work on the long-term sustainability of legal aid."
"It will also help address an increase in asylum claims, so that claims for refugee protection continue to be determined fairly, efficiently, and in accordance with the law," said Trudeau's office.
An account for the Legal Aid Ontario Lawyers Union wrote on Twitter while the lawyers were "grateful" that federal funding will fill a gap for legal services, the Ontario government had "essentially used refugees as hostages for leverage in an intergovernmental transfer dispute."
Jesse Robichaud, a spokesperson for Ontario Attorney General Doug Downey's office, said in an e-mail that "Ontario has been requesting the Trudeau government accept its responsibility to fully fund immigration and refugee legal services at the federal tribunal and courts." Robichaud cited a July 18 letter from Downey to Trudeau. The letter said that Ontario's previous attorney general had unsuccessfully requested federal funding for immigration and refugee legal services and both March and May 2019.
"The $27.7 million total budget line your government announced this year across all provinces combined would not even cover two thirds of what Legal Aid Ontario spent last year to manage the impact of your federal decisions an pay for immigration and refugee claims," Downey's July 18 letter said.
The Canadian Press reported at the end of July that Federal Justice Minister David Lametti's response to Downey was that the province was seeking to obscure a "shared" responsibility.
According to Robichaud, Downey reiterated his concerns in light of Monday's announcement.
"Today, he pressed the Prime Minister to make this predictable and stable funding," said Robichaud.