Caroline Mulroney will face a series of challenges as Ontario's attorney general, as lawyers look to her office to improve the efficiency of the legal system.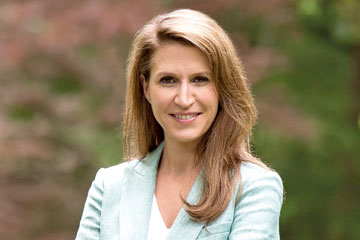 Caroline Mulroney will face a series of challenges as Ontario's attorney general, as lawyers look to her office to improve the efficiency of the legal system.
Mulroney, recently appointed to the role, takes office as the legal landscape is confronting issues such as cannabis legalization and the need for technological upgrades in the courts system.
How the province deals with these changes depends in part on how Mulroney allocates a shrinking budget and dwindling court resources, lawyers say.
Chris Bentley, who served four years as attorney general from 2007 to 2011 for the then-Liberal provincial government, says issues such as delayed bail hearings and the criminal delays highlighted in R. v. Jordan show the need to "cut the paper, cut the steps, get the decision point faster."
Finding "efficiencies" was a campaign promise made by the provincial conservatives under Doug Ford, who was sworn in as premier on June 29.
Bentley says that delays in the courts are the kind of issues that affect the average citizen — and the kind of issue where an attorney general has power to change the approach.
"We have a new government — very much a government that is going to be looking at the everyday issues of Ontarians," says Bentley, who is now managing director of Legal Innovation Zone and Law Practice Program at Ryerson University.
Technology and modernization had been a key focus under former attorney general Yasir Naqvi, who lost his seat in the recent provincial election.
Brooke MacKenzie, a litigator at MacKenzie Barristers PC, says she hopes Mulroney advances investments in technology started under her predecessor.
Reducing the paper burden on court staff, extending Wi-Fi to courtrooms and online dispute resolution are some of the initiatives that have made progress, she says.
"Investments in court technology would be an upfront expense," says MacKenzie, who's been a vocal proponent for these investments.
"In the medium to long term, improvements in court technologies would pay for themselves."
Finding money for those initiatives might prove easier said than done, says Lee Akazaki, a lawyer at Gilbertson Davis LLP and former president of the Ontario Bar Association.
"The challenge will be to compete with other ministries, first of all to see if there are more dollars available for the justice sector, and keep cuts from being made from an already embattled court system," Akazaki says.
There are also other pressures. Nathalie Des Rosiers, who was recently elected MPP for Ottawa-Vanier and the only Liberal MPP who is also a lawyer, says Mulroney will need to examine how the justice system will adapt to Jordan, where the Supreme Court ruled there was a ceiling of 18 months for provincial court cases and 30 months for Superior Court cases.
She says there are currently "long delays in the civil justice system, because the criminal justice system is eating up all the resources."
"In times of budgetary cuts or restrictions . . . resources are necessary to ensure that the criminal justice system functions well," Des Rosiers says.
Michael Spratt, partner at Abergel Goldstein & Partners LLP in Ottawa, also says possible cuts to justice programs could have consequences.
"If savings are sought through cutting of crime prevention programs, diversity training, respect fundamental rights, cutting legal aid budgets, they might save a little money today but cost much more money down the road," he says.
Mulroney, 43, has also been appointed as the minister of Francophone Affairs.
The appointment to the office of attorney general comes after her victory in June's election, where she won the title of MPP for York-Simcoe.
A graduate of New York University's Law School, Mulroney was an associate at Shearman & Sterling LLP in the Compensation, Governance & ERISA group, and she interned at the New York attorney general's office.
She has also worked as an investment executive and in the non-profit world.
MacKenzie says Mulroney might bring her business acumen to the position as she looks to make things run smoothly.
Still, MacKenzie says, Mulroney might face a learning curve in some day-to-day aspects of the Ontario court system, having practised in New York.
"The sooner she goes out to meet Crown attorneys first-hand, the better, because outside of the bigger municipalities, the Crown attorney is a leader within the community and offers a perspective on what's happening in the justice system," says Michael Bryant, executive director of the Canadian Civil Liberties Association, who was Ontario's attorney general between 2003 and 2007 in the Liberal government.
"[Mulroney could talk to] local members of the bar to get the defence perspective as well. I always benefited from hearing from all sides."
New Democratic Party MPP Gilles Bisson of Timmins, who is the provincial critic for the Justice portfolio and House leader for the official opposition, says the direction Mulroney will chart is still unknown.
"It's a wait-and-see kind of thing, what her actions will be over the next month or so," Bisson says.