Paul will be running in the upcoming byelection in the Toronto Centre riding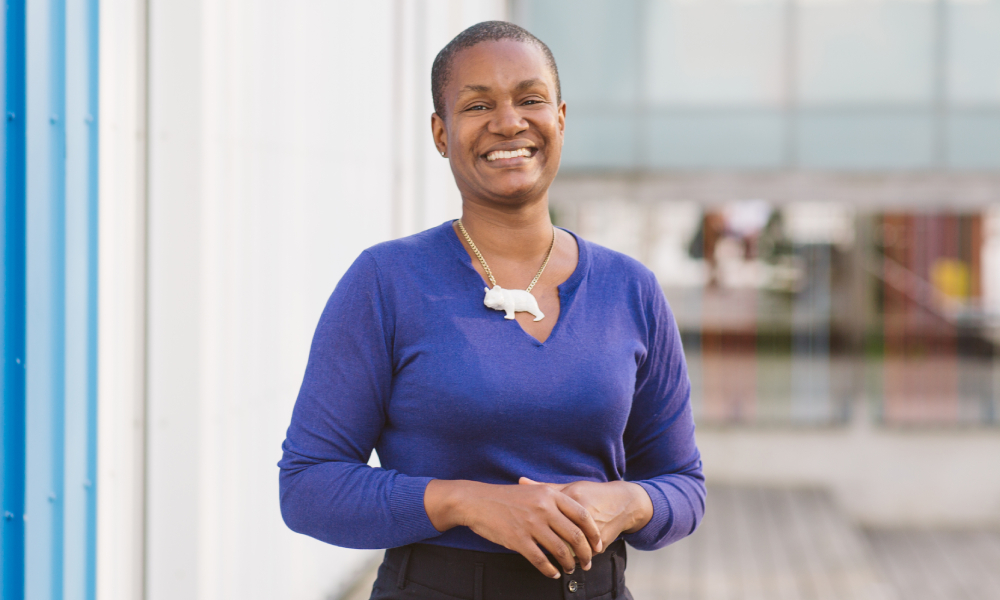 In Canada's justice system "change is needed all over the place," says new leader of the federal Green Party Annamie Paul.
Paul was named leader of the Greens Saturday and will be running in the byelection in the Toronto-Centre riding, recently vacated by former finance minister Bill Morneau. Paul ran and lost against Morneau in the 2019 federal election.
Centre of the opioid epidemic and with among the highest crime rates in the city, Toronto Centre needs "a lot of help" and an MP focussed and working across jurisdictions to find solutions, says Paul.
Nation-wide, Canadians are living through a "renewed interest" in the systemic failings of the criminal justice system, primarily its treatment of Indigenous and Black people, she says. This July, Paul initiated a Parliamentary petition on creating a national database on police use of force, which disproportionally impacts Black and Indigenous people. She adds that the Green Party has made recommendations on how to dismantle systemic racism in policing. In Toronto, while incarceration and arrest statistics are falling generally, the numbers for Black and Indigenous people are moving the other direction, Paul says.
"Black Canadians and Indigenous peoples are the two most overrepresented people in our criminal justice system. They are the most disproportionately affected by the problems in our system," she says.
"Our justice system, for reasons of systemic racism, continues to fail Indigenous people," Paul says, "Indigenous peoples have been waiting a long time for true reconciliation, for true self determination. There are consistent judicial and legal roadblocks that are being thrown up in their path that continues to deny them that."
From the governing Liberal Party of Canada, Paul wants to see greater leadership tackling the climate-change emergency and she wants pandemic stimulus dollars to be put towards accelerating a transition to a sustainable, green economy and carbon-neutrality. She also wants to see government learn the lessons of the COVID-19 pandemic and create a "complete" social safety net.
"So that all the people that we saw falling through the cracks – the gig workers, people in precarious jobs, students and seniors, people with disabilities – all of those people can actually live in dignity in this country," Paul says.
Paul has spent her career working in international law, environmental public policy and pushing for greater representation of marginalized groups in the political sphere.
A lawyer who says she never wanted a traditional legal practice, Paul's career is a testament to the variety of paths that can follow a law degree. She began law school at 19 years old, after only two years of undergrad studies. She says she went to the University of Ottawa because of their reputation training students for uncustomary legal careers, she says.
"I get calls and emails all the time from young people who are considering whether to go to law school or not… And I always tell them, 'absolutely.' I mean, it's very expensive to go to law school now, and that wasn't the case when I went, but it's just an excellent training for critical thinking, for anyone interested in public policy, or in advocacy. It's a really great option for people who want to go out there and do good."
Having grown up in Toronto, Paul's political involvement began as a Queen's Park page at age 12, which was followed later by a pageship in the Canadian Senate. She says the experiences gave her a fascination of the possibilities in those halls of power.
"It was mostly about being very impressed with the institution. The seriousness of purpose," Paul says. "… There were really important decisions being taken that were going to be affecting a lot of people."
During her formative years in the '80s and '90s, optimism reigned, she says. The Cold War thawed, and then the Berlin wall came down. Greater connections formed between the West and the Global South. Paul says energy abounded around social justice, student mobilization and the environment. "It was a very exciting time, it felt like it was full of a lot of promise," she says.
But it was later that she came to the Green Party. First, she went to Europe, where her professional trajectory steered toward international politics and climate change action. After an LLB from the University of Ottawa and Master of Public Affairs from Princeton University, Paul was an advisor at the International Criminal Court in the Hague, a political officer in Canada's Mission to the European Union and co-founder and co-director of BIPP HUB, an innovation hub for international NGOs. Paul also worked with the Climate Infrastructure Partnership, Higher Education Alliance for Refugees and the Institute for Integrated Transitions.
"You realize once you're really in the room with the experts, as they're talking about the climate emergency, it's really impossible to look away and not to be really concerned," she says.
Her pre-partisan political engagement was not only on the international scale. Paul has been pursing efforts to boost diversity in Canadian politics since grad school. From 2001 to 2005, she founded and then directed the Canadian Centre for Political Leadership, a non-partisan charity to aid women and other under-represented to take a run at politics.
"It was in response to what I saw as a vacuum, which is that we didn't have any organization that was systematically studying and working on developing solutions for the chronic political under-representation of women and racial minorities and marginalized groups," Paul says.
She has also worked with Operation Black Vote Canada and Equal Voice Canada.