Former Supreme Court Justice says Canadian lawyers are among the best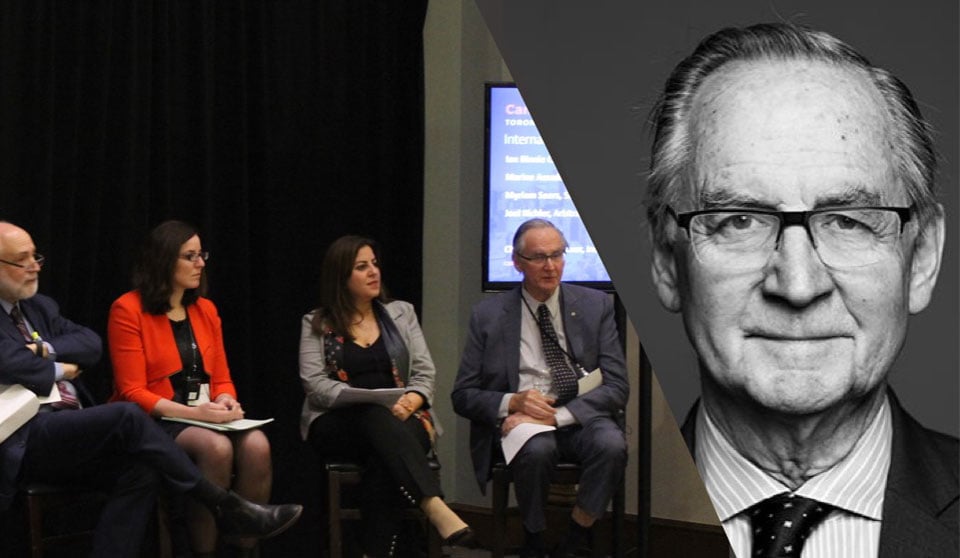 Canada's law firms should push harder to gain business in the realm of international arbitrations, says former Supreme Court Justice Ian Binnie.
"The lawyers here in Canada do as good — or better — a job, at really a fraction of the price. So, I think those of you who are dealing with the client end of things: There's a great deal going for Canada. And the Canadian law firms ought to be pushing harder," said Binnie, speaking on a panel at the Canadian Litigation Forum on Nov. 26 in Toronto.
Binnie, who is Of Counsel to Lenczner Slaght, is active in international arbitration, has been elected as a member of the International Commission of Jurists and has appeared before the International Court of Justice. He authored more than 170 opinions for the SCC, and also acted as Canada's Associate Deputy Minister of Justice.
Binnie noted that his current role involves listening to lawyers from the U.S., UK, Europe and Asia, and he said Canadian lawyers have what it takes to compete on the international stage. He described a proceeding involving the Russian invasion of the Crimea and various assets that were taken over. There were too many people involved to be accommodated in The Hague's Peace Palace, he said.
"So, they are looking into different centers: London, Washington, New York, and Toronto," said Binnie. "And the figures are quite startling as to the economy with which one of these giant arbitrations can be managed in Toronto versus these other jurisdictions, including the legal fees."
The panel also noted that geopolitical tensions elsewhere are raising issues in international arbitrations.
Another panelist at the event, Marine Assadollahi, noted that Brexit has altered the UK as a forum, while the "Trump effect" has put an emphasis on change-in-law clauses, as clients spend more time discussing tariff changes. The renegotiation of NAFTA comes as Canada was historically "on the wrong end" of that investor-state dispute system, said Binnie.
Binnie also touched on The Canada-European Union Comprehensive Economic and Trade Agreement, which raised the possibility of an investor-state court system.
"I don't think this investment tribunal under CETA is going to be very good, because I can't imagine the caliber of person who's prepared to sit on a nation trade tribunal that might take 10 years to get up and running," said Binnie.
Other panelists also noted issues with the system, noting the low pay for judges and the fact that judges are appointed by the state.
"This is a big issue that is prevalent right now on the resolution of investor state disputes," said Paul Tichauer, Chair of the Canada Branch of the Chartered Institute of Arbitrators.
International arbitration is unique in that it brings players from different cultures and legal systems to agree on one set of rules, says Binnie.
"You'll get very interesting cultural conflicts among the three on the arbitration panel, and the law firms involved, all of whom are not infrequently from quite different jurisdictions," said Binnie. "There was one where the lawyer for the government in Laos was a professor of law in Beijing. Americans were presented by a British firm. One of the arbitrators was Belgian and the other French, and there was a parallel proceeding where the chair of the arbitration panel was Spanish."
The Laotian case raised issues about how different jurisdictions view cross-examination, said Binnie. While common law lawyers may view cross examination as the "centerpiece" of fair process, continental lawyers may view it as a waste of time, and want to restrict cross examination to documents already on the record, he said.
"If you're either acting as counsel or you're acting as the arbitrator, it's a good idea to get your lines open before the arbitration begins, otherwise there can be a lot of very unpleasant surprises," Binnie said.