Windsor lawyer Colleen Caza is a shining example of the winding road many lawyers take into the profession.
Before being called to the bar in 2002 and starting her personal injury practice with Goldstein DeBiase Manzocco, she spent time as a social worker, and even toiled on an auto parts manufacturing line, although she admits the later gig was really just "a means to an end."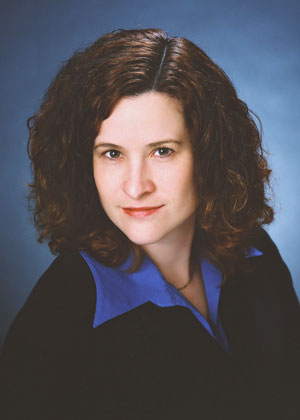 Caza, 35, grew up in Tilbury, a small town of around 4,500 people that's now part of the municipality of Chatham-Kent. She credits her parents - both blue collar workers - with instilling a strong work ethic that provided the drive to work part-time jobs throughout both her undergraduate and legal studies to attain her lofty goals.
While Caza didn't really have any exposure to the legal business growing up - she recalls that the town had three lawyers; all elderly males - her first inkling that a career in law might be a good fit came when she took a high school law course. She says it was one of the few classes that actually grabbed her attention.
"Obviously that's a really broad introduction to law, but I was really interested," she says. "I didn't immediately decide I wanted to be a lawyer or anything like that. It just seemed to me that was an interesting course and a possible career choice."
The legal seed was planted, but Caza went in a different direction with her undergraduate education, opting to take psychology at the University of Windsor. After graduating, she worked as a social worker, but didn't find the job challenging enough to hold her interest for the long term.
"It seemed like every time I had a job it was really interesting and challenging at the beginning, but . . . there wasn't the passion there after a while," she says.
Caza also worked for some time at an auto factory after her undergraduate studies assembling engine parts on trucks. (She returned to work at the plant for one summer during law school.)
"It paid for school, and it certainly was an eye opener," she says.
She also travelled to Japan for a stint teaching English after getting her first degree.
After applying for law school, Caza opted to stay close to home and attend Windsor's law faculty. While an offer also came from the University of Toronto, she wanted to stay close to family. She also planned to settle in Windsor after finishing her law degree, and wanted to make contacts in the area for future employment.
One of the ways Caza seems to have tried to stand out at law school is through participation in student organizations. She became the Windsor University Women and Law chairwoman, and also got involved in the clinical law program, through which she spent one semester and a summer at the Legal Assistance of Windsor clinic.
"To me, that was very helpful in terms of getting hands-on client experience," says Caza. "You're really helping people who don't have other access to legal resources. Pretty much all of the job choices involved dealing with people. That's what I enjoy doing."
With Windsor's Women and Law group, one of Caza's main duties was attracting speakers to talk to students about challenges facing females in the profession. The lecture series was named after former Windsor tax and business law professor Kathleen Lahey, who has also been an influential scholar on gender and law.
Caza says one of the most fortunate experiences in her journey to becoming a lawyer came when she articled in 2001 with Raphael Partners LLP lawyer Dalton Charters, who often works on mediation matters.
"I was able to see a lot of personal injury cases being mediated," says Caza. "I found that particularly interesting, and it seemed to best merge what I was looking for: that I was helping
people, but I was still doing something that was going to always be changing in terms of what the facts were and what the challenges were on each file."
Caza developed a relationship with partners, specifically Shirley Linton, at Goldstein DeBiase Manzocco during those mediations with Charters, and landed at the firm following her articles.
Linton, who has been practising for over 27 years, has faced many of the challenges Caza is running up against, and has become an important mentor.
"She has a lot of trial experience and she's able to guide us along and give us advice," says Caza. "I've been able to sort of shadow her along on some files and attend a lot of large mediations, be heavily involved in trial prep. She'll just give you tips really frequently on better ways to do things. But in a really friendly way, not in a patronizing way."
Caza has also been involved with the Ontario Trial Lawyers' Association, and that group has played a big role in easing her transition into the profession over the past seven years.
"It's nice to be able to go down the hall and ask somebody questions, but having all those other members able to help you who have a broader range of knowledge and experience than just two or three people, it's made a huge difference," says Caza.
That mentorship has been invaluable for the married mother of two young girls, Alaina, 6, and Maeve, 3. She's had to balance a busy law practice with raising her two children and credits her husband Dave Gatt, who is a teacher, for making it all possible.
That help has been essential, says Caza. She notes that her maternity leave after Alaina's birth was just nine weeks, and she was working on a factum from home the week after Maeve's birth.
"He's really been the key for me being able to balance this career and having young children," says Caza. "He's been able to be very flexible, take a lot of time off, and he helps out at home a great deal."
She says any young, female lawyer looking to balance home life and work life needs a rock-solid support system.
"It doesn't matter whether it comes from having a nanny, or having a spouse who's flexible, or having a mother or mother-in-law that is close," she says. "You obviously need the support system in place in order to be able to do the give and take that's required."
Caza says it's unreasonable to suggest that clients wait for their lawyer's personal life
to be in order before their file gets touched.
"It just doesn't work that way," she says.
But aside from making sure she's available for clients, Caza has prioritized giving back to the profession. She's a director of the Essex Law Association, where her main responsibilities surround entertainment and social committee work.
She is also part of a team teaching a civil trial advocacy course at Windsor law school. She says that experience, which takes up one day a week in the second semester, has sharpened her own skills.
"It's really nice to reconnect with the students, because they have a lot of enthusiasm," she says. "It keeps you fresh and on top of knowing what the procedures are and keeps you enhancing your own skills."
While Caza is committed to building her practice, she's had to take a break from setting career goals with two young children waiting for her at home every night.
"I'm busy just trying to keep my head above water," she says with a laugh.
---
This is the eighth in our Women in Law series that is running in Law Times, featuring profiles of female lawyers from around the province.