Ontario's chief justice put the responsibility squarely at the feet of the bar last week in a call on lawyers to do more to address a looming "meltdown in the courts."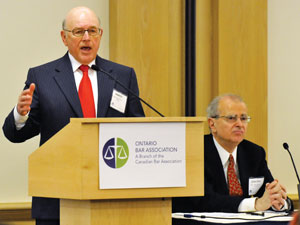 Although Chief Justice Warren Winkler devoted much of his speech on March 28 to highlighting the progress Ontario has made towards increasing access to justice and distinguishing the province's courts from those struggling in New York, he quickly turned to the bar's role with his suggestions that Bay Street firms forgo their flashy suits and cars for their "moral duty" to represent the poor.
Winkler, joined by New York Chief Judge Jonathan Lippman and Law Society of Upper Canada Treasurer Laurie Pawlitza, made the comments during a question-and-answer session during the Ontario Bar Association's joint summit with the New York State Bar Association in downtown Toronto Wednesday afternoon.
The event, which focused on cross-border legal issues, continued in Buffalo the next day.
During the session, the judges called on the bar to cut costs and do more to tackle access-to-justice issues. In his view, Ontario is facing a "meltdown in the courts" that warrants such comments.
Lawyers, however, responded that there isn't any fat to trim from their budgets or practices. For his part, Winkler acknowledged the bar's frustration during the session but refused to back down from his recommendations.
"We need to address cases on a subject-matter basis, simplify our rules of practice to decrease court backlog, address each problem with an understanding of the costs involved so that clients aren't surprised by hefty bills and can negotiate set fees where necessary, and we need to offer incentives to our bar that reward them for producing good results," Winkler said during his speech.
But Ontario and New York lawyers attending the session were quick to share their frustration with Winkler's suggestions, saying significant cuts to their costs would be hard to muster.
"I find in New York there is more support and operations are less expensive," said Heather John, a cross-border corporate
lawyer at H.D. John in Toronto.
"I, and I'm sure many of the people here, have done a lot of things that you have suggested and the judiciary has suggested over the years, and it would be hard to imagine what else we can cut.
I think we need more support and mentoring in Ontario and a significant cut in fees to cover our overhead if these changes are to be implemented."
Nan Berezowski, a lawyer at Berezowski Business Immigration Law in Toronto and an attorney in New York, agreed. He noted most Ontario lawyers have already been making significant efforts to cut costs despite wide variation in professional licensing fees.
"The differences between fees in the U.S. and Canada are quite significant," said Berezowski. "In the U.S., it costs $375 for two years, and here I believe it is $1,800. So I'm not sure if it becomes feasible here to cover the overhead of implementing the changes suggested when we're already doing a lot to cut costs."
Other suggestions offered by the bar during the session included sending young lawyers to work for Ontario's unrepresented low- and middle-income earners and reducing the time lawyers spend in school in order to gain more practical experience to address access to justice.
But Winkler largely dismissed the suggestions. In his view, the bar will simply have to do more with less and can't turn to the province to address its access-to-justice woes.
"If I go to Ontario with this, they will send me back to train my Labradors," said Winkler. "Lawyers simply need more modest expectations. They need to scale costs to what people can afford and that may mean going back to a set fee for their services."
But Pawlitza argued access to justice shouldn't come down to a "who blinks first" approach between the judiciary and the bar.
"The court system is a difficult maze to navigate and one, I would argue, that the judiciary had a significant role in creating," said Pawlitza.
"The legal landscape is certainly changing. I think we do have an unusual distribution in Ontario and lawyers are often not inclined to leave metropolitan areas. So that may account for some of the issues here."
Still, Ontario's access-to-justice plight may prove less dire than south of the border, according to Lippman.
He noted the U.S. economic downturn has left New York's justice system struggling to provide the state's poor with basic services related to matters such as tenant-related legal issues and family law representation.
"State courts have truly become the emergency rooms for the ills of our society," said Lippman. "Access to justice shouldn't just be a luxury in good economic times, just like you can't say we have to turn you away from our hospitals because we don't have enough funding.
I mean, if the judiciary doesn't stand up for the civil legal services of the poor, who will? We need additional funding to protect the individuals of our state."
But according to Winkler, the profession won't be turning to the government any time soon. Solutions to access to justice, he noted, will rest with the bar.
"We already have the social safety net that the U.S. is looking for," said Winkler. "We're not looking for that. Ontario is looking to the bar.
We have to try to tailor a solution for clients that's more affordable for them and if that means lawyers have to give up their BMWs, then that just may be the case."