Some said it was only a matter of time and they were right. Walmart law, and the accompanying low prices, is here in Canada.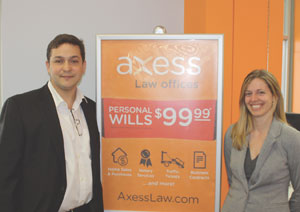 If you happened to swing by the Walmart near Warden Avenue and Eglinton Avenue East in Toronto to pick up toiletries recently, you likely saw an orange, Flight Centre-like office offering a range of low-cost legal services. A simple will, for example, is going for $99.99 at the moment. The fee to sell a home, meanwhile, is $449.
Lawyer Mark Morris and his colleague, Lena Koke, had been helping pharmacies and restaurants find their ways into Walmart stores for some time. About a year ago, they decided to take their own law firm in there, too. As retail lawyers, they knew the needs of the customers who shop at Walmart, says Morris, co-founder of Axess Law Professional Corp.
"Based on the knowledge of the needs of the customer base and the fact that, quite frankly, there are many Canadians who are not being served by traditional legal models, we decided that it was an appropriate time to make an approach," he says.
"And the approach we made was very simple: We're going to focus on those areas of law that are somewhat commoditized, ensure that the same values and standards that we brought to our practices in our downtown office are maintained rigorously throughout our firm, and to do so through strict training and making sure that we don't take on files that are obvious red flags," he adds.
It has been a year since the move to Walmart, but Axess Law kept a low profile while building its structure and ensuring it could meet public demand. "We're jammed," says Morris about the firm's business so far. "That's the only way I can describe it. We're getting lots of response."
Other than simple tasks like notary services, wills are another service the firm can offer fairly quickly, according to Morris.
"The vast majority of Canadians don't have complicated wills. In fact, if I have to say, 95 per cent of the Canadian population probably wants to leave [their assets] to their spouse and their children equally, and their assets are such that they don't necessitate secondary wills, they don't require alter ego trusts, they don't require complex planning," he says.
"For those people, we are able to provide what is a simple will that ultimately meets their objectives and puts wills in the hands of the 56 per cent of Canadians that don't currently have one. This is an access to justice issue as much as it is a business opportunity."
Similarly, real estate is another service the firm can offer as Axess Law has the ability to grow its backend operations in downtown Toronto while using its frontline services at Walmart as intake centres, Morris adds.
Besides the Warden and Eglinton location, Axess Law now has offices in the Walmart at the Scarborough Town Centre and 500 Copper Creek Dr. in Markham, Ont. It's also getting ready to open another office on Lawrence Avenue East in Scarborough. It offers fixed fees with most locations open until 8 p.m. every day.
Morris says he and Koke have notified the Law Society of Upper Canada about all of their moves and notes the regulator seems "content to let us do our thing."
Malcolm Mercer, who chairs the law society's alternative business structure working group, says it's a good thing lawyers are recognizing the different ways in which clients are looking for services.
"I think the fact that lawyers are offering services where consumers come to acquire other goods and services is not completely new, but there seems to be a clear recognition by some that consumers will look for legal services in different ways and that's a good thing," he says.
In February, law society benchers voted unanimously to launch a consultation on four options for non-lawyer ownership of law firms. During the debate that preceded the vote, some benchers also discussed the idea of law firms going into supermarket chains as is already the case in Britain.
"My view is the moment we permit our profession to go into the Walmarts or the Best Buy stores or any of the big-box places, somehow it loses some of our professionalism," said Bencher Gerald Swaye.
Morris is quick to point out that the firm's services at its Walmart offices aren't document generation. "We've studied those [law society] regulations backwards and forwards. We are fully compliant," he says.
Lawyers at Axess Law routinely ask clients who come for will preparation services detailed background questions about their families, businesses, and taxes, notes Morris. "Our lawyers know what to do in the event that those answers come back in the positive or negative. We are recording all of these features into our systems electronically in order to make sure that we are being completely compliant should we be forced to come before the court.
"This is not a matter of document generation. This is a matter of doing proper legal work."
For more, see "Heated debate on alternative structures."