In a frank open letter directed at the judiciary, self-represented litigants say they're sick of being treated as "annoying obstacles unworthy of compassion and understanding" when they stand before the courts.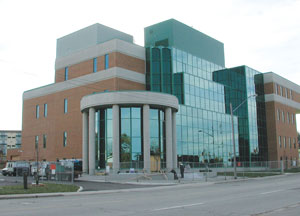 "When you meet us, please do not assume that we are enjoying ourselves — we are not. Please do not assume that we have chosen to represent ourselves because we believe that we can be brilliant trial lawyers," says the letter written by six unrepresented litigants and released last week.
The comment targets judges who become irate with self-represented litigants and sometimes tell them to get a lawyer when that's simply not an option.
"The most important (and simple) reason that we are representing ourselves is that we cannot afford — or can no longer afford — the cost of legal services," the litigants wrote.
"This makes self-representation a necessity, not a whim or an adventure. If we could afford to pay for competent and effective legal representation by someone who was competent to assist us — believe us, we would do so."
Andrew McGinn, one of the people behind the letter, says he often felt like an "intruder" in the justice system when he spoke for himself during his divorce proceedings.
"There was a sense in which I was not really welcome, that I was kind of intruding in the process," he says. "You get a comment like: 'Have you seen a lawyer about this? I highly recommend you go talk to duty counsel about this. You should have a lawyer.' This would come up over and over again.
"I can appreciate some of [the judge's] emphasis was to look out for my best interest but I think some of it also represented this idea that if you don't have a lawyer, 'This isn't going to go smoothly for me. It's too much work for me.'"
The idea to pen the letter came from University of Windsor Faculty of Law Prof. Julie Macfarlane, whose research revolves around the growing phenomenon of self-representation and the challenges of navigating the courts without a lawyer.
"I proposed the idea because I wanted to . . . raise the kind of dialogue and debate about this issue because it's so polarized, you know, it's so, 'Oh, you're mean to us,' and, 'Oh, you're such a pain in the ass,'" says Macfarlane.
"Everybody would like this problem to go away. Everybody would like everybody to have a lawyer — self-reps and judges alike — but it's not [the case]," she adds. "And so given that reality, can we sort of try to find our way to a little bit more of an understanding?"
Superior Court Justice David Price says that when unrepresented litigants are before the court, it's a challenge for both the parties and the bench.
"The court, when dealing with a self-represented litigant, is called upon more often to point out errors in procedure and evidence, and to direct the litigant to sources of relevant advice and information, than when a litigant is represented by a lawyer. The court and its staff can provide general information to litigants, but, for many reasons, should not be giving legal advice. That is, they should not be suggesting what a particular litigant should do with the general information he/she is given," said Price, who emphasized he was speaking on his own behalf and not for the court.
"It is sometimes a challenge for the court or its staff to maintain this distinction, and to provide the relevant general information without acceding to a litigant's request for specific advice."
Price, who has read Macfarlane's report and attended a conference she organized, says he has learned that self-representation isn't a matter of choice for the majority of people.
"I have also gained a greater understanding of the fear that litigants experience in the courtroom, and their feeling of disempowerment by practices that treat self-represented litigants differently than litigants with lawyers," he said.
"An example is where a judge dispenses with a self-represented litigant's approval of the form and content of a judge's order, typed by the represented litigant's lawyer based on the judge's handwritten endorsement. While such practices are usually adopted with the intention of saving time and expense to both litigants, they can disempower self-represented litigants and discriminate against them in subtle and unintended ways."
Although self-represented litigants face a slew of hurdles in the justice system, the one issue they seem to worry most about is their interaction with judges, according to Macfarlane.
"The fact that they're there without a lawyer, they're kind of apologetic," she says.
"So they've worked hard to find out how to do this right and I think they often get barked at. They get barked at partly because it's difficult for a judge to run a court when people are representing themselves, partly because they're getting it wrong."
But Macfarlane sympathizes with judges as well.
"When most judges were appointed, they didn't think they'd be doing this," she says. "There's a big difference when you're just talking with specialized agents and running a court when you're talking to this sort of assortment of people."
In their letter, the self-represented litigants told judges they have no option but to be there.
"We are here because all other choices have been removed. Self-representation is a poor choice — it is incredibly exhausting, stressful, and difficult," they wrote.
"Over the course of months or even years, the cost of legal services has forced us to become our own advocates — and now, for better or for worse, we are the experts on our case to whom you must relate. Please, be mindful of this reality when you talk to us."
In McGinn's view, the justice system needs to accept self-represented litigants as a part of the process and find ways to accommodate them.
"I think they're kind of hoping this is a fad that's going to pass," he says, adding there should be a "quick acceptance of the reality that people are going to represent themselves, they have a right to represent themselves, and that they need to be supported in representing themselves."
Recently, Justice of the Peace Alfred Johnston received a seven-day suspension partly due to the way he treated a self-represented litigant in his court.
According to presenting counsel before the Justices of the Peace Review Council panel hearing the case, Johnston used a "mocking" and "sarcastic" tone with the complainant, Alexander Leaf, when he couldn't properly pronounce a case he was referring to while representing himself in court. The panel ordered Johnston to apologize in writing to Leaf.
For more, see "
JP has change of heart, admits misconduct in tossing 68 charges
."