Despite progress on reducing wait times for civil motions, a lag in filling judicial vacancies at the Ontario Superior Court is a growing concern for the justice system, Chief Justice Heather Smith said last week.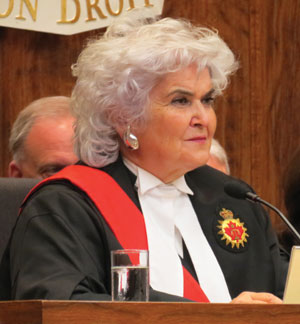 Smith began her address at the opening of the courts ceremony in Toronto on Tuesday by sounding the alarm over the slow pace of judicial appointments to fill the growing number of vacancies. According to Smith, there will be 30 judicial vacancies by the end of the year, with family law judges accounting for nine of them, if current trends continue. The vacancies, combined with a "critical lack of criminal jury courtrooms," were hampering the judicial process, she said.
"I would urge the minister of justice to act with dispatch to fill our court's outstanding vacancies. I also trust and expect the new appointees will have the skills and expertise necessary to step confidently and seamlessly into their roles."
Smith also raised concerns about the court's ability to handle the pressures caused by rapid population growth in several suburban communities in the Greater Toronto Area. "They lack the facilities required to discharge our court's core functions," she said.
While the government has made some progress with plans for a temporary solution to address facility shortages in Barrie and Newmarket, Ont., Smith said it had "abandoned" that option for Brampton, Ont., and is instead considering a permanent facility that would take years to complete.
"This startling change of plan can only result in continuing and worsening delays in criminal jury trials," said Smith.
Ensuring timely hearings was a top priority as Smith's two fellow chief justices also pronounced on the state of the courts last week. Newly sworn-in Ontario Chief Justice George Strathy described the challenges as significant "but not insurmountable," a sentiment echoed by both Smith and Ontario Court Chief Justice Justice Annemarie Bonkalo.
Strathy noted his concerns about access of justice in Ontario and a lack of space in the trial courts. "Our justice system has become so cumbersome and expensive that it has become inaccessible to some of our citizens," said Strathy.
While a key aim of the legal system is to be fair and produce just results, inefficient practices are impeding that goal, he said, suggesting those who work in the legal system have a collective responsibility to improve the administration of justice.
Despite her concerns, Smith commended the success of the Superior Court's internal review of delays in civil matters, an effort spearheaded by Justice Geoffrey Morawetz.
"I am absolutely delighted to report that the first phase of the GTA civil justice review has yielded results that are nothing short of outstanding, particularly for Toronto," said Smith.
"Last year's unacceptable wait times for civil long motions and long trials are now history."
Timely hearings in civil cases were a top priority last year as average wait times for a short civil motion had reached four months and long motions were taking 11 months. Smith said the timelines for both motions are now "a few short weeks." She also noted a significant decrease in wait times for certain long civil trials that could take up to 22 months. The timeline is now six months for any long civil trial, according to Smith.
In explaining the changes, she touted the reduction of counterproductive booking practices and other inefficient procedures. "When the bar organization spoke last year, we listened," she said.
Despite the progress, Smith said maintaining it in the coming years will be "virtually impossible" without a full judiciary.
Bonkalo, who will be leaving her post next May, highlighted the continued efforts to ensure "open, modern, and fair justice" in Ontario's court system. In noting some of the examples, she referred to improvements in quarterly statistical reporting of court activity and efforts to make information more accessible to unrepresented litigants.
Further improvements, she said, will include increased use of videoconferencing in courtrooms and a provincewide electronic judicial scheduling tool.
"While fairness already underscores all our daily efforts, we're always looking at ways to improve. Reducing trial continuations through enhanced case management will be focal points for our court in the coming year," said Bonkalo.
When it comes to family law, Bonkalo said measures such as on-site mediation for families have been helping. But she added: "We need to do more."
In addition, she noted her particular concern about the plight of Ontario's youth. "Our court continues to be deeply concerned about the special challenges faced by young people. These youth often have multiple needs: legal, housing, employment, educational, mental health, and addiction," said Bonkalo.
"Our youth are our most precious resource and are worth our collective investment."
Speaking after the judges, Attorney General Madeleine Meilleur reflected Strathy's concerns when she referred to access of justice as "the most pressing issue of our time."
"Many of us have seen the struggles of vulnerable, self-represented litigants," said Meilleur.
"There are no easy answers, and this is not an issue any of us will be able to solve on our own. Partnerships will be key."
Meilleur also said the Ministry
of the Attorney General is seeking to modernize the court system by posting daily docket information online and providing for electronic filing at the Small Claims Court. She also commended the Law Commission of Ontario's involvement in improving access to justice, calling its efforts "excellent work."
---
For more, see "
Lawyers frustrated as motion delays hit 7 months
," "
Civil litigation delays Smith's 'top priority' for coming year
," "
Crackdown on placeholder motions
," and "Our lumbering justice system."