The road to becoming a lawyer in Ontario is filled with obstacles at the best of times, but a pair of recent calls to the bar faced a few extra roadblocks on their way into the profession.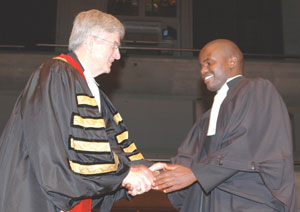 For Wiri Kapurura, it was the challenge of fleeing political chaos in his homeland of Zimbabwe to eventually return to the profession here.
Austin Acton, originally from Kenogami, Ont. - located some 600 kilometres north of Toronto - overcame the challenge of shifting his focus from a career as a chemistry professor to return home and negotiate self-governance for First Nations.
While both men at first glance appear no different than any of their peers at the recent call to the bar ceremonies at the Law Society of Upper Canada, their stories of determination set them apart.
WIRI KAPURURA
Kapurura arrived in Canada in 2006. He originally left Zimbabwe in September 2005, where he had worked as a criminal lawyer for a year and a half in Harare before the country's political situation made him fear for his safety.
He ended up in Texas, but after about a year of struggling with the United States' refugee claim system - he cites the high cost of legal services as a barrier - he crossed the border to Canada at Fort Erie and ended up in Toronto.
When he arrived here, Kapurura says the last thing on his mind was a return to the legal profession.
"Just like any refugee claimant, when you're leaving your country because of conditions beyond your control, the first thing that comes into your mind is just to be safe.
You're concerned more about your safety," he says. "I was in the same situation, where I just needed to be safe and have the basic necessities."
But once he got settled in a Toronto refugee shelter and had a chance to research his options and discuss possibilities with his immigration lawyer, the idea of qualifying as a lawyer here came into clearer view.
He learned about the LSUC and discovered the National Committee on Accreditation, a branch of the Federation of Law Societies of Canada with a mandate that includes evaluating and directing foreign-trained lawyers in their attempts to gain standing in Canada.
He was required to complete nine courses before being eligible for accreditation. Kapurura proceeded to finish three courses through self-study before gaining entry to Osgoode Hall Law School as an international student - as he had yet to gain permanent residency - for his final six courses.
He originally hoped to finish all of his courses through self-study, as he had spent most of his savings. But Kapurura says he wanted a more holistic training experience, and eventually received a big enough OSAP loan to back his education at Osgoode.
"I was just feeling like if I have books in my bedroom and am just studying, studying, studying, I didn't have that chance to network, to see what is happening outside," he says.
Kapurura went on to complete an abridged articling term with a Toronto sole practitioner, and hopes to soon land a job practising criminal law in London, Ont.
He offers the following reflection on his journey from political upheaval in Zimbabwe to his call to the bar in Ontario: "It's something that I cannot explain. It always reminds me that I'm a strong person.
It's like going though a different stage in life where you just have to pull up your pants and work hard. So for me it's a very good experience."
AUSTIN ACTON
Acton - a music and science buff - admits the last thing he saw himself doing when growing up was becoming a lawyer. But his decision to attend the University of Toronto for a biochemistry degree set in motion a string of events that led him to the legal profession.
After receiving his undergraduate degree, Acton started a PHD program at York University, but after finding that experience underwhelming, took a position as a professor at Seneca College.
He taught biochemistry and pharmaceutical technology at Seneca for three years, but at that time realized that the quality of his work was deteriorating "because my heart wasn't completely into it," says Acton.
He moved to a position as a chemistry consultant to an intellectual property law firm.
"That's where I really got my first taste of law and got really interested in that," he says.
"Then once I had my toe into the law books . . . and started reading cases and texts, I got a lot more interested in Aboriginal law, because that's really where my roots are from - my family's from northern Ontario and various Aboriginal communities around the north. So I just really fell in love with that."
He applied to law school and was accepted at the University of Toronto's Faculty of Law. Acton admits that the curriculum offered up a rare academic challenge for him.
"I'd always done things that were easy for me - law school's hard for me, really hard. Because it was 180 degrees from what I'd done," he says. "But sometimes when you're out of your comfort zone you learn faster and harder. So I just really enjoyed it and got much more interested in Aboriginal law, and that's what I decided to practise."
In fact, the day after he speaks with Law Times, Acton is scheduled to represent 42 First Nations in negotiations with the Department of Indian and Northern Affairs for self-governance, from his new practice on the Nipissing First Nation in North Bay.
"It's the 13th year of negotiations, so apparently we might not finish the deal tomorrow," he jokes.
Acton, who is now 31, admits to feeling a little behind in starting his career while many close friends raise their young children. But he is excited by his new life and the challenges that lay ahead.
"I'm completely comfortable with where I live," he says. "I feel like I'm back home and my family and friends are just around the corner, and even though the work is difficult and challenging, it makes me do my best every day. That's what I like about it."