TheOntario Securities Commission (OSC) is comparing the "tipping" offences ofAndrew Rankin to multi-million-dollar investment and health-care frauds andeven multiple armed robberies, in arguing the former investment banker shouldreceive a penitentiary sentence.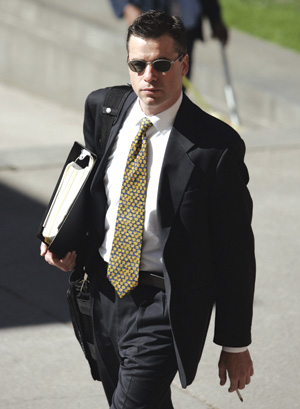 The OSC is seeking a term of three to five years in prison for Rankin, in written submissions filed with provincial court Justice Ramez Khawly before a sentencing hearing scheduled for Oct. 19. The maximum penalty for "tipping" under the Securities Act — Rankin was charged under the previous act, since his offences occurred in 2000 and 2001 — is two years in jail or a fine of up to $1 million for each offence.
Rankin, 40, a former managing director of the mergers and acquisitions unit of RBC Dominion Securities was convicted by Khawly in July of 10 counts of "tipping" in breach of the provincial Securities Act. He was acquitted of 10 counts of insider trading, after a widely publicized trial.
The judge found Rankin provided a series of tips on companies involved in upcoming takeover deals, where RBC was retained as an advisor, to his long-time friend Daniel Duic. Duic used the tips to make a net profit of at least $4.4 million in stock trades in 10 Canadian companies between February 2000 and February 2001.
After one unusually large trade prompted an investigation by the OSC, Duic retained Toronto lawyer Chris Kostopoulos, who negotiated the now notorious deal with the securities regulator.
The deal required Duic to pay just over $3 million in the form of a penalty, taxes and lawyer's fees and to testify against Rankin. When the deal with Duic was approved by the OSC in March 2004, its vice-chairman Paul Moore said it was "in the public interest." Michael Watson, the director of enforcement at the OSC said at the time, "we think we made the choice that better protects the marketplace."
There was no evidence at trial that Rankin participated in any of the trades, directly profited from Duic's illegal activities, or was even aware of the scale of his friend's trading.
"Duic had the last laugh. He not only made the millions and enjoyed the fruits of his illegal activity, but even now he continues to win," said Khawly in his July 15 judgment. The judge was sharply critical of Rankin's testimony during the trial, but also suggested that he was coerced by his friend into providing inside information and "underestimated Duic's greed and deceit."
The longest sentence ever imposed for a Securities Act offence of insider trading is six months in jail and a $2-million fine. Glen Harper, the chairman of Golden Rule Resources Inc., was found to have avoided $3 million in stock trading losses in his company by failing to disclose material information.
Tipping is more serious than insider trading, suggest lead OSC prosecutor Kelly McKinnon and her colleagues Greg MacKenzie and Michael Code (who was retained by the OSC to assist with the Rankin prosecution), in the sentencing submission.
"The potential harm to markets and investors may be greater when an insider tips, rather than trades, as the leak of information results in the spread of confidential information with the risk of multiple instances of insider trading," argues the OSC.
The argument is "inconsistent with common sense," says Brian Greenspan, who represents Rankin. The commission is trying to suggest that "one feature" of insider trading "is more serious than the evil to be prohibited."
The OSC also fails to refer to recent Criminal Code amendments which created new insider trading and tipping offences. Insider trading carries a maximum penalty of 10 years. Tipping is a hybrid offence, with a maximum sentence of five years if the Crown proceeds by indictment. The Criminal Code offences include a mens rea component, which the OSC was not required to prove in the Rankin case since tipping under the Securities Act is a strict liability offence.
The OSC cites a number of cases of investment fraud under the Securities Act as well as criminal frauds in support of its sentencing position. They include a doctor who defrauded the provincial health care plan of more than $1 million and an accounting manager who stole more than $2 million from his employer. In both cases, the defendant received sentences that were lower than what the OSC is seeking against Rankin.
"Though fraud carries a more severe maximum term of imprisonment than tipping, these cases are instructive with regard to the proper sentencing approach," says the OSC in its submission. "Fraud cases stress the aggravating nature of the abuse of trust, the appropriateness of public denunciation, and the centrality of general deterrence in determining a fit sentence," the OSC argues.
A 1946 ruling involving three armed robberies is also cited as authority for imposing consecutive sentences against Rankin for each of his tipping offences.
The OSC's submissions "ought to be ignored," says Greenspan. "To compare tipping to criminal fraud is preposterous." He adds that the principles of general deterrence have already been satisfied.
"He has been hugely punished. He has lost his career of choice," says Greenspan, who compared it to a lawyer being disbarred.
Rankin was earning over $1 million annually when he was fired by RBC in 2001 and he no longer works in the financial services industry. The former investment banker was a rising star at RBC and the court heard that his supporters included Gordon Nixon, who is now its chief executive officer.
The OSC submission makes numerous references to changes in Securities Act penalties since Rankin committed his tipping offences and also to recent speeches about the damage caused by insider trading.
"One important principle of penal law is notice," says Scott Hutchison, a civil litigator at Stockwoods, who was previously a senior Crown attorney. "People should have fair notice of the penalty for any possible misconduct. That is why the Charter guarantees the benefit of a lesser penalty if the governing statute changes between the time of the offence and the time of sentencing."