Lori M. Duffy recalls that when she was comingup for partnership some 15 years ago, the marketing of law firms was arelatively new concept.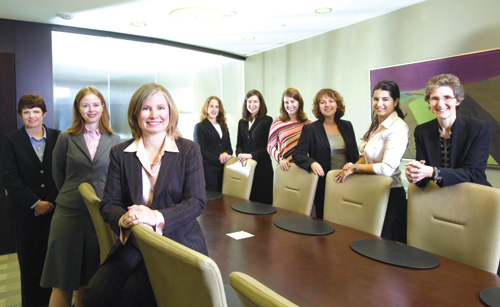 "The older guys I was working with said, 'I always take so-and-so to a hockey game or to a baseball game, here's the firm tickets, and off you go.' And I thought, 'I know nothing about hockey and I know nothing about baseball,' and I invited a fellow I had been doing a lot of work with to a baseball game and, of course, he thought it was a date.
"The whole thing was a disaster," laughs Duffy, a partner at WeirFoulds LLP and chairwoman of WeirFoulds Women, a group of about 26 women lawyers at the Toronto firm who get together for both professional and client development, with an eye to the subtle differences between the way men and women do business.
Duffy spoke to a female colleague about the baseball incident and the colleague suggested Duffy just give the tickets to her clients and tell them to have a good time.
"But I thought that doesn't get me in to know the client or have a face-to-face connection with them."
Duffy held an annual barbecue in her backyard as an almost "undercover operation" for the women at the firm to come together and exchange ideas on marketing, dealing with clients and people at the firm, career clothing, and so on.
"About eight years ago we said, 'This is insane! This is a marketing tool, and we're a part of the firm, and we're going public.' So we started having two dinners a year and sometimes we'd have a speaker come in, but it was all pretty much internal."
Two years ago the group expanded its focus to host events that included female clients as an opportunity for the women lawyers and clients to exchange ideas, and for the younger women to be able to watch the older women network and be introduced to successful business people.
"In particular, I wanted to do that because I was trying to make sure all the young women in our firm were getting all the skills necessary to achieve our partnership requirements."
Recently, for its female clients and with much success, WeirFoulds Women hosted a day trip to Ste. Annes Spa in Grafton, Ont., about an hour east of Toronto.
"It was great because everybody had their private time, you went and had your treatments, but there were lots of places to gather, at the pool and whatnot, and we had a big luncheon and tea in the afternoon," says Duffy. "There was time to chat with everyone and, of course, when everyone's in a bathrobe it's a great leveler. It didn't matter who was what age."
Some of clients invited had only previously worked with men at the firm, but Duffy says she's aware of at least three cross-client initiatives as a result of the spa trip. These events also have the added effect of creating mentoring relationships between women in the firm.
At a recent Advocates' Society conference on woman and the law, Susan Black of Catalyst Consulting said one of the major barriers to partnership that women lawyers identified was a lack of more senior mentors.
"It's so true, and our firm is no different than the bulk of them," says Duffy. "We only have four women partners at our firm, so if you're looking for a partner to be your mentor, there's a line-up. What it has done, I think, has really fostered informal mentoring. Because of these events, and because of these committees, there are several of the younger lawyers that I now see regularly, have lunch with, or who just come by my office with their coffee cup and chat with me."
At Borden Ladner Gervais LLP, partner Lynn M. McGrade of the Toronto office says there are similar initiatives at each BLG office in Canada, and the firm is in the midst of bringing it all together to create a national women's committee.
"I'm a mother of four kids and it's an interesting topic for me and one I feel devoted to — ensuring that women at BLG are supported in trying to maintain their careers and lifestyles," says McGrade.
Some of the women-to-women marketing initiatives at BLG include internal mentoring programs, poker nights and spa nights, women's golf tournaments for clients, vineyard tours and luncheons, a fashion show with proceeds going to BLG Reads to Kids, which sees over 400 employees in every BLG office reading to children in kindergarten to Grade 3 classes of local schools, and an annual holiday party, in its 10th year, that collects unwrapped toys and donations for children's charities.
McGrade says these events and initiatives are a great forum for women to talk to clients about business as well as other commonalities like child-rearing.
"I think it's a different way to market. I don't think it's the only way to market but I think it's one way you can market with your clients in a special way, almost in the way that men can take a bunch of guys out to the hockey game," she says.
"I think that's what some of the women are starting to realize, that it's important also for women lawyers to remember just as a man can take a client out to a hockey game that women can do these types of things together as a business development initiative as well."
She says it's always hard to determine exactly how much business these types of events bring in, but year after year clients look forward to the events.
"I think anytime you build business relationships, and I think that's the goal of this, we want to be able to have our women be encouraged to build strong business relationships so these women-to-women initiatives are a good way to do this with women clients."
Bonnie Tough, partner at Tough & Podrebarac LLP, said at the Advocates' Society conference that she will often do a spa day with clients, although she notes there are many exceptions to the rule and that many women do enjoy going to sporting events. However, she says one thing women really need to work on is tooting their own horn more often.
"If I'm on the phone with a group of men trying to schedule something I'll hear that they're before the Court of Appeal on Tuesday, they have an important arbitration that's starting on Monday morning, and — the one I really love — they're playing golf with the chairman of the board on Friday.
"What they're telling you is that they're busy and they're important and they've got good work and they've got good clients. And I don't think we have to copy this, but we have to do some of it," she said.
Linda Plumpton, a partner at Torys LLP, says she often notices that talking about sports is a great time-filler for male colleagues and their clients.
"Ultimately all they're doing is that they have a common denominator that they share and it gives them something to talk about. The key to those client relationships is spending the time you have with clients digging below the surface, digging below your work, and talking about those common denominators," she says. "It could be a shared interest, it could be that your kids do the same thing or it could be that you both like gardening or you both like the The West Wing.
"It can be anything but you have to put yourself out there to develop that relationship and learn about that person."
Kimberly Morris of Woolgar VanWiechen Ketcheson Ducoffe LLP says recent statistics show that women are outnumbering men entering the legal profession and the number of women clients is increasing as well.
"A lot of the clients who you will be talking to will be women and we can use our commonality to help us with that rainmaking," she says.
Duffy says WeirFoulds Women is currently planning its next event and she is proud of the work the group has done so far.
"It allows our firm to say we care about the people working here, we want to invest in our women lawyers and give them the tools they need to succeed," she says. "It's also a recognition, finally, that what women lawyers need to succeed is a little bit more unique than what the traditional mores for men were."