The Law Society of Upper Canada will consider a motion to change its name next month after more than 200 years under its current moniker.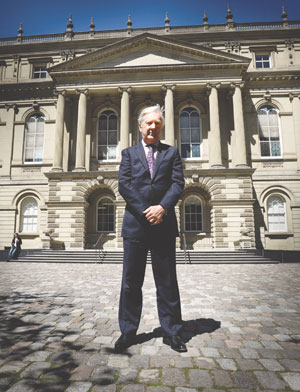 The regulator will hear a formal motion brought by federal government lawyer Thomas Vincent on May 9 at its annual general meeting.
The motion asks to change the name to the Ontario Law Society.
If the motion is successful, the name change wouldn't formally take effect until July 1, 2017, the 150th anniversary of Confederation.
Vincent says he brought the motion forward in an attempt to modernize the law society's image. "We're coming up to the 150th anniversary of the Confederation and it seemed to me it was time for the law society to be modernized.
The motion was intended to generate more conversation about the topic and to offer a realistic and modern reflection of Canada's current geography."
Vincent, who began a petition to change the law society's name last month and sought signatures of support from several fellow government lawyers, adds that while he feels it's unlikely the motion will pass, he hopes the name will change at some point.
"When I was called to the bar, I remember thinking how strange the name was. It's been that way for over 100 years, and while traditions tend to hang and most people seem quite satisfied with the name, I was hoping for modernization."  
But not everyone agrees with Vincent's approach.
Alan Heisey, a lawyer at Papazian Heisey Myers, says changing the law society's name would erode its proud legal history.
"I think anyone can agree that the name is quaintly archaic," says Heisey, who opposed the idea of a name change when he ran as an LSUC bencher candidate last year.
"I'm a traditionalist, so I think it speaks to the legal history of the province and the many traditions that we should be proud of. It's a personal thing among those of us who are more traditional."
While other jurisdictions have long since changed the names of their law societies in favour of more modern titles, that doesn't mean Ontario should do the same, according to Heisey.
"We have to make our own decisions," he says. "I think when we forget our history, we lose a very important part of who we are, a part that we should celebrate and be proud of."
But Duaine Simms, a lawyer at the Department of Justice, says such an approach could limit a law society that has already been working to change in other ways.
"In all other areas, law societies are identified by their province," he says. "It appears as if we are a bit of a relic, and I think we should fall into the same practice."
Simms, who signed the petition, believes that because the law society has been considering and has enacted many other changes, a new name would be a logical next step in that process.
"They've begun regulating paralegals and introducing a number of other changes, so this seems like a another positive step toward modernization," he says.
Heisey, meanwhile, says the name change is the kind of issue that the profession should decide as a whole. "This really is an issue that should be decided by everyone at the law society and not just benchers," he says.
From his interactions so far, Vincent says the petition has received mixed reviews with many practitioners in Ontario seeing the name change as unfavourable and government lawyers stationed in Quebec showing strong support. Vincent himself works in Gatineau, Que., in his job with the federal government.
For her part, LSUC Treasurer Laurie Pawlitza says changing the name wouldn't be simple. "This would require an amendment to the Law Society Act," she tells Law Times.
"Experience has shown that it is not easy to get our governing legislation changed. Changing a name steeped in history must be done for a purpose. Presumably, a name change ought to clearly describe our function to the public.
A more accurate name would be the Lawyer and Paralegal Regulator of Ontario. With that said, I believe that there are more important priorities."