What happened to Laura Liscio, a criminal defence counsel recently arrested at the Brampton, Ont., courthouse, could happen to any lawyer "but for the grace of God," colleagues say.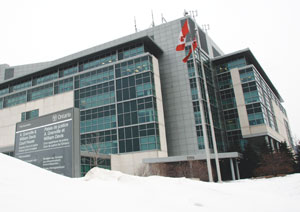 Police arrested Liscio, who's facing charges of smuggling drugs into the courthouse, after she delivered a change of clothing to a prisoner there. Lawyers say the incident raises new concerns around the risk they run in helping families get court-appropriate clothes in the hands of clients in custody.
Lawyers who know Liscio describe her as a "hardworking" criminal lawyer who wouldn't intentionally attempt to smuggle drugs into a courthouse.
"But for the grace of God, any of us could be caught like that if we're not alert to checking the clothing," says Joseph Neuberger, president of the Toronto Lawyers Association.
Criminal lawyer Heather Pringle says she, too, has had to deliver clothing for her clients at courthouses. "You do it to put them on an equal footing as other out-of-custody clients who show up at court dressed respectfully instead of in an orange jumpsuit," she says. "You just want to give them that advantage that someone out of custody has when they show up in a suit and tie and look respectful."
Lawyers say their clients' family members, who often live far from prisons, are sometimes unable to make it to the jail during the scheduled time to exchange clothes.
Following Liscio's arrest, lawyers are calling for more liberal rules for clothing exchanges that would mean they wouldn't have to assist with delivery.
"In Brampton, my clients have been kept at Maplehurst [Correctional Complex] and their families are often nowhere near Maplehurst and often don't have transportation and certainly can't go out there on a regular basis," says lawyer Jennifer Myers.
"Maplehurst would take clothes once a week from a family member who would deliver them to the jail and the accused person has to put in a request for the clothing change and that has to be approved before the clothing change happens," she adds.
The jail would keep only one set of clothes, so if an accused is facing a jury trial that goes on for months, it's nearly impossible for the family to deliver several changes of clothing to the jailhouse, according to Myers.
"So either your client wears exactly the same thing for every day of his trial or we're forced, essentially, to assist in the process because I certainly don't want my client to be in the same clothes every single day before a jury."
Either the delivery schedules should change or family members should be able to bring clothes and hand them directly to courthouse staff, says Myers, who adds that while the incident involving Liscio won't deter her from helping her clients, "it frightens me."
Even when lawyers thoroughly check the clothes they receive on behalf of their clients and they happen to find drugs, they're still in a bind because they'll then become a witness and compromise their ability to represent their client, says Neuberger.
But when drugs turn up in clothing handed to court staff, the immediate reaction need not get the lawyer in automatic trouble, he says. "There is an innocent explanation and simply because [lawyers] are a conduit, it doesn't mean they should be charged."
After collecting the clothes from the client's family, the lawyer is often in possession of the items for just a few minutes before handing them over to court staff, Neuberger notes. "I don't see why the lawyer cannot be interviewed and asked, 'When did you receive it, who did you receive it from?'" he says of situations where the clothes contain drugs.
"In the normal course, the lawyer is simply a conduit; they're handing over the clothing from the family to court security and they expect . . . that they'd check it," he adds. "That's why this case [Liscio's] seems almost unbelievable to me. This isn't an exchange in jail during a visit; this is at the courthouse while clothing is being handed to court security."
While he doesn't know all of the facts in this case, he assumes Liscio wasn't aware of the drugs. "I understand that she got this file, she turned up at court right away to do it. I don't think there was any time to provide clothing to the accused in custody, so this is what had to happen. I cannot imagine that she would want to engage in criminal behaviour."
Pringle goes even further to say "there's absolutely no way" Liscio is a drug trafficker. "She's a hardworking, diligent, honest, and ethical lawyer. Whatever happened, I have no doubt that it happened without Laura's knowledge."
For more, see "
Defence lawyers' outrage justified.
"