Sole practitioner Naomi Sayers will host three sessions this summer on trauma-informed advocacy, highlighting issues faced by Indigenous women.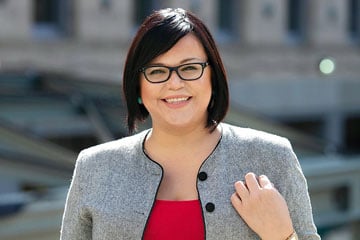 Sole practitioner Naomi Sayers will host three sessions this summer on trauma-informed advocacy, highlighting issues faced by indigenous women.
The sessions begin Wednesday, June 12, at 525 Dundas Street East and run through July, says Sayers. The Ontario Bar Association is also hosting an Aboriginal Law program on the subject on June 17, co-chaired by Sayers.
The sessions will include practical tips that for how lawyers can immediately improve client intake and interviews to address potential trauma in the client's life.
She says even well-meaning lawyers can unintentionally reinforce harmful aspects of the legal system.
"The term 'trauma-informed' sounds so far removed from some people's practices, but it's not in many instances. For example in civil litigation, that's a practice that's very intense sometimes for clients and can be overwhelming," says Sayers. "I think part of managing clients' expectations is having the ability to understand that clients come from certain experiences. Sometimes those experiences are trauma-related. So, I think it's a professional obligation to have trauma-informed practices."
The sessions, which are accredited by the Law Society of Ontario as an hour of equality, diversity and inclusion training, come amid the release of the National Inquiry into Missing and Murdered Indigenous Women and Girls report.
"There are specific calls on law societies on cultural competency," says Sayers of the report. "I'm really surprised there was not anything about making legal services trauma-informed. I think that's a profession obligation, so these sessions will build on that."
Sayers first started planning the sessions in December 2018, spurred by the National Day of Remembrance and Action on Violence Against Women. The sessions also address the Supreme Court of Canada decision in R. v. Barton, 2019 SCC 33. She noted that the decision refers to Cindy Gladue, whose death was the subject of the case, as "an Indigenous woman and sex worker." While some camps of the feminist movement endorse that term and encourage courts to use it, others see the word "sex work" as a euphemism for an exploitative practice.
"We think we are doing the right thing, but sometimes the right thing has unintended consequences. The court calling her a sex worker assumes that one, she saw it as work and two, that it was ok to call her that. We can't know that because I doubt very much if anyone asked her," Sayers says. "Consent is a key driving force in all work that I do. If the people that you help — or that you receive direction from, or you want to provide legal services to — can't consent or provide meaningful consent, what are you doing? Generally, the very basic rule is to get instructions from your clients. So, it's not that radical. It's just reframing it in a way that gives agency back to a person who may feel like they don't have agency."
It is important to ask clients where they stand on issues like the term "sex work," says Sayers, who recently launched her own firm. Sayers says she first noted the lack of trauma-informed advocacy when she was on the other side of the table as a client of a lawyer. The gap in understanding of trauma-informed advocacy meant that her lawyers, as well as other professionals like health care providers and social workers, could get offended if she spoke up about the law, she says.
"Trauma-informed advocacy means, to me, understanding that your client is the expert," she says. "People are the experts in their own lives, so [lawyers] need to learn to not take things personally."