After spending much of his career working behind the scenes, Murray Segal is fine with the fact that most people don't know who he is despite his significant role in shaping the province's court system.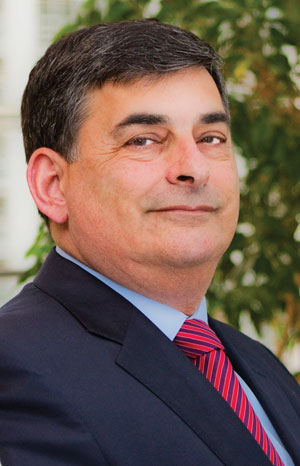 "It's about the people who work there, the people who access the courts, the victims," says Segal, who will soon be leaving his current role as Ontario's deputy attorney general.
"It's about making the justice system more accessible, less expensive, and more technologically advanced for them. It's really all about them and stepping inside their minds to try and build a better justice system. I've been very lucky to have that privilege for as long as I have."
Segal speaks with pride about his work, including his role in helping make what Ontario calls the "most modern courthouse in Canada" in Oshawa, Ont., a reality.
Ontario's deputy attorney general since January 2004, he has spent the last eight years providing legal, policy, and strategic advice to the premier, cabinet, three attorneys general, and the secretary of the cabinet.
During that time, he helped create Ontario's guns and gangs strategy, made changes to its human rights system and police review regime, oversaw dozens of multimillion-dollar courthouse renovations, and advised the government on numerous public inquiries and reviews.
But on May 31, that part of his career will come to end. After nearly four decades in public service, Segal will join Simcoe Chambers, a criminal law office in Toronto where he'll provide legal services in the areas of mediation, professional regulation, government relations, and aboriginal matters.
Segal says while he's "had a good run" and enjoyed the excitement of helping shape Ontario's justice system, he's ready for the new challenge.
"There wasn't a defining moment that led me to change paths," says Segal.
"I've always had great admiration for the defence bar and one day, I just thought, why not take the plunge while I'm still passionate about law?"
Still, some habits die hard, and Segal says he hopes to continue to develop practical solutions for governments and business in his new role.
"My roots are in criminal law, but I'll be happy to work with whoever will have me beyond that," says Segal. "I look forward to doing work with governments and advising them on justice system delivery, as well as work in large-scale infrastructure projects."
Segal, of course, has a long history of involvement in that type of work. In 2005, he created Ontario's guns and gangs strategy, which brought together specialized police and prosecutors under one roof in a provincial operations centre.
Since then, the federal government has passed the omnibus crime bill aimed at further cracking down on guns. While Ontario and Quebec have opposed the bill in large part over the costs, Segal says there are a number of ways of looking at the legislation and other changes to the criminal justice system.
"Are the changes worth the money? Are they tempered by justice?" he asks. "There seems to be a general toughening up regarding guns and it's become one of those balancing issues."
He adds that shaking hands is often better than pointing fingers in most situations. "An approach of collaboration where both sides listen to one another and offer practical solutions is often best, I find. I've never found pointing fingers to be very productive."
Apart from changes to the province's criminal justice system, Segal has also been heavily involved in public inquiries and reviews. They include the Cornwall inquiry into sexual abuse allegations and the ongoing review of First Nations' representation on jury rolls.
"There was a review set up last August designed to explore and improve aboriginal representation on jury systems in Ontario, particularly involving obstacles preventing First Nations from serving on inquest juries," says Segal.
"There really seems to be tremendous opportunity for partnerships between people in the justice system and First Nations and I think the review could transcend current cases."
Segal served as deputy minister for native affairs prior to becoming deputy attorney general.
During that time he designed a new framework for working with Ontario's First Nations communities and oversaw land claims negotiations and litigation.
He was also involved in developing a new dispute model that allowed First Nations to settle land and financial claims outside the court system.
Prior to that, Segal served in senior roles with the Ministry of the Attorney General's criminal law division.
During his time as director of that division, he helped create and administer Ontario's witness protection program, develop legislation supporting Ontario's RIDE program, and prevent cases from being dismissed for delay.
"The last number of years have allowed me to be involved in a wide variety of things and a rich variety of work," says Segal. "It's been a lot of fun. I've been surrounded by wonderful people."
In the meantime, Segal has some advice for his successor.
"You have to have an appetite geared toward improvement. People are expecting more and more out of the justice system and their government services than ever before. We really have to look at promoting change while never sacrificing justice."
For more, see
"Murray Segal leaving public sector."