The Law Society of Upper Canada believes a lawyer has left the country amid complaints from her clients about $3.5 million in missing mortgage funds she was holding in her trust account.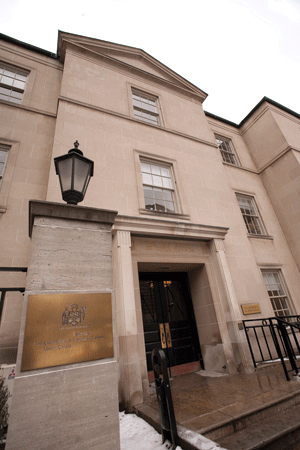 Mississauga, Ont., real estate lawyer Rita Grewal has abandoned her home and law practice, and her credit card activity suggests she may be in India, according to a law society ruling in which the regulator suspended her licence to practise law for fear she poses "a significant risk to the public."
The regulator has received 11 complaints since the end of July from Grewal's clients alleging she received mortgage funds earlier this year but hasn't yet paid them out.
"By the end of July 2014, [Grewal's] home and her office had been vacated and her files have not been located," wrote hearing panel chairman David Wright in the recent decision on the law society's application for an interlocutory suspension.
"Activity on her credit cards suggests that Ms. Grewal may have gone to India. Ms. Grewal has not responded to the law society's inquiries or to this proceeding and has not explained what happened to the money."
Although $3.5 million is missing, Grewal's account only had $100,000 left in it when her bank froze it, according to Wright's ruling.
The transactions in question related to Grewal's residential real estate practice, specifically purchase, sale, and mortgage refinancing transactions, according to law society spokesman Roy Thomas.
"Based on the complaints, Ms. Grewal received, in trust, mortgage funds from institutional lenders that she was instructed to use, among other things, to pay out existing mortgages on title but did not do so," said Thomas.
So far, the law society is aware of eight transactions in which there appear to be missing mortgage funds, noted Thomas, adding there may be 12 transactions for which clients retained Grewal during the five-month period this year in which she practised real estate law.
Attempts to reach Grewal have been futile, according to the ruling ordering the interlocutory suspension.
"The law society has attempted to contact the lawyer in person, by telephone, mail, fax, and e-mail at her last known contact information. The lawyer has not responded," according to Wright.
"E-mails were not returned, suggesting she may have received them. She has not provided any response to the law society's investigations or to this motion."
Grewal practised law as a sole practitioner in that period through a professional corporation called RG Barrister & Solicitor PC. The complaints against her relate to work she did between February and July of this year.
Around February, Grewal resigned as a board member of the South Asian Women's Centre, says Kripa Sekhar, the organization's executive director. Grewal resigned after she went through a difficult personal situation, according to Sekhar. Although she wasn't sure of what happened, word was that someone had broken into her house.
"We have absolutely no contact with her and do not know where she is," Sekhar tells Law Times.
Sekhar was surprised to hear the news about Grewal. "That's so out of character. I am so shocked."
The law society says it has contacted police about the matter. The Peel Regional Police media relations department says it has no information to share with Law Times. Toronto police financial crimes Det. Chris Dionne says police in Toronto aren't investigating any fraud matters in relation to Grewal.
An online biography for Grewal, one she used while a board member at the South Asian Women's Centre, says she was born in India and practised law there before coming to Canada in 2005. She was called to the bar of Ontario in 2011.
Grewal is "committed to the empowerment of women," the biography noted, adding she has supported women who have gone through trauma.
"She visits local community center and religious centers and helps illiterate and needy people to apply for their permanent residence, citizenship, helps destitute women in getting justice, [and] actively participates in local food drive," according to the biography.
Grewal had previously worked at Carranza LLP, a Toronto personal injury law firm. In February, Grewal left the firm, according to Moira Gracey, a lawyer there.
The reason for her departure was "nothing nefarious," says Gracey, who noted Grewal left for personal reasons.
"Wow," says Gracey about the situation with Grewal. "That's certainly a shock."
Besides the suspension, the hearing panel awarded $10,000 in costs against Grewal. "In the circumstances of this case, in particular given that the lawyer is not participating in the investigation and this may delay the hearing, we believe that costs of the motion should be awarded now, rather than remitted to the panel hearing the merits," Wright determined.
It's the second alleged instance in recent months of clients missing money a lawyer was supposed to protect. Purchasers of units in a North York condo development are out as much as $15 million in deposit fees after lawyer Meerai Cho released the funds to the developer of the building.
---
For more, see "
Lawyer under fire after $15M in condo deposits goes missing
."