The Ontario government has made it clear that it will not fund any new law schools during its current mandate, but that isn't stopping Lakehead University President Fred Gilbert from continuing that school's campaign for a northern law school.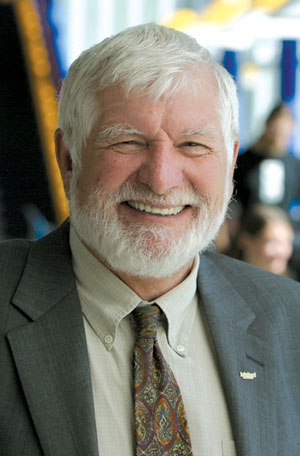 "We think the rationale that we provided, and have been providing all along, is still valid, still strong," says Gilbert. "We should and will continue to make the case."
In a memo to all Ontario university presidents, the Ministry of Training, Colleges and Universities noted that the ratio of law school applicants versus registrants has not substantially changed since 1997, which implies that the six existing law schools in the province are adequate.
It also pointed to a Law Society of Upper Canada report earlier this year indicating a shortage of articling placements.
"Our priorities lie elsewhere right now in terms of post-secondary education, where we're going to be directing resources," Minister John Milloy tells Law Times.
Those priorities include 100 new medical school spots, new spots for graduate studies, increasing registrants to apprenticeship programs, and capital renewal projects, he says.
Milloy says the ministry wanted to make its position clear now, because a number of universities are already putting resources into plans for new law schools.
Thunder Bay's Lakehead began its campaign ahead of proposals for new faculties from Wilfrid Laurier University, in Waterloo, and Laurentian University, in Sudbury, Ont. There has also been talk of a proposal from the University of Waterloo and Research in Motion co-founder Jim Balsillie.
The Thunder Bay university commissioned an external review of its proposal, spent $1 million to purchase a building, and has received a pair of donations to get a law library started. Its fundraising efforts are well underway.
"We're very well advanced, and the interesting thing is that there are a lot of prospective students who have been gearing themselves for potential entry into the law school in 2010," says Gilbert. "There was a broad expectation that this would go forward and a lot of people looking to participate, whether it was at the faculty level or the student level, it was not going to be an issue."
While acknowledging the general public's view that the province has enough lawyers, Gilbert says Lakehead's proposal is designed to address "some very real needs that are not being met."
He notes the proposal began when members of the Nishnawbe Aski Nation, a local aboriginal political organization, approached the university about the creation of a law school to meet the community's needs. The proposal also was intended to assist the mining and forestry industries.
"The rationale, the logic, and the broad support base that we have for this all recognize that this was intended to be a very different law school," says Gilbert.
He still expects the National Committee on Accreditation, a branch of the Federation of Law Societies of Canada, to review the Lakehead proposal at its next meeting, on Aug. 8.
"There is no linkage between whether this is a strong proposal for a law school and whether the funding is there," says Gilbert.
Milloy, meanwhile, says the ministry considered the law school system as a whole and found that a new institution - in the north or elsewhere - is unnecessary.
"People move around. The lure of Bay Street and the big firms stretches anywhere in the province, and people, when they finish their studies, go out to the legal profession. . . . And going back to the studies we showed, there in fact are more students than articling spots right now."
The ministry sets its priorities with each election mandate, says Milloy, adding that universities have the "right" to continue their campaigns to create law schools.
"But our position is pretty clear, that there will be no government funding for a new law school or new law schools," he says.
Ontario Bar Association president Greg Goulin backs the idea of making law schools more regionalized, especially in underserviced areas.
Goulin went to law school at the University of Windsor, and he says many of his peers chose to stay in the community to practise after graduating. A similar situation might arise if a school was created in the north, he says.
"It's something we really have to leave to government and the regulators, but at the same time, gosh, there's an awful need up in the northwest for a regional perspective on legal education," says Goulin.
Goulin also says the OBA supports the articling system, and new law schools would create a bigger pool of graduates that would further strain that structure.
Gilbert says Lakehead will consider other options to advance its proposal, and hopes the ministry will change its mind sometime in the future.
"You don't abandon something that is of value," he says. "We think that what we're proposing is sound. We think the case ultimately can be made."