A Toronto paralegal and a real estate agent forged a judge's signature on a fake default judgment against two defendants they were suing, Superior Court Justice Michael Penny has found.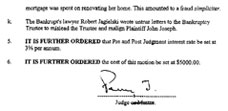 Penny determined in
John Joseph AKA John D'Souza and Peter D'Gama v. Ritchie James Linton
that he never signed the June 19, 2012, judgment bearing his signature.
The purported judgment, obtained
ex parte
, declares the defendants in a real estate dispute guilty of conspiracy and fraud and awards the plaintiffs, John D'Souza and Peter D'Gama, $60,000 in damages, $48,000 in exemplary damages, and $5,000 in costs.
"I find that the plaintiffs, or one of them acting in concert with the other, falsified my signature on the June 19, 2012, judgment by cutting and pasting a copy of my signature from another order or endorsement . . . onto this form of judgment," wrote Penny.
"The plaintiffs sent copies of the fake June 19, 2012, judgment to the defendants, representing it to be an authentic, valid judgment of the court. They used the judgment to threaten serious consequences, including criminal proceedings."
D'Souza, a paralegal licensed by the Law Society of Upper Canada, tells
Law Times
that he and D'Gama believe Penny signed the judgment but suggest he has no recollection of it. D'Gama is a real estate agent.
The pair, who are appealing Penny's ruling, originally brought motions against the previous owners of an Etobicoke home "they believed they were entitled to close on," according to David Silver, counsel for two of the defendants.
Alleging a breach of an agreement, D'Souza and D'Gama took Krystyna and Agnieszka Woldanska to court. The paralegal and real estate agent also sued the new owners of the property and the lawyers who facilitated the purchase.
The judgment D'Gama and D'Souza say Penny signed declares all the defendants guilty as "evidenced by their conduct" and "badges of fraud."
Marek Tufman, counsel for the Woldanskas, says he received a signed letter in July from the plaintiffs declaring victory and plans to pursue criminal proceedings against his clients.
"It was clear to me that this could not have possibly been done without notice by a judge," he says. "It's outlandish, absolutely scandalous, and beyond belief."
When Tufman told Penny he didn't know about the judgment, "He looked up at me and said, 'Well, neither do I, Mr. Tufman,'" the lawyer says.
After setting aside the judgment in July, Penny went on to award more than $40,000 in costs to all of the defendants.
"I find that the plaintiffs' conduct, in faking a judgment of this court, constitutes a scurrilous and fraudulent attack on the administration of justice," Penny wrote in his Jan. 7 ruling.
"The plaintiffs' actions amount to a contemptuous and reckless disregard for the judicial process and were calculated to obstruct or interfere with the due course of justice in these proceedings."
On the date he purportedly signed the would-be judgment, Penny said he was in family court. Even if he were working in civil court on July 19, "under no circumstances" would he have signed the order, he said.
"It grants extraordinary relief, such as exemplary damages, which I do not grant on an
ex parte
basis," he added. "It also grants highly unusual and prejudicial declaratory relief against other defendants in the action, besides those against whom the motion for default judgment was brought, without justification or explanation."
The judgment came as a shock to Silver. "We were shocked," he says.
"We were shocked to see an order of this measure being ordered by the court."
The judgment seemed all the more bizarre since the defendants had already brought a summary judgment motion to throw out the case, Silver adds. "It's outrageous. There's no way a judge in the Superior Court is going to make this type of declaratory findings, fraud, and conspiracy without notice and particularly when there is a summary judgment motion to dismiss the action. We were skeptical that this order is authentic given the draconian relief that was contained in the order."
D'Souza and D'Gama are seeking a leave to appeal Penny's decision. "It's not forged. Of course it's not forged," D'Souza says of the judgment.
"It was a written motion. We believe it went before [Penny] but he doesn't have a recollection of it."
Although the date on the judgment is June 19, Penny could have signed it on another date, D'Souza argues, noting that June 19 is the day the plaintiffs submitted the motion and that date could have simply been on the order when Penny signed it later on.
On July 31, D'Souza and D'Gama consented to have the judgment set aside. But that wasn't a concession, according to D'Souza, who calls Penny's words "harsh."
"It was a written motion and obviously Justice Penny was saying that he wasn't aware of this motion. So we thought, 'OK, nobody is aware of it so what we're going to do is bring this whole motion back again.' We felt that we could bring this whole motion back to Justice Penny with notice to all the parties . . . and argue the whole motion out."
The argument that the plaintiffs brought a written motion the judge signed on a date other than the one indicated is a farce, says Evan Moore, counsel to the defendant lawyers.
He points to the preamble on the judgment in question that notes the
ex parte
motion "was heard this 19th day of June 2012 at 393 University Ave.," a fact Moore says is an indication the plaintiffs would have been present in court.
In his Jan. 7 costs ruling, Penny said that prior to July 31, when he wrote an endorsement to set aside the judgment he says he never signed, D'Gama and D'Souza were complete strangers to him.
"This matter was never before me, in person or in writing," wrote Penny.
But in their notice of leave to appeal, D'Gama and D'Souza say there's no "hard, tangible or direct evidence that the plaintiffs actually provided a fake judgment."
They continued: "That judgment does bear the signature of Justice Penny."
Penny's ruling surprised them, they added, as they "did not understand, contemplate or expect in their wildest dreams" that the judge would make such findings against them. The court should give them a chance to thoroughly address these "harsh" findings, their notice says.
The pair is also seeking to appeal the costs awarded to the defendants.