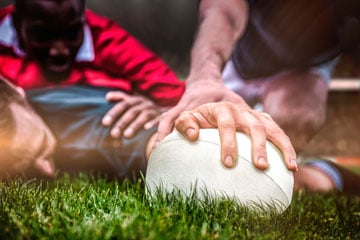 The Ontario government has launched an information campaign to raise awareness of concussion safety, especially among amateur athletes, children and youth.
Michael Tibollo, minister of Tourism, Culture and Sport, and Lisa MacLeod, minister of Children, Community and Social Services, launched the Rowan's Law awareness campaign with a concussion safety video that has been playing in cinemas across Ontario. The ministers were joined by Eric Lindros, hockey hall of famer and concussion advocate.
Passed in 2018, Rowan's Law was named after Rowan Stringer, a 17-year-old high school rugby player from Ottawa, who died in 2013 from a condition known as second impact syndrome, characterized by catastrophic swelling of the brain and caused by repeated concussions within a short period of time.
"With the spirit and story of Rowan Stringer's preventable passing, the Ontario government is protecting amateur athletes by raising awareness about concussion safety," Tibollo said. "Reducing the risk of concussions is always the goal. But concussions happen. Knowing what to do if a concussion happens — whether you're an athlete, a student, a parent, a coach, an official or an educator — saves lives."
The campaign will run through video, print and social media, and it will seek to change the conversation about how concussions are handled, the Ontario government said in a news release. Its goal is to discourage coaches, parents and players from celebrating players who jump back in the game too soon after a concussion as "warriors" or "heroes." Instead, it teaches them to be mindful of the serious brain injuries that concussions represent and the time required to treat them.
"I'm proud of Ontario's leadership in ushering in Canada's first concussion legislation and continue my call for other provinces and territories to do the same. It could save lives," said MacLeod, who sponsored Rowan's Law.