Prisoners and their guards have found a common enemy this summer: the provincial government.
Last month, the Hamilton-Wentworth Detention Centre went into lockdown after jail workers walked off the job in a dispute over safety.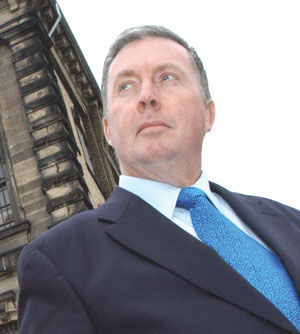 A month before, the Elgin-Middlesex Detention Centre was the site of a "near riot" following another lockdown and weapons search, according to the London Free Press.
Conditions at the London, Ont., facility have sparked a rash of lawsuits from inmates and judges have weighed in with rulings that paint an ugly picture of the conditions there.
London lawyer Kevin Egan of McKenzie Lake Lawyers LLP is handling more than 70 civil claims by inmates of the Elgin-Middlesex Detention Centre against the province. He says the number is rising.
His clients have complained about safety at the facility with most of the claims stemming from assaults by fellow inmates and sometimes by guards. Egan says the jail is poorly designed, a fact that gives guards limited views of the cells and results in minimal supervision.
"They've allowed a culture to develop where the meanest, toughest inmates control what goes on," says Egan. "They set the rules.
In fact, they post the rules in each block: no whistling, no walking in front of the TV, no using the phone without permission, which comes from the tough guys."
Penalties for transgression are harsh, according to Egan. Some of his clients claim fellow inmates who control the cellblocks have severely beaten them up and forced them to vomit up drugs.
Many of the claims, none of which have been proven in court, allege the province's failure to address the violence has resulted in breaches of prisoners' s. 7 rights related to security of the person under the Charter of Rights and Freedoms.
Egan says the Ministry of Community Safety and Correctional Services has failed to implement recommendations from an inquest jury following the death in 2009 of Randy Drysdale, a 46-year-old prisoner who died of head injuries after a beating.
"My worry is someone else is going to get taken out of there dead," says Egan.
In July, according to the Free Press, Ontario Court Justice Edward McGrath urged a juvenile offender not to get himself into trouble again or he'd risk spending time at the Elgin-Middlesex Detention Centre, which he described as a "very unpleasant place."
"You will be one of the smaller people in adult custody, and believe me it is hell, I can tell you that," McGrath told the offender, according to a transcript.
Then in August, the Free Press reported that McGrath's colleague, Ontario Court Justice Gregory Pockele, said in court that he'd discount a first-time offender's sentence as he was "sending people with great reluctance" to the jail. He noted he was "concerned about people's safety."
Community Safety and Correctional Services Minister Madeleine Meilleur has denied that the judges painted an accurate picture of the jail. But John Hill, a lawyer who specializes in prison law, says both were "right on."
"Prison conditions are probably at an all-time low since I've been in practice, and I was called to the bar in 1975," says Hill.
"The biggest reason is overcrowding. People are stacked up in the provincial system and there's way too many for the existing facilities, which also leave a lot to be desired."
Hill says a breakdown in the so-called "con code" over the last decade has resulted in a surge in the number of inmates informing on each other in the hopes of more favourable parole terms or prison perks. That in turn has increased tension among them.
According to Hill, greater reliance on technology for surveillance of inmates, combined with the larger population, has also changed the way guards interact with prisoners.
"They don't get to know them and things can go wrong very quickly," he says. "You can't really expect a guard to meander down the hall when something's brewing."
In Hamilton, Ont., safety concerns boiled over last month after guards learned of a missing piece of metal on one of the floors. Due to fears an inmate might use it as a weapon, a search was launched but was later abandoned following a dispute with management over guards' use of safety vests.
Hill says he's not surprised to see guards walking out.
"Prisons are not a pleasant place to work right now," he says.
The lockdown that followed the walkout on Aug. 13 created a new set of legal problems for inmates. According to local criminal defence lawyer Beth Bromberg, lawyers were prevented from attending the prison to meet with clients for the first few days.
Although things have improved over the last two weeks, she says there still was a "serious right-to-counsel issue."
Before guards returned to work on Sept. 12, her clients were allowed just 10 minutes on the phone, which meant lawyers could struggle to get instructions without making a trip to the jail.
Legal aid applications and court appearances were also delayed, according to Bromberg. "My clients are very upset. They're out of their cells for maybe an hour and haven't been outside since the beginning of the lockdown, so that's no fresh air in a month."