A Canadian international human rights lawyer is vowing to return to Thailand despite a government official's threats against him.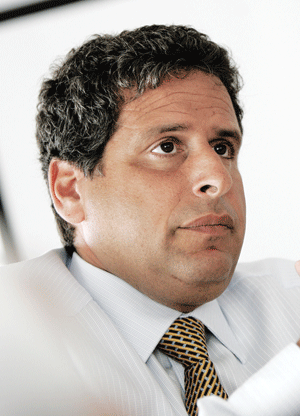 In May, London, England-based Robert Amsterdam, who's also a member of the Law Society of Upper Canada, complained to the United Nations' special rapporteurs on the situation of human rights defenders and the independence of judges and lawyers after the deputy prime minister of Thailand threatened legal action for his representation of members of the country's political opposition.
Then in August, the law society Treasurer Laurie Pawlitza wrote to Thailand's minister of justice urging him to monitor Amsterdam's situation and to "guarantee in all circumstances his physical, psychological, and professional integrity in accordance with international human rights standards and international instruments ratified by Thailand."
Amsterdam is grateful for the Ontario legal community's support. "What the law society has done in this case is important," Amsterdam tells Law Times in a phone interview from Washington. "It's important that our voices are heard on universal principles like human rights.
"One of the things I never take for granted is that we have a law society and we have the rule of law.
We all tend to forget how precious that is. We who are at the bar actually do share common values and beliefs, and when you have the level of exposure that I do to countries where the rule of law is not alive, it just makes you extraordinarily grateful for colleagues who have taken this seriously."
The co-founder of Amsterdam & Peroff LLP, which has offices in Toronto, London, and Washington, has made a name for himself as a defender of human rights in countries with spotty records on the subject.
He has clients in places like Uzbekistan and Nigeria, where he represented Nasir El-Rufai, a former cabinet minister facing jail time, and Mallam Yusuf Maitama Tuggar, another politician who claims he was the victim of electoral fraud.
In 2005, Amsterdam was arrested and expelled from Russia while working on the defence of former oligarch Mikhail Khodorkovsky, who alleged there were political motivations behind his prosecution for fraud and tax evasion. The courts eventually found Khodorkovsky guilty and sentenced him to 14 years in jail.
In May 2010, Amsterdam unveiled his latest big-name client: former Thai prime minster Thaksin Shinawatra and his Red Shirt supporters. At the time, they were occupying parts of Bangkok in protests against the government led by Abhisit Vejjajiva.
The military eventually stepped in to stop the occupation, and by the time the two-month protest ended, more than 90 people had died. Amsterdam is also an adviser to Thai counsel representing people charged criminally over the protests.
In May 2011, just ahead of Thailand's elections in July, Amsterdam made his complaint to the UN special rapporteurs about the actions of the country's deputy prime minister, Suthep Thaugsuban.
Citing reports in local newspapers, he alleged the politician had threatened him with prosecution for harming Thailand's internal security.
"This bastard is paid only to damage Thailand and a person who hires him is even worse than this guy as he is Thai. I am seeking for the way to take legal action against him because he regularly interferes the matter that affect the country's internal security," Suthep was quoted as saying of Amsterdam.
Amsterdam claims the threats were intended to intimidate him and dissuade him from entering Thailand. As a result, he says, his clients have been forced to leave the country in order to give him instructions.
In addition, he says the threat of legal action was retribution for Amsterdam's attempts to provoke an investigation of the Thai government by the International Criminal Court.
In October 2010, he delivered a preliminary report to the court that alleged abuses by the government during the Bangkok occupation. He followed that up in January with a formal application for the court to investigate crimes against humanity allegedly perpetrated by the country's leaders.
"Normally, I've generally never complained about a situation relating to myself because it only draws more attention," says Amsterdam. "But in this case, my concern was with demonstrating to western observers the absolute lawlessness and anti-democratic nature of the government in Thailand.
"I felt it was important to cast a light on not really my case, but my case as emblematic of what they've been doing in terms of jailing, killing, and disappearing political opponents in a country that has this terrific PR campaign about millions of smiling Thais.
I represent the Red Shirts and they are 12 million people who are definitely not smiling."
Voters turfed Abhisit out of office in July and replaced him with Thaksin's sister, Yingluck Shinawatra. But Amsterdam says many of his Red Shirt clients are still being held.
"The nature of Thailand is such that being prime minister is not all powerful," he notes. "There are many constraints on her ability to function. There's still a very powerful hidden governance mechanism controlled by the elite that is very much to some extent still in power."
On Aug. 15, Pawlitza wrote to Pracha Promnok, Thailand's minister of justice, on the recommendation of the law society's human rights monitoring group after being notified of Amsterdam's complaint.
"The Law Society of Upper Canada is always concerned when lawyers, such as Mr. Amsterdam, face reprisals for exercising their duties as advocates and are targeted for exercising their freedoms and rights under the law," she wrote.
"As Thailand continues to strengthen its democracy, adherence to the rule of law, and the protection of human rights and fundamental freedoms of its citizens, lawyers such as Mr. Amsterdam must continue to play a paramount role in that process."
Amsterdam says he plans to return to Thailand in the near future after a ban on his entry came to an end but notes he still faces "the possibility that anything could happen."
Besides meeting with the government and his clients, he plans to speak out against the military, which he says has "engaged in a ruthless and relentless campaign against civil and human rights in Thailand."
"Fundamental legal change in Thailand is very important, and that's going to be top of my agenda because we are still pursuing those involved in the former government for their conduct," he says.