With the recent appointment of a former Conservative MPP, the federal government has now named at least a dozen people to the Ontario Superior Court in the past two years who have links to the Conservative party either as former candidates or elected politicians or through political donations.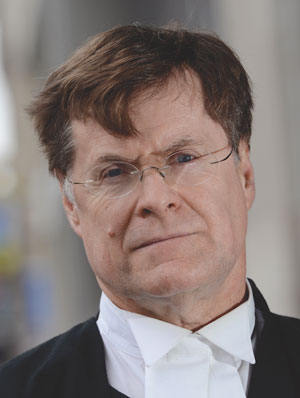 The most recent example was the Oct. 5 appointment of Hamilton, Ont., Crown attorney Toni Skarica as a Superior Court judge in Brampton, Ont.
The former Progressive Conservative MPP under the government of Mike Harris has continued to donate to Conservative candidates in recent years and was the lead Crown attorney in a high-profile RCMP investigation dubbed Project Opapa. Eight people ultimately pleaded guilty earlier this year to human trafficking-related offences in a criminal enterprise that enlisted people from Hungary and forced them to work in a family's construction business. The ringleader, Ferenc Domotor, received a nine-year sentence.
Media outlets widely quoted Skarica about the prosecution and alleged there was a foiled assassination plot to kill him, two RCMP officers, and Crown witnesses. "I took it seriously but I wasn't going to let it stop me from doing my work," Skarica told the
Hamilton Spectator
in April.
"I'd rather die that way than as an old man in a nursing home in a diaper," he added.
Skarica, who will be sworn in Nov. 1, tells
Law Times
it's "no secret" that he has Conservative ties but says that shouldn't disqualify him from the bench. "I would think most people who have been appointed to the bench have been involved politically at some time," he says. "In fairness to me, you can ask anyone about my ability and courtroom experience. I am not afraid of the answers."
On the issue of the assassination plot, Skarica had earlier said Conservative MP Joy Smith informed him in June 2011 that a hitman nicknamed the Killer had been on his way from Hungary when authorities in Britain stopped him.
Skarica mentioned the assassination plot again in June of this year when he appeared before the Senate committee on legal and constitutional affairs to express his support for new anti-human trafficking amendments.
"He was stopped in England on the way over with six girls, so that tells you there was probably something else going on as well," Skarica told the committee in reference to the hitman. The Canada Border Services Agency knew of the individual, he added.
Authorities haven't charged anyone criminally in relation to the alleged plot. John Abrams, a Hamilton defence lawyer who acted for Domotor, tells
Law Times
it wasn't part of the allegations against his client. "It was not read into the court record at any time," says Abrams.
Smith was unavailable for comment. The CBSA referred all questions to the RCMP.
Sgt. Kevin Serniuk, the officer in charge of the Hamilton human-trafficking investigation, notes the RCMP didn't comment in any of the media reports about the alleged hitman plot. "I can, however, tell you that the RCMP receives tips and information from various sources on large-scale investigations and we make every effort to investigate and assess this information," says Serniuk.
"At this point, no person was ever confirmed to be a real threat and consequently no charges have ever been laid."
But Skarica has an explanation. "I would think that there were no charges because it came from a confidential informant who did not want to be identified," he tells
Law Times
.
Elections Canada data shows Skarica made donations to Conservative MP David Sweet in the 2011 campaign. In 2005 and 2006, Skarica donated to Sweet and fellow Conservative candidates Jim Flaherty and Patrick Brown. 
Julie Di Mambro, spokeswoman for Justice Minister Rob Nicholson, described the appointment of Skarica as an "outstanding" one for the Superior Court in Brampton. "Our government continues to be guided by the principles of merit and legal excellence in the selection and appointment of judges," said Di Mambro in an e-mail.
Skarica's actions while a Crown, however, raised concerns earlier this year with groups that advocate on behalf of refugee claimants. In addition to appearing before a Senate committee, Skarica testified in April at the House of Commons committee on citizenship and immigration and advocated for proposed changes to the Immigration and Refugee Protection Act.
The then-prosecutor presented documents from his human-trafficking case and suggested there was widespread welfare fraud by refugee claimants from Hungary, specifically those with a Roma background. "Basically, these Hungarian refugees have a 98-per-cent failure rate," Skarica told the committee.
"When it's all said and done, at that same rate, it costs $500 million for just them."
Skarica tells
Law Times
the refugee issue is something he's passionate about. "My parents were refugees," he says, noting the $500-million figure came from the number of applicants from Hungary and neighbouring countries since 2008 as well as federal government information on costs per refugee.
Peter Showler, a former chairman of the Immigration and Refugee Board and a law professor at the University of Ottawa, was one of the other witnesses at the committee that day. He says Skarica's testimony came as a shock.
"I was shocked. I found it difficult to believe it was a presentation by an employee of the attorney general of Ontario. He made very broad statements based on the concept that Romas are criminals. He did not appear as an individual. He had his [criminal] case files there."
Skarica's testimony led to a letter of complaint sent in May to Ontario Attorney General John Gerretsen by the Canadian Council for Refugees and the Ontario Council of Agencies Serving Immigrants. The letter described Skarica's comments as "inflammatory" and "factually incorrect."
The Ontario Ministry of Community and Social Services that administers social assistance for refugee claimants in the province doesn't compile data by country of origin. In the most recent fiscal year, the government provided $249 million in social assistance and support to more than 22,000 claimants.