Ontario's new attorney general says increasing staff levels at the Superior Court's assessment office in Toronto is an option he will consider to help the overburdened office.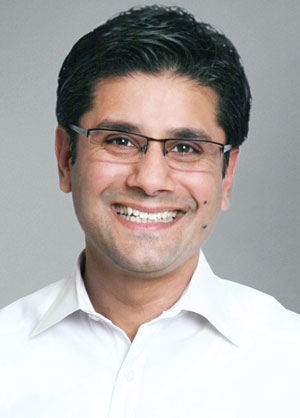 Ottawa-Centre MPP Yasir Naqvi says he is looking forward to learning more about the various alternatives the ministry is exploring to remedy the office's delays.
"I'm very much committed to looking into that issue and finding solutions, and, if that even requires hiring more assessment officers, then looking into that so that we can remedy the situation," he says.
Almost 20 years after he started law school at the University of Ottawa, the Ottawa-Centre MPP was named the province's new attorney general in Premier Kathleen Wynne's recent cabinet shuffle. Naqvi formerly served as the minister of community safety and correctional services. Former attorney general Madeleine Meilleur, who had served in the position since 2014, resigned before the shuffle.
Naqvi will have his work cut out for him.
One issue?
Law Times
reported this year that heavy backlog in the office is causing delays that can mean lawyers and clients can wait up to a year just to get a preliminary hearing.
Wait times are so bad that an Ontario Superior Court justice even wrote in a recent decision that the delays have become "unacceptably long."
Observers have blamed the delays mainly on a lack of staff but also on rising lawyers' fees, which are making hearings longer and more complex.
In addition to hiring more staff, Naqvi says other options could include shifting officers from other parts of the province as a short-term solution.
"I don't want to be presumptive because I do want to see what those options are, but it could also mean gaining assistance from assessment officers in other regions where they may not have such waiting times," he says.
Another challenge is the province's approach to assisted dying while federal legislation makes its way through Parliament.
As the federal government's June 6 deadline — set by the Supreme Court — to approve an assisted-dying bill passed, the province instructed people to go through the courts to get the necessary approval. The provincial government then walked that back, but a recent Superior Court decision said Ontarians must apply to the courts, further complicating the province's position.
In the decision,
O.P. v. Canada
, a man with terminal brain cancer applied for court approval for medically assisted death to ensure that the doctors who would help him die would not be prosecuted.
"In my opinion, pending the enactment of legislation by the federal government to regulate physician-assisted death, this constitutional right is available only by court order," Justice Paul Perell wrote in his decision on June 15. When asked whether the province is now advising people to seek court approval before going ahead with assisted dying, the attorney general says the ministry is still reviewing the decision and awaiting advice from counsel.
"We want to make sure that in the interim until federal legislation is passed that we've got clarity and certainty as to what the process in Ontario is and that's what we're ensuring until we know what the law in Canada is going to be," he says.
Naqvi says that during the interim period people seeking to end their lives should consult their physicians.
"My advice would be to, of course, for any individual to seek assistance from their physician and then the physician based on the guidelines that have been outlined by the college of physicians and surgeons will know exactly the process to pursue," he says. He added that it would be premature for him to comment on whether medical practitioners will face prosecution if they help someone die without court approval, as the O.P. decision is a "very fresh decision."
"What does that mean? What is the scope of that ruling is something we are in the process of determining," Naqvi says of the decision. Manitoba was the only other province that required court approval for assisted dying after the June 6 deadline passed, and it also recanted that requirement.