A report prepared by legal futurist Richard Susskind for Britain's Civil Justice Council suggests online dispute resolution is emerging as the latest threat to lawyer participation in the provision of legal services.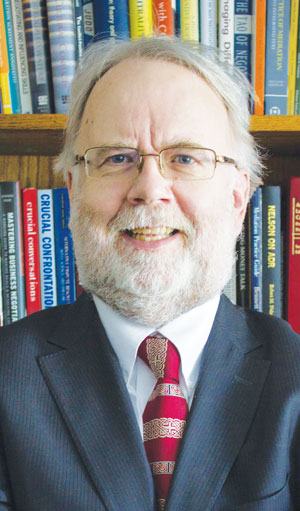 The system for online dispute resolution, called HM Online Court, would engage facilitators who aren't lawyers working online to settle low-value claims — roughly at the Small Claims Court level — through automated negotiations. If the parties don't reach a settlement, online judges will make a decision, perhaps with the aid of videoconference facilities.
From the perspective of Ontario lawyers, the Small Claims Court is hardly the stuff of which prosperity oozes. Although statistics from the Ministry of the Attorney General for 2012-13 indicate the Small Claims Court sees more than 66,000 claims filed each year, paralegals are far more likely to undertake them than lawyers.
Even so, the advent of online dispute resolution does accelerate the trend of replacing legal professionals with technology. There can be no questioning its efficiency: online purveyor eBay is processing some 16 million claims a year with an online dispute resolution system. Small claims, then, could be just the tip of the iceberg as the system could also deal with consumer complaints and the work of many tribunals. The Netherlands, for example, has resorted to online dispute resolution for property assessment appeals.
So where does Ontario stand on the issue?
"There's interest but not a movement towards it," says
mediate.ca
's Colm Brannigan, a Brampton, Ont.-based mediator and arbitrator. "But I'm hoping that when the new Condominium Act comes into force, it will include an opportunity to resolve disputes online."
Brendan Crawley, a spokesman for the Ministry of the Attorney General, confirmed in an e-mail that province was aware of the potential for online dispute resolution.
"[The ministry] is in the early stages of considering its use for a number of ministry programs," he wrote. "It has potential application for resolving not only court disputes but also some kinds of disputes in administrative tribunals, as well as for taking some of those disputes out of the public system entirely."
By way of example, an online administrative child support calculation service is in the works with a launch date expected later this year.
The ministry has also been following the progress of efforts elsewhere. "It appears to have a good deal of potential in the medium term but it is not without its difficult issues," said Crawley.
Foremost among these issues is the complex and time-consuming
endeavour involved in setting up a functional system given the unavailability of any off-the-shelf software.
British Columbia, the first province to institute electronic filing when it did so in 2005, appears to have made the most progress in overcoming the hurdles. In the process, it has become a trend-setter on online dispute resolution.
In 2011, Consumer Protection BC launched an online dispute resolution portal. The province's Property Assessment Appeal Board has also initiated a residential online dispute resolution project.
These efforts led to the creation of the B.C. Civil Resolution Tribunal scheduled for launch later this year.
"The [Civil Resolution Tribunal] is in essence an attempt to take ODR to the next step," says Darin Thompson, legal counsel with the justice services branch of the Ministry of Justice in Victoria. "It will handle small claims and strata condominium disputes."
The system will include party-to-party negotiations; a facilitation phase similar to mediation; and finally online adjudication the B.C. legislation deems to have the same effect as a court judgment.
"We're trying to make as much of that happen online as possible so that you can use it from your living room on a Sunday night," says Thompson.
As Thompson sees it, the rationale for online dispute resolution, especially from an access to justice perspective, is persuasive. "The idea is to create services that don't exist in an offline system," he says.
"Only two per cent of family and civil cases are resolved in the courtroom, so why not create services that could accommodate the other 98 per cent of cases that never get there?"
The greatest barrier to the growth of online dispute resolution, says Thompson, isn't acceptance by the public but by the other stakeholders in the justice system.
"The public is already online to communicate, do their banking, and take advantage of things like e-commerce, so they are a lot more open to ODR than traditional justice stakeholders. The irony is that we're not doing anything wild like building a robot that will cook dinner or pick up the dry cleaning."
Ontario and many other jurisdictions, however, still have a long way to go.
"At the moment, we don't even have very much in the way of basic online filing facilities," says Monique Jilesen of Lenczner Slaght Royce Smith Griffin LLP in Toronto.
"Even if we could just get all the materials online, access to the system would be much easier for everyone, including unrepresented litigants."
Correction: This original version of this story mistakenly said the B.C. system would use a platform created by Modria Inc.
In fact, British Columbia is building its platform with another technology provider.