An Ontario Court of Appeal judge has delivered a searing appraisal of the province's criminal justice system, saying it is marred by "interminable delays and marathon-like trials" that have damaged public confidence in the administration of justice.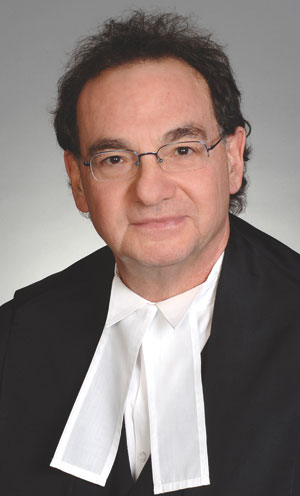 "When I look at criminal trials today, I'm struck by the fact that they bear virtually no relationship to the criminal trials I engaged in as a defence counsel some 30 years ago," Justice Michael Moldaver recently told a legal conference at the University of Ottawa.
"The criminal law has taken on complexities the likes of which are truly mind-numbing," he said, adding that many lower court judges fear they have little chance of navigating trials without "committing reversible error."
University of Toronto law professor Michael Code, who is preparing a report on megatrials for Attorney General Chris Bentley and also spoke candidly at the conference about challenges to the criminal system, said Moldaver "is simply saying what the leading members of the bench and bar have been saying for a very, very long time."
Moldaver focused his thoughts on the issue of process in the system - "the emphasis we place on it, and the risk we run in doing so."
The judge, who was called to the bar in 1973 and was appointed to the then-Supreme Court of Ontario in 1990 before becoming a judge of the Court of Appeal in 1995, said the courts must also deal with the question of "where we draw the line on freeing people whom we know to be guilty."
Moldaver said defence lawyers, Crowns, the police, and the judiciary all have contributed to the lengthening over the past 25 years of criminal trials. Murder trials once were completed within a week but now last up to seven months, and sexual assault trials that previously finished in a day now take weeks, he said.
Trial judges, he said, are responsible for "allowing counsel to go on endlessly, for not bringing a quick halt to frivolous and vexatious motions, for not requiring counsel to pare down the issues and narrow the evidence, and generally for giving up control of their courtrooms to the litigants."
Appeal courts, said Moldaver, "bear responsibility for layering the criminal law with complexity; for writing philosophy instead of setting down clear guidelines for the police, counsel, and trial judges to follow; for writing judgments that are out of touch with reality, even worse, completely incomprehensible; and for failing to consider in advance how and in what ways our decisions are likely to impact on the overall length and complexity of criminal trials."
The judge also said the criminal law has become too complex and is now "truly mind-numbing," causing many trial judges to question their ability to keep trials on the tracks.
"Sadly, we have reached a point where many trial judges, including those who have been schooled in the criminal law, express serious concerns about their ability to complete a criminal trial from start to finish without committing reversible error," said Moldaver. He added that one judge recently told him he believed that the first trial is "little more than a dress rehearsal."
The public has become disheartened by the situation, said Moldaver.
"Some are beginning to lose faith and confidence in our criminal justice system. Many are becoming upset with the interminable de
lays and marathon-like trials that mark the criminal landscape today," he said.
Moldaver said, "On our quest to create this perfect criminal justice system, we have created one in which process counts for just about everything, and truth and justice for little or nothing."
Moldaver tempered his criticism, however, saying, "On balance, we have a very good justice system. Indeed, it may be one of the finest in the world." He later added, "I embrace without reservation the notion that it is better to let 10 guilty people go free than to convict one innocent person." But he encouraged lawyers to take action.
"I believe that a strong and vibrant justice system is necessarily dependent on the collective goodwill and good faith of the people who serve it," he said. "To that end, I urge the leaders of the bar to get involved and speak up and speak out. To that end, I urge the major stakeholders to come together and listen attentively to each other, so that each may better understand the other's problems and concerns."
Code's address to the conference focused on the issue of long criminal trials. He said, "There is discussion at a very high level of reforming the jury, of adding members to the jury," in efforts to prevent mistrials in cases where jurors revolt and fewer than 10 remain.
He said judges must do more to manage cases at the pretrial stage, where he said "endless pretrial motions" have made the trial itself "almost become irrelevant."
Code also suggested it may be necessary to impose time limits on disclosure, which, he said, "may be one of the most inefficient parts of the modern criminal trial."
The law society and law schools must also play a role in fostering higher standards of professionalism, said Code.
"Judges and lawyers will tell you that they are seeing more rude, abrasive, and abusive conduct amongst members of the bar," he said.
Code said law schools must prioritize ethics courses, while the law society "has got to get serious about enforcing standards of professionalism.
"All of this unethical conduct is flatly contrary to the Rules of Professional Conduct."
Code suggested that improved professionalism could itself solve many of the challenges facing the criminal justice system.
"If all four segments of the system - the law schools, the law society, the profession and the law firms, and finally the judiciary - weigh in on this subject and restrain unprofessional conduct and reward professional conduct and encourage it, it seems to me that we may not need law reform," said Code.