It was the
Dragons' Den
of legal services. But instead of luring venture capitalists with the prospect of hefty profits, seven groups of students in Ryerson University's Law Practice Program had to convince judges their ideas would make legal services faster, cheaper, and more effective.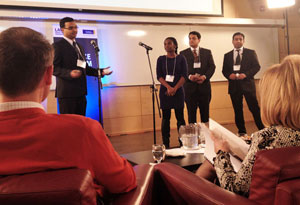 It was an innovation challenge for greater access to justice and the students had just five minutes to make their pitch. Four judges, including Ontario Attorney General Madeleine Meilleur and Law Society of Upper Canada Treasurer Janet Minor, had another five minutes for tough questions.
The prize? A meeting and lunch date with Ontario Chief Justice George Strathy, who would talk to the students about where their ideas could go.
The winning idea? A web-based crowdfunding campaign that would draw from the expertise of volunteer professionals and the generosity of a socially conscious public.
It's sort of an extension of the now scrapped Court Challenges Program, which provided financial assistance for important court cases. Only a small remnant of that program now remains after cuts by the federal government.
The students' proposal would see people who have human rights or Charter-related claims retain a lawyer, and through the web initiative, be connected with a host of other professionals, including other lawyers, who would offer their expertise in exchange for continuing professional development credits.
Students Joshua D'Cunha, S.M. Karim, Zoma Ogbonna, and Malik Suliman also say the campaign would involve crowdfunding to foot the bill of the main counsel representing the litigant.
"People who are discriminated against are often people who don't have a lot of money," Ogbonna tells
Law Times
.
The students say the proposal, dubbed the New Court Challenges Program, would bring to light important matters related to race and ethnicity, disability advocacy, aboriginal claims, and sex and sexual orientation issues.
"Yes, it is goodwill funding but in a myriad of different ways," said D'Cunha during their pitch. "Yes, we are asking people to donate their money but we are also asking lawyers, advocacy groups, professionals, and concerned citizens to donate their time, expertise, and efforts," he said.
The judges were sold.
"We thought there must be something to crowdfunding — it worked for Obama," said Minor during the winners' announcement at a reception following the competition on Dec. 17. "We thought that, in fact, it was reasonably doable and a very interesting concept."
The judges also gave a special mention to another group, which proposed a web-based platform to help litigants narrow their legal matter through a series of questions. Once the issue was identified, users would be able to connect to lawyers, mediators, and arbitrators on the same platform, according to students Temitayo Adesanya, Fese Elango, Sean Lal, and Ravinder Rai.
The majority of the pitches involved some type of help for self-represented litigants, leading one of the judges, Michael Carter of the Ryerson Digital Media Zone, to wonder aloud if the students were intending to put themselves out of the market.
Take for example the group that proposed a YouTube-like app that would use videos to train self-reps on the steps they need to take in order to, say, get a divorce. The group behind this idea said the free app would also allow users to connect with a lawyer via a webcast for an additional fee.
Another pitch offered an online service called
LegalShephard.ca
, where lawyers would bid each other down to take on a case described by a potential client. The web site would have a way of rating the services of the lawyer, something one of the judges, family lawyer Judith Huddart, said makes lawyers "nervous."
Minor chimed in with a similar concern, noting the law society often gets completely meritless complaints about lawyers.
A lawyer who attended the event says she thought it was "heartbreaking" that much of the web-based ideas involved what she called a race to the bottom.
"The participants in the program are actually the ones I think who will be pulling the short straw here because they're the ones who are going to be racing each other to the bottom if any of these eBay-type proposals were taken up," says the lawyer, who did not want to be identified by name.
"They're the ones who can't get employment. I'm not going to put that in anything other than what it is — they didn't get articling positions," she adds.
The lawyer also said while innovative ideas are helpful, she worries some of these ideas may shift the responsibility of doing more for access to justice to individuals rather than governments.
"Frankly, this sort of gets the government off the hook as we move ever toward privatization of the responsibility for access to justice," she says.
In a way, the complexity of creating viable solutions, including the need to innovate in a way that sustains the industry, represents the bigger challenge the legal profession faces. These complexities may also explain why the legal profession has been tardy in its move with the times.
Still, former attorney general Chris Bentley, now the executive director of the LPP at Ryerson, told the students not to be discouraged.
"Do not for a moment, not for a nanosecond, be deterred by the questions that are posed," he told them. "Leadership is about taking the questions and finding the answer to yes. Your job as a lawyer begins when somebody says, 'No,' because if everybody says, 'Yes,' they're not going to need you."
All participating students were a part of the first cohort at Ryerson's articling-alternative LPP program. The law society approved it in 2012 following a heated debate around concerns with creating what some feel will become a two-tier system.
As of mid-November, Ryerson had secured 227 placements for its LPP students and of those 91 are paid, 73 are unpaid, and the issue of payment has not yet been determined for the remaining 63 placements, according to a report for Convocation in November. Meanwhile, the University of Ottawa, the other LPP provider, has 19 candidates and has secured paid placements for every student.