Gillian Hnatiw to lead board; Hadiya Roderique joins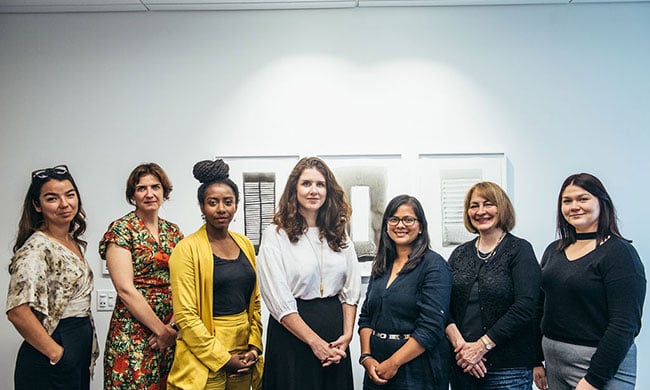 The Women's Legal Education and Action Fund has revealed its board of directors for 2019 to 2020, with 11 current members and headed by Gillian Hnatiw.
Hnatiw succeeds Elizabeth Shilton, whose term ended in September, as chairwoman of the organization's board, LEAF said in an announcement. Three new members have also joined the board — Shabnum Durrani, Breanne Lavallée-Heckert and Hadiya Roderique.
"Our board members come from a diverse range of backgrounds and experiences but all have a shared passion for advocating on behalf of those who have been subject to sex and gender discrimination leading to inequality," said Megan Stephens, LEAF executive director and general counsel.
The members of LEAF's board of directors for 2019-2020 are:
Gillian Hnatiw (chairwoman) is the principal of Gillian Hnatiw & Co in Toronto and her practice encompasses civil, constitutional and administrative law, with a particular focus on sexual assault. In the past, she has represented LEAF before the Supreme Court of Canada.
Kerry Lynn Okita, the board secretary, is a litigation partner at Bishop and McKenzie in Calgary. Her civil litigation practice specializes in the areas of employment law, immigration, and property.
Nalina Sacoor, who will be treasurer, is a CPA with over 20 years' experience. She currently works for the Aga Khan museum and is also a professional photographer.
Adriel Weaver is a lawyer at Goldblatt Partners LLP and her litigation practice spans criminal, constitutional, Aboriginal and administrative law matters.
Breanne Lavallée-Heckert is a Métis woman from the Red River Settlement and Treaty 1 Territory. She holds a BA in Human Rights from the University of Winnipeg and is in her final year of the combined BCL/LLB program at McGill University.
Dee Dooley is currently the coordinator of community/legal education and training at Avalon Sexual Assault Centre. She has more than a decade of experience with violence prevention and community development programming with women, youth, and LGBTQ communities.
Donna Dasko is a fellow at the School of Public Policy and Governance, University of Toronto, and teaches in the master's degree program. She is a co-founder and past national chair of Equal Voice, a national non-partisan organization dedicated to electing more women to public office in Canada.
Geeta Sehgal holds a law degree from the University of Alberta and has over ten years of experience working with government and in higher education in the fields of public agency and post-secondary institution governance.
Hadiya Roderique is a human rights lawyer and a PhD candidate in organizational behaviour at the Rotman School of Management at the University of Toronto. Her research focuses on gender and parental bias in the workplace.
Katherine Rivington is the head of North American retail credit and chief risk officer, Canadian personal and commercial banking and wealth management at BMO Financial Group.
Shabnum Durrani is the director of public affairs and stakeholder relations at the Ontario Hospital Association (OHA), where she leads advocacy efforts on behalf of the hospital sector.
"These women have been on the frontlines of the battle for substantive equality rights for women and girls, whether in sexual assault cases, in matters of workplace discrimination, or in the halls of Parliament," Stephens said. "I look forward to working with these talented women, as we continue to engage in litigation, law reform and education to advance the rights of women and girls in Canada."