Female lawyers at Miller Thomson LLP are hoping to give less-advantaged women a leg up as they embark on new careers by donating "nearly new" suits and accessories through a Toronto charity.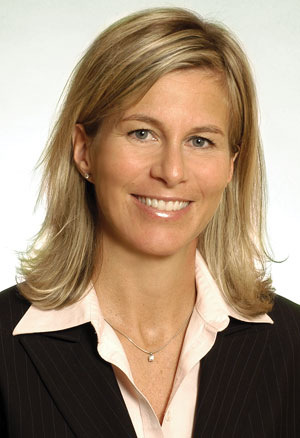 The firm recently began a clothing drive for Dress for Success Toronto, a group that provides nearly new professional clothing to needy women who have been retrained for the workforce.
Miller Thomson partner Jennifer Bishop, who is leading the clothing drive as chairwoman of the firm's nationwide Women's Leadership Initiative, says donations to Dress for Success Toronto will help boost women's chances for success.
The firm's response to the charity has been swift. Bishop had just sent an email to members of the firm informing them of the campaign a day before speaking with Law Times, and the collection office was already half full.
"I'm thrilled with the response," says Bishop. "We're just thrilled with being involved with an organization that is interested in the advancement of women; women who have proven that they want to better themselves, better their family, better their community."
Bishop notes that the women who are receiving clothes through Dress for Success have "shown real initiative" by completing training programs.
"We're thrilled to be in a position to give them a leg up, and to get them started," she says.
Every female lawyer at Miller Thomson's Toronto office has been asked to donate one quality suit for the clothing drive. The Calgary and Vancouver offices are conducting similar campaigns.
The firm has a strong reputation for promoting women in the workplace, particularly in the retention of women in private practice, with a recent ranking suggesting Miller Thomson has the highest number of female associates among its Bay Street peers.
The firm said it ranked nearly 14 per cent ahead of its closest competitor in that category. In total, Miller Thomson's stable of lawyers - associates and partners - is 38 per cent female.
The firm is also participating in the Law Society of Upper Canada's initiative to assist women in private practice, the Justicia Project. Miller Thomson's Toronto-Markham office recently elected its first female managing partner, Nora Osbaldeston, and this fall will launch its "on- and off-ramping" program for women leaving for, and returning from, maternity leave, says Bishop.
Bishop, who practises in the firm's business law and marketing and advertising law groups, tells Law Times that she knew Dress for Success was a perfect fit for the firm after hearing about it from a speaker at a recent event she attended.
Shortly after that meeting, Miller Thomson had its national women's leadership committee meeting, where they discussed community service initiatives for offices across the country.
Bishop notes that fashion students from George Brown College will help the women receiving the donations put their outfits together, so they have a suit for their first job interview, and several others to wear throughout their first week on the job.
"Especially given that our leadership initiative is really designed to improve the retention and advancement of women in our firm, it's sort of along parallel lines of contributing to advancement of women in the workplace generally," she says.
Bishop points out the important role that clothing plays in anyone's effort to move forward in their career.
"You look good, you feel good," she says. "To be able to put these women into a position where they can walk into a job interview, for whatever position, and feel good about themselves, just adds a little more confidence in their ability in what they've been trained to do.
All the training in the world can't really prepare them for what's going to happen when they knock on that door and have to answer questions in an interview. But if we can give them some comfort that they know they can hold their head high and look good, and have that little bit of self-confidence, then we feel like we've achieved our goal."
Dress for Success Toronto has helped over 5,500 women since its creation in 2001. The organization aims to help disadvantaged women gain economic independence by providing professional attire, a network of support, and career development tools, says its founder and executive director, Jessica Roelink.
Roelink notes that Dress for Success Toronto is up against some tough competition within the
community in terms of corporations' fundraising campaigns. Her group makes up for that by allowing professionals to contribute in a non-monetary fashion.
"Without dipping into their wallets, we can actually have them participate and really feel that they're helping to change someone's life with something that, although is in really great condition, they're not using anymore and they can pass it along to another person," says Roelink.
She notes that her charity has a "very high standard" in terms of the clothes they will accept. They seek partnerships with law firms and investment firms because their employees are from a high-income bracket and can shop the latest trends and afford to purchase a new wardrobe each year.
Clients to Dress for Success Toronto are either no-income or low-income earners who are referred through a network of 300 non-profit employment agencies, says Roelink.
"By the time they get to us at the suiting program, they really are employable," she says, noting many of them are new Canadians. "They've been trained, retrained, assessed, prepared with a resume, and are ready to go."
For many of the women, Dress for Success provides them with their first pantsuit.
"It's not just the confidence that women, and men, and everyone feels when they know that they look good, but that sense of professional belonging is very, very important," says Roelink.
The partnership with Miller Thomson has been very refreshing, says Roelink.
"It's amazing to me when you're with a firm, and they are working women and they have all the compassion and not a lot of time, that they just get to the point. I just loved it," she says. "We met, we chit-chatted for a few minutes, and then just got to the point."