A criminal defence lawyer has taken Legal Aid Ontario to court to try to get his name back on the agency's duty counsel panel after he was fired.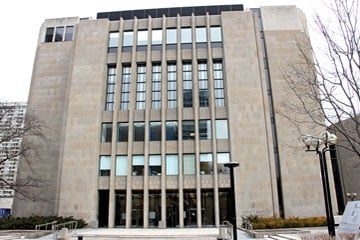 A criminal defence lawyer has taken Legal Aid Ontario to court to try to get his name back on the agency's duty counsel panel after he was fired.
LAO terminated lawyer Yaroslav Obouhov in 2015 after two investigations into allegations under the agency's harassment and discrimination workplace policy, according to a Divisional Court decision in Obouhov v. Lunn.
He is now suing LAO, alleging wrongful dismissal — as is another lawyer who was fired on the same day — in addition to trying to get his name back on the agency's panels.
Lawyers who represent legal aid clients must be listed on LAO panels for the type of law they practise and they have to meet certain standards in order to get approved for the panels.
In May 2016, Obouhov applied to have his name entered on the LAO criminal duty counsel and criminal certificate panels in Oshawa, but he was refused seven months later by LAO, which said he had failed to meet the agency's "applicable standards in relation to courtesy, civility and good faith in his communications in that he used 'language that is aggressive, abusive, threatening, profane or degrading,'" the decision said.
LAO also sent Obouhov a notice to let him know that his name would be prohibited from entry on any LAO panels under a provision that allows the agency's president to bar a lawyer from panels "if there is reasonable cause to do so."
Obouhov, who has no criminal record or professional discipline history at the Law Society of Ontario, sought judicial review to require LAO to enter his name, but the Divisional Court dismissed his application as premature because he had not exhausted his possible remedies through LAO's internal process.
The lawyer, however, disputes the validity of the LAO's underlying order and says the internal process would amount to a "farce."
"They had no basis to reject me," Obouhov says.
He also claimed that LAO's management, which would be conducting the internal review, would have a conflict of interest because of the existence of his wrongful dismissal lawsuit.
He argued that this was because LAO would look to uphold the rejection of his applications in order to "further its defence of cause for dismissal," the decision said.
He argued that the matter would therefore be more appropriately left to the Ontario Superior Court.
A spokesman for LAO declined to comment, as the matter is ongoing.
Obouhov also refused to recognize the validity of the decision rejecting his application, as it was purportedly reached in LAO's Toronto office and not the Central Division in Durham, where he had applied. His application to Divisional Court asked for an order requiring that the area director from Central Division make the decision so that he could work in Oshawa.
He also argued that he should not be required to exercise his right to a hearing as a precondition to seeking judicial review as he argued LAO was acting in bad faith in what he said was a lengthy delay of his application.
It generally takes three to six weeks to become empanelled, according to LAO's website, but it took the agency seven months to issue its decision on Obou‑hov's application.
The Divisional Court found that a claim of bias against a decision-maker below is not sufficient enough reason to justify a hearing for an application for judicial review when the applicant has not first exhausted his options.
"The claim for bias and the related claim of bad faith can and should be raised with the president of Legal Aid Ontario first," Justice Frederick Myers wrote in the decision.
Myers also found that it was not clear that the LAO's president, David Field, necessarily has a conflict of interest in hearing these issues.
Obouhov will now have to get a decision from Field and then make a decision as to whether he wants to apply for judicial review after that.
Obouhov says he expects the matter will be litigated in the Divisional Court at some point.
He says that being able to do legal aid work is the livelihood of criminal defence lawyers.
"It puts the person they're keeping off these panels at a serious economic disadvantage," he says.
Obouhov says there are a number of lawyers the LAO is trying to keep off its panels.
Criminal defence lawyer Chris Amodeo is also suing LAO for wrongful dismissal. Amodeo says he worked as an LAO duty counsel in Oshawa for 11 years until he was fired on the same day as Obouhov.
He says he made a complaint against a colleague to his manager in 2013 about a colleague, who later made a complaint about him.
LAO then conducted two investigations and terminated Amodeo, he says.
Both Obouhov and Amodeo refused to comment on the nature of the investigations that were launched against them.
Amodeo says that LAO also filed a complaint against him using that information to the law society, but that complaint was closed in 2016. He says that he applied to have his name added to the panels in 2015 and was later told that his application was being held in abeyance because of his lawsuit.
He says LAO later refused his panel application based on reports it had gathered when the complaint was made against him. Amodeo says a number of issues arose during an internal review of the rejection of his application, which dragged on as he tried to get additional disclosure in the matter. Amodeo says that because he spent so much time as a staff duty counsel, he has no Rolodex of clients.
"It's had a devastating impact on me," he says.
He says he thinks LAO was using the panels as "a carrot and a stick" to try to get him to settle or abandon his lawsuit.
Amodeo says the process in his matter is stalled at the moment, but he intends to apply for judicial review if he feels it is necessary.