Ontario's trusts and estates bar lost one of its greatest contributors over the past half-century with the death in early December of Rodney Hull.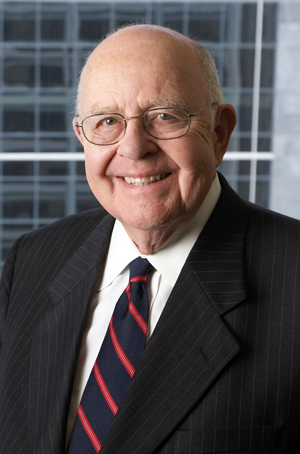 Hull, who died after a battle with cancer, is remembered for his tireless academic work in the law and unbridled enthusiasm for both his chosen profession and hobbies.
Hull's son, Hull & Hull LLP partner Ian Hull, says his father sought practical and accurate application of the law through his work.
"He would always want to come to a realistic solution but wouldn't let himself nor courts waiver from pretty hard and fast principles of law," says his son. "Someone once described him as a tireless advocate. He would huff and puff but he wouldn't blow your house down."
Hull, who was called to the bar in 1957, was strong-minded but attentive to the practical implications of a case, says his son. That meant he assessed clients' problems with compassion, regardless of their age or social standing.
"He'd go right to the solution."
The elder Hull remained grounded in the law by his inexhaustible thirst for knowledge, says his son. "The race against the law was to always stay current and ahead of the law."
That prompted him to write countless articles about legal trends and led to his crowning achievement as author of the Probate Practice series of texts on estate administration in Ontario.
"He preserved it as the leading text, he felt," says his son. "That is a challenge academically, and he also wanted to preserve himself as a leading lawyer in the field. So the book was his method of always staying ahead of the game."
For most of his professional life, the elder Hull worked as a sole practitioner in association with other lawyers. It wasn't until his son joined him in 1998 to create Hull & Hull that he broke that mould.
One of the elder Hull's greatest joys in practice was the opportunity to spread his wings and work on matters away from his Toronto office. That gave him the chance to get to know other local bars across the province.
"He would have great glee in his voice when he would know he got retained in a matter up in Sault Ste. Marie," says his son. "[He would] spend a couple days up there with the local bar, have some fun, and also learn from how they were approaching similar problems."
Hull's unbridled love for his job provided a glowing example for others, says his son. "He was a tremendous mentor, to me, but to anyone who would work with him because he truly loved the law, and that brought so much joy to his business day."
At the same time, Hull didn't let his passion for work overshadow his personal life. His son praises him as a "great dad and great grandfather."
"His life balance was superb."
The elder Hull's passion for politics was rarely noted. But he played a key role in the career of one of Ontario's most noteworthy public figures by helping former cabinet minister Roy McMurtry with financial matters throughout his career in provincial politics. That work meant the world to him.
"He really prided himself in raising money for a person who was a giant in law but [also] in politics," says his son. "Roy was a guy he knew was going to make a difference in politics."
But law and politics were really just one aspect of Hull's interests. He also was an avid bagpiper, painter, and soapstone carver.
"His outside interests were endless," says his son, who notes his father learned to play the bagpipes around the age of 50.
McMurtry knows as well as anyone the deep passion Hull had for his instrument of choice. He recalls an incident in the late 1980s when Hull and his wife Anne visited him in London, England. At the time, McMurtry was serving as Canada's high commissioner to Britain.
"I remember [thinking], 'Where is Rodney?' and this is about midnight," says McMurtry. "He was playing his bagpipes walking around Grosvenor Square, which caused quite a bit of confusion for our security and a little bit of irritation to our neighbours. He was just full of fun."
McMurtry, who was one of Hull's closest friends since being called to the bar, notes he had a distinct sense of humour.
"He had very little time for baloney of any kind," he says. "He had a very unique sense of humour, which was particularly effective in piercing pomposity of any kind."
McMurtry adds he misses his good friend greatly. "His passing has left a big hole in the lives of many people who knew him."
Hull was awarded the Law Society Medal in 2007 for his contributions to the profession. He leaves behind his wife, five children, brother Toby Hull, and several grandchildren.