A missing Ottawa lawyer resurfaced briefly under a new name in Paris last month while many of his former clients still wait to get their money back as efforts by the Law Society of Upper Canada have recovered only a small portion of the missing funds.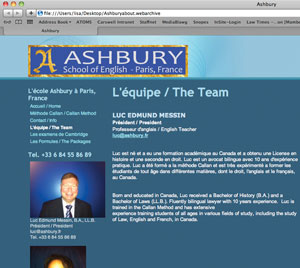 Luc Barrick — or Luc Messin, as he was recently calling himself — appeared briefly last month as the president of the Ashbury School of English, a language school in Paris. When contacted by e-mail on Feb. 8, Barrick didn't respond. Hours later, the web site
ashbury.fr
was shut down.
Barrick first made the news last summer after he disappeared and left a trail of upset clients and mystery in his wake. Clients claimed he owed them at least $300,000 that was supposed to be in trust.
To date, they've recovered only a fraction of that money.
Barrick said he was going to France, where he holds citizenship, due to an illness. He failed to return to Canada as promised by May 15.
In a statement, Barrick said he wasn't able to return to Ottawa as scheduled because his health problems were too severe. He denied doing anything wrong with his clients' money.
"Apparently, there is an allegation that trust moneys have been misappropriated by myself in the amount of $300,000," said Barrick.
"This is simply untrue and a complete falsehood. Let me be perfectly clear, notwithstanding my serious health situation, which was beyond my control, I did take all responsible and reasonable steps regarding the dissolution of my firm before going on indefinite sick leave."
Barrick suffered complication from knee surgery related to his hemophilia. He's a law graduate from the common law program at the University of Ottawa. As for the money, he said selling an Ottawa condo would allow clients to recover the missing money.
That property at 324 Laurier Ave. in Ottawa went up for sale at $469,000. In the meantime, the LSUC obtained a court order to seize control of Barrick's practice and suspended his licence.
It went a step further in August by registering a caution on the condo at the land registry office in Ottawa, according to documents obtained by Law Times. The LSUC then asked the court to remove the caution on Nov. 8, 2011, so the property could sell under a power of sale.
However, the sale shortly after resulted in net proceeds of $51,564, a far cry from the total amount of money claimed by clients.
A spokeswoman for the law society says the regulator has taken the necessary steps to retrieve the missing money or will be doing so. "Some funds have been recovered as a result of the trusteeship," says the LSUC's Susan Tonkin.
"It would be premature to state whether or not additional funds might be available, but our efforts are ongoing. We will report to the court as required. In general, the law society does whatever it can to recover money that one of its licensees is alleged to have taken from clients."
Tonkin notes the LSUC seeks a trusteeship when lawyers abandon their practice or "there are reasonable grounds for believing that the lawyer has dealt improperly with client funds or property."
So far, the law society has obtained 181 boxes of documents and five computers from Barrick's office and homes. In the meantime, former clients and other parties seeking money, files or property have made 39 inquiries and requests.
In Barrick's two trust accounts, the law society recovered $3,814. But following a preliminary examination of his books and records, "it appears that it will not be possible to reconcile the trust account to create an accurate client trust liability listing," Lina Caldaroni, an officer with the LSUC's trustee services department, said in an affidavit filed in the ongoing court matter involving the law society and Barrick.
Two days after the Ashbury web site went down, it was back up but without Barrick's picture and details. But a saved version shows a picture of Barrick smiling in a section on the school's team.
Next to his picture is a description of Barrick as being born and educated in Canada with degrees in history and law. The site notes he's a fluently bilingual lawyer with 10 years' experience.
A search of the web site also shows some of his information remains there. By searching the name Luc, a photo of him appears.
One person who held out hope for Barrick was fellow Ottawa lawyer Bruce La Rochelle. He gave him the benefit of the doubt when Barrick never returned from France.
La Rochelle had been helping Barrick, someone he called a friend, with his work before he left. Now that Barrick hasn't returned but has resurfaced in such a prominent way, La Rochelle says the entire situation is tragic.
"Some people have very high degrees of negative sentiment towards Luc, sometimes bordering on the obsessive, given how shabbily he treated so many who were close to him," says La Rochelle, who claims Barrick owes him several thousand dollars.
"Others regard his situation as primarily tragic. I see myself in the latter category, despite having been burned financially just like so many others.
For more, see
"Colleague gives missing lawyer benefit of doubt."