In the months after a Kingston, Ont., hockey coach appeared in Jehuda Kaminer's office with a 14-year-old player in tow seeking to emancipate her from her parents, Kaminer wrestled with whether or not he should tell the man's wife, who he would later become romantically involved with, about his encounter with the pair.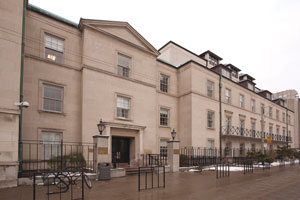 Kaminer, 64, has admitted to having a sexual relationship with the coach's ex-wife, J.M. He described the encounter with the coach, D.M., and the girl as a run-of-the-mill event but noted he warned him it was highly inappropriate given the state of the D.M.'s separation from J.M. Kaminer had already been representing both spouses in their separation.
The sole practitioner, who was representing both D.M. and J.M. in their joint separation and subsequent divorce at the time, described what he felt as he made the decision to disclose the confidential information to J.M. during a hearing before a three-member Law Society of Upper Canada disciplinary panel in Toronto last week.
The girl wasn't the couple's child but a hockey player who at one point had been living with them before their separation. D.M. and J.M. have their own 16-year-old child.
"Mr. M. had brought the 14-year-old girl to me to be emancipated from her parents some time in March of 2006. The girl was living with both Mr. M. and Mrs. M. prior to their separation so that Mr. M. could coach her in hockey, from my understanding.
I thought the optics were really terrible and told Mr. M. that it wasn't appropriate given the state of his marriage. I also advised the girl not to live with him. I thought that was pretty good advice, given the situation.
"I had no idea there was a sexual relationship going on between them at the time."
D.M. faced criminal charges for sexually exploiting and assaulting the 14-year-old girl in June 2006 but wasn't convicted criminally until 2008.
Several months prior to the criminal charges against D.M., both spouses had filed for joint separation and retained Kaminer.
In July 2006, J.M. learned of the criminal charges against D.M. and came to Kaminer seeking an immediate divorce. But Kaminer advised J.M. to wait a year rather than cite abuse or adultery as grounds, which he said would be difficult to prove.
Some time thereafter, Kaminer and J.M. began their sexual relationship. It lasted for six weeks.
According to a notice of application filed in June 2011 by the law society, disclosing the information shared between D.M., the girl, and Kaminer to J.M. in October 2006 while still maintaining a sexual relationship with her amounted to professional misconduct.
The law society also alleges Kaminer acted in a conflict of interest by representing both former spouses while initiating and maintaining a sexual relationship with J.M.
During that time, Kaminer also allegedly failed to obtain a divorce order for the pair; to draft a will for D.M.; and to deposit more than $2,000 from the pair into his trust account, the LSUC alleges. None of the allegations have been proven.
Pausing to wipe his eyes under his dark-rimmed glasses and speaking softly, Kaminer said that while he admits that engaging in a sexual relationship with J.M. was wrong and immediately stopped corresponding with her once he "woke up" and realized "the state he found himself in," he had never seen any red flags from the pair to indicate that he should advise them to seek outside counsel at any time.
As for the money he received in trust, Kaminer told the hearing panel he hadn't intended to put it into his general account rather than his trust account. He said that as a sole practitioner, he always asked people to make cheques out to him.
"You have to appreciate this isn't easy for me," Kaminer told the hearing panel during cross-examination of his testimony.
"I told them both right upfront that I draw the line with any controversy and if there is any, I will send them right away.
Yes, I had a sexual relationship with her and I was in a state of shock when I realized the sorry position I found myself in. So, I just stopped calling her and never told him of the relationship I had with his wife."
Counsel for Kaminer added during the hearing that Kaminer felt it was necessary to disclose the information to J.M. in order to protect her interests as his client.
But the law society's counsel in the matter, Lisa Freeman, argued Kaminer should have done more.
"The fact is that he had a sexual relationship with a client on the other side of the matter. Mrs. M. wasn't aware that the girl was living with Mr. M. at the time of the separation, and it wasn't the kind of conflict that could have been solved with consent," Freeman told the hearing panel.
"Obviously, it's a family law case and one should know having sex with his client's wife is unethical. Mr. Kaminer's misconduct took place at the precise moment when he knew a sexual relationship was taking place with the 14-year-old child and he ought to either have disclosed that information in writing or not accepted the divorce retainer.
He never should have disclosed the particulars of his meeting in March with J.M."
According to the law society, Kaminer has since reimbursed J.M. in full for the money he received in trust along with an additional $200 given to her without explanation.
Kaminer hasn't accounted for the remaining $2,000 owed to D.M., the LSUC alleges.
Hearing panel members Bob Aaron, Raj Anand, and Marion Boyd have reserved their decision in the matter until a later date.