A Hamilton, Ont., lawyer says he's considering suing for defamation after allegations that he has links to extremist groups led to his suspension from a national security roundtable.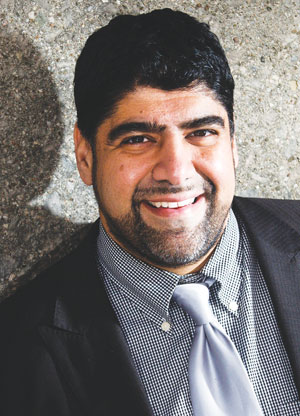 Hussein Hamdani was an adviser on the Cross-Cultural Roundtable on Security on Muslim issues. He also provides
pro bono
services to families worried their children may join terrorist groups.
But Hamdani says no one on the roundtable is talking to him these days after Public Safety Minister Steven Blaney suspended him over allegations the lawyer himself may have links to radicalization.
"These allegations are very concerning. This individual's membership on the Cross Cultural Roundtable on National Security has been suspended immediately pending a review of the facts," said Jeremy Laurin, a spokesman for Blaney.
"While questions surrounding this individual's links to radical ideology have circulated for some time, it was hoped that he could be a positive influence to promote Canadian values. It is now becoming clear this may not have been the case," Laurin added.
Quebec blogger Marc Lebuis has been writing about one of the allegations for years that recently got attention from other media. Lebuis alleges that Hamdani, who practises corporate and real estate law at Simpson Wigle LAW LLP, is part of the "the Muslim Brotherhood delegation in Canada."
"The reason they say I'm a member of the Muslim Brotherhood is that . . . I went to school with someone who at some point or another has been involved with an organization that may or may not have been linked with the Muslim Brotherhood," says Hamdani.
Lebuis' web site, Point de Bascule, also contains an article from a 1996 booklet in which Hamdani, then a student at McMaster University, wrote about the "Islamicization of campus politics."
In it, Hamdani spoke about bringing "morality" back to campus and said a student union shouldn't endorse same-sex marriage.Hamdani says the article was encouraging Muslim students to participate in campus politics and notes he has since abandoned those views on same-sex marriage. "To that one, the only thing I'll say is that I've matured and grown in the last 20 years from when I was 22," says Hamdani. "That position of mine has changed."
Hamdani is also facing an accusation of donating to IRFAN-Canada, an organization that provided aid to Palestinian children but lost its charitable status last year. The federal government has deemed it a terrorist group with ties to Hamas.
Hamdani says he donated to IRFAN-Canada in 2005. "The point is that it was a charity in 2005. They were collecting money from Canadians all across [the country]," he says.
"It was a registered charity."
Hamdani notes the RCMP and the Canadian Security Intelligence Service have already vetted his background and calls his suspension "a scheme of politics" driven by his vocal support for the Liberals.
"There's Facebook pictures of me with Justin Trudeau," he says.
"I think the government said, 'You know what, this guy, we don't like him anymore. He's not one of us.'"
Hamdani also suggests his stance on the anti-terror bill may be a factor as well. "The government knew that this guy [Lebuis] was out there saying all this crap about people. They just decided to react to it last week because I've come out supporting the Liberals and I've been critical of bill C-51," he says.
"So it's very politically motivated," he adds, noting he's looking into suing the blogger for defamation.
Last summer, the parents of Mohamud Mohamed Mohamud reached out to Hamdani to help them stop their son after tracking his cellphone in Turkey.
They suspected he was on his way to Syria to join the Islamic State group. In that case, it was too late. But Hamdani says he has dealt with about a dozen cases of young men who wanted to join a terrorist group.
In light of his suspension from the roundtable, lawyers who know Hamdani have rushed to his defence, calling the government's actions unfair.
"He's not a terrorist. I've been to their law firm. . . . You think these guys are making bombs in the kitchen? No, they're not," says Burlington, Ont., lawyer Peter Cass. "You have this thing where people assume anything related to Islam is dangerous. I don't agree with that. . . . People feed into these stereotypes and they shouldn't."
The allegations are dangerous to Hamdani's reputation as a lawyer, according to Cass. "He's a lawyer. All he's got is his reputation," he says.
"Nothing they've said about him even merits suspicion," he adds. "There's no fire, there's no smoke."
For background, see "
A corporate lawyer's unique pro bono side job.
"