Toronto lawyer Chi-Kun Shi announced on Wednesday that she will run for treasurer of the Law Society of Ontario.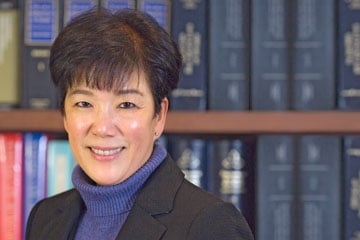 Toronto lawyer Chi-Kun Shi announced on Wednesday that she will run for treasurer of the Law Society of Ontario.
Although nominations for treasurer don't close until later this week, Shi could potentially be entering a race against incumbent Malcolm Mercer for the role of treasurer. Although Mercer has not formally announced his candidacy for treasurer, he said in his profile on Law Times' bencher website that he must be re-elected as a bencher "[t]o continue as Treasurer for a second year."
Shi, who practises at Chi-Kun Shi Barrister & Solicitor, was one of several lawyers who ran on a slate in the recent bencher election, which ended April 30. The slate said it would repeal a requirement that lawyers write a statement of principles declaring their support for equality, diversity and inclusion.
The group against the statement of principles requirement, StopSOP, announced Shi's candidacy and said that she has the the "unanimous support of her StopSOP colleagues," representing 22 elected lawyer benchers out of 40 lawyer benchers and 53 total benchers in Convocation. Mercer has said he supports the statement of principles requirement.
As a first-term bencher, Shi would take on Mercer's record, which includes leadership roles on the law society's Professional Regulation Committee, Advertising and Fee Arrangements Working Group and Alternative Business Structures Working Group. Mercer is a partner and former litigation practice leader at McCarthy Tếtrault LLP and adjunct professor in Legal Ethics at Osgoode Hall Law School.
Law society senior communications advisor Susan Tonkin previously told Law Times that the close of nominations for treasurer in an election year is 5 p.m. on the Friday immediately after May Convocation, which takes place later this week. If there are two or more candidates, Tonkin said in an email, the election process starts with the election at June Convocation.
Shi came to Canada from Hong Kong in 1975 and has worked both as an aerospace engineer and as a civil litigator, she told Law Times during the bencher election. Shi also volunteers pro bono service to a community group dedicated to promoting the learning of Asian history in the Second World War. She also said she volunteers screening applicants to the University of Toronto Faculty of Engineering undergraduate program and appears as guest commentator on current affairs at OMNI TV Cantonese and Mandarin news programs.
Mercer and Shi were not immediately available to comment on the treasurer candidacy announcement.
Shi addressed her rationale for opposing the statement of principles in her profile on Law Times' website.
"I believe such requirement is forced speech and forced thoughts contrary to the fundamental principles of the democratic society that we live in," she said. "In Canada, Canadians and their lawyers are not required to promote any laws or principles, not even those enshrined in our constitution, which our courts characterize as 'living tree' capable of growth and adaptation to changing social environment. Instead, we respect and comply with the current laws and their underlying principles."