The Law Society Tribunal disbarred a Mississauga, Ont., lawyer last week after he admitted to fabricating numerous court orders, endorsements, e-mails, and notices.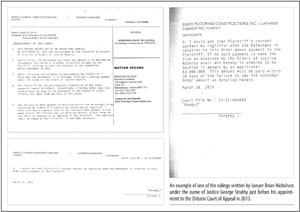 A thick booklet containing the fake documents showed lawyer Brian Nicholson wrote elaborate endorsements, sometimes with addenda, signed under the names of actual judges in Ontario. He then forwarded the endorsements to his client.
In one of two matters, Nicholson impersonated a judge and wrote an order for the payment of a $3-million fine in favour of his plaintiff client for breaches of an injunction the court had never actually ordered. Nicholson never sought to enter or enforce the order. He also wrote an order for the closure of the defendant's manufacturing plant in March 2013 before coming up with a fake notice of appeal for that same decision the following month.
"The appellant respectfully submits that the motions judge lacked jurisdiction to order a plant closure without factual evidence required to illustrate that the plant targeted for closure was in fact associated with any of the alleged breaches of the injunction granted Sep. 24, 2012," reads the fabricated notice of appeal.
Nicholson often beefed up the sham endorsements with spurious e-mails purporting to have come from banks and court staff.
"It was prolonged; the misleading was extravagant," said Law Society of Upper Canada counsel Leslie Maunder during the proceedings on Tuesday. She went on to call the matter one of "extreme misconduct."
After taking on a file for Daro Flooring Constructions Inc., which was alleging a breach of an agreement against Lafarge Canada, Nicholson "took no steps to pursue the action" but instead wrote several orders impersonating judges at different levels of court in Ontario, according to the agreed statement of facts.
The judges include Ontario Chief Justice George Strathy, Ontario Court of Appeal Associate Chief Justice
Alexandra Hoy, Ontario Court of Appeal Justice Russell Juriansz, and Superior Court justices Lois Roberts and David Stinson.
A 2013 endorsement purportedly handed down by Strathy doubled the $3-million order Nicholson had previously concocted.
"I would ask that the plaintiff's counsel contact my registrar when the defendant in relation to this order makes payment to the plaintiff. If no such payment is made, the fine as assessed by Justice Roberts shall and hereby is ordered doubled by an additional $3,000,000," the fake order says.
Nicholson admitted to the fabrication in an agreed statement of facts. He also filed a report from psychotherapist Natasha Sharma saying the lawyer has, among other difficulties, self-esteem issues, poor judgment, and a "self-centred personality."
Sharma noted that in one of his four sessions with her, Nicholson said he had difficulty separating himself from clients and that "in order to be a good lawyer, you have to take on their problems as your own."
Sharma wrote: "This somewhat misguided perception and belief with respect to working with clients may also have resulted in Mr. Nicholson's decisions. It's my opinion that at the time, and in his view, Mr. Nicholson truly believed that he was acting in the best interest of his client."
Nicholson tells
Law Times
he was going through a personal crisis at the time following a divorce and his father's death. He also said he was acting out of fear of disappointing his client.
"Some of the evidence that wasn't included in the agreed statement of facts was that the client was overbearing and threatening at times," he says.
Asked if it would have been easier to do the work instead of writing numerous elaborate endorsements and fake e-mails, Nicholson said he was acting out of a "fear of failure."
The client in the case was a friend of Nicholson's, according to the agreed statement of facts. Sharma said at the time of his actions, Nicholson was lonely and wanted to please the client and friend "at all costs."
Maunder said Sharma's report offers "no comfort" that Nicholson wouldn't repeat his misconduct nor does it provide a causal explanation for what happened.
At a brief hearing at the law society last Tuesday, both parties agreed Nicholson should no longer practise law. But instead of revocation of his licence, Nicholson's lawyer, John Kalina, asked for a chance for his client to resign "with dignity."
"Certainly, he acknowledges the dishonour he has brought himself and the profession," said Kalina.
"This is not the end of it," he added, noting his client is also facing criminal charges and a possible term of imprisonment.
Kalina also said Nicholson had admitted his wrongdoings to his client himself, something he suggested was a sign of his remorse. But Maunder said Nicholson had confessed only because his "misrepresentations became inescapable." In the end, there was no $3 million in the client's bank account, said Maunder.
At one point, Nicholson faked an e-mail from an RBC agent named Naja who confirmed receipt of $3 million to the lawyer's trust account.
"In regards to the file, the respondent admitted misleading the client. He did not deny creating the false orders and endorsements. He admitted that the e-mail purporting to be confirmation from RBC that $3,000,000 had been deposited in his trust account was not real," the agreed statement of facts states.
The client complained to the law society after Nicholson confessed. The client then hired another lawyer who found out the court had dismissed the dormant matter in May 2013. Nicholson paid the client $25,000 out of his own pocket as restitution.
In a second matter involving another client, Nicholson admitted to having claimed he had issued a statement of claim in Brampton, Ont., when he didn't. He also falsified a motion record he had never actually brought in Toronto.
At the hearing last week, the hearing panel unanimously agreed to revoke Nicholson's licence to practise law.
Clarification: Article changed to reflect the fact that Nicholson never sought to enter or enforce payment of the fake $3-million order.