LawPRO will hike its base insurance rate by 14 per cent in 2011 as the insurer comes to terms with "new normals" for claims costs that just a few years ago would have been viewed as "outrageous."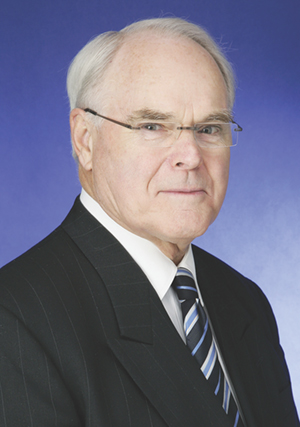 Lawyers will pay a base premium of $3,350 next year, up $400 from $2,950 in 2010.
In delivering LawPRO's report to Convocation last Wednesday, Law Society of Upper Canada Bencher James Caskey, a member of the company's board of directors, said the insurer had to respond to the increasing number of claims by lawyers and the ballooning costs of paying for them in recent years.
Lawyers reported 2,272 claims in 2009, up 27 per cent from 1,788 in 2000. But where the insurer is really feeling the heat is in the total cost of paying out those claims. Over the same period, that figure rose 50 per cent.
"Gone are the days when claims costs hovered in the $60-million range, which at the time was thought to be outrageous," Caskey said.
Between 1995 and 2004, the total claims cost per year fluctuated between $49 million and $64 million. But since 2005, costs have risen steadily, with estimates for 2010 pushing $90 million.
"The new normal for claims cost looks to be somewhere in the $85-million to $90- million range," Caskey said.
As recently as 2008, base premiums hit a record low of $2,300, but that year is looking increasingly anomalous after the onset of the financial downturn.
It was a "special benefit that resulted from a very healthy investment result in 2007," according to Caskey. "Unfortunately, that has not been sustainable."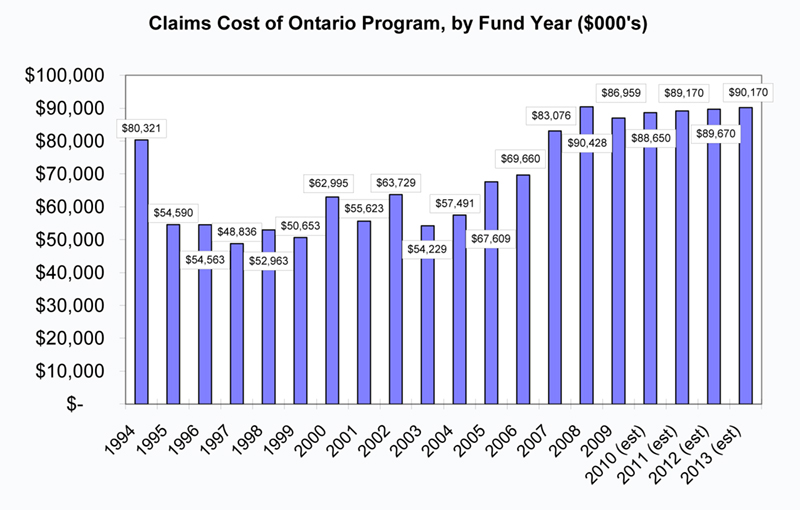 This year's rise follows a 20-per-cent spike last year, when base premiums increased by $500. For his part, Caskey noted the "ugly cacophony of challenges" that necessitated that move: weak investment returns, the impact of the HST, and increasing claims costs, all of which will continue to challenge the company in the near future and limit its ability to mitigate premium hikes.
"I'd like to say the future is bright," he said. "Unfortunately, that is just not the case."
LawPRO has blamed the increase in large part on the increasing cost of real estate.
Costs have gone up for real estate claims, as well as in the areas of family law, corporate law, and wills and estates. According to Caskey, because property is often the largest asset belonging to families and businesses, its increasing value boosts the cost of claims.
But Bencher Thomas Heintzman said he was "disturbed" by the trend and noted his experience with disciplinary matters has led him to believe there could be deeper problems in the profession.
"What I'm hearing is that there are systemic problems in our profession which are causing this," he said in calling for a more integrated approach to the problem.
"I would suggest it's due to some parts of our profession simply being overwhelmed or unable to deal with the way law is practised today."
Kathleen Waters, LawPRO's president and CEO, told Convocation she was open to more co-operation with the law society.
"We try to put our descriptions of the systemic issues and the more detailed analysis in our LawPRO magazines and make them available to everyone," she said.
The problem with that, according to LSUC CEO Malcolm Heins, is that only a select group of lawyers is actually listening to the warnings.
"There is a lot of information which, if digested, would largely keep them away from our complaints and the LawPRO processes," he said. "The issue is only about 30 per cent of the profession pays attention."
Caskey said LawPRO had virtually no other options beyond a rate hike because its only other source of revenue comes from investments that have suffered in a depressed market.
"Anybody got any suggestions?" Caskey asked jokingly. "That's not something we can count on in today's unpredictable economy."
The company has exhausted its premium stabilization fund, which is designed to insulate the program from negative impacts. At the same time, things could have been worse, according to LawPRO chairman Ian Croft.
"If insurance premiums were to increase in lockstep with claims costs, the annual base premium for 2011 would be about $4,000," he wrote in the report.
Caskey also explained that LawPRO took its long-term viability into account when increasing premiums. Although the insurer has received an A grade from credit rating agency A.M. Best Co. Inc. in each of the last 10 years, the company gave LawPRO a negative outlook for the future earlier this year.
One key indicator of LawPRO's financial health, the minimum capital test, measures the ratio of its assets to its liabilities.
In June, it plunged to 186 per cent, down from 206 per cent at the end of 2009 and perilously close to LawPRO's minimum target of 175 per cent.
Caskey said the increased revenue would help the company reach its target of 220 per cent over the next five years. Many other commercial insurers keep their ratio in excess of 300 per cent, he noted.
It wasn't all doom and gloom for LawPRO, however. The report confirmed that a proposed $450 HST levy enacted to cover a $10-million shortfall as a result of the new tax wouldn't be necessary after the law society diverted funds from a settlement with its former auditors.
Caskey also paid tribute to LawPRO's approach to claims prevention through its risk-management arm, PracticePRO. It reaches the profession with frequent e-mails about frauds and articles on common pitfalls broken down by area of law.
"With information like that at our fingertips, there is no excuse for not being aware of what we need to be doing to avoid a claim," Caskey said.
While he noted it was hard to quantify the amount saved, he maintained the effort "has to be saving the program and the profession millions of dollars."