Itis possible for women to maintain a successful practice and at the same timedeal with family responsibilities, but wholesale change needs to come from theway law firms operate, according to participants at a recent conference.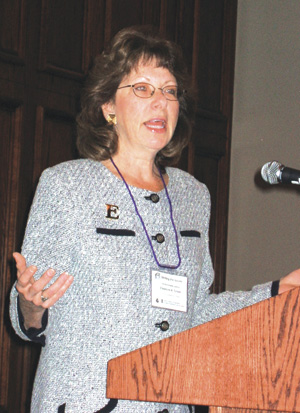 Last month's Advocates' Society conference brought together 180 participants from the bar and bench to exchange ideas on the climate for women in the legal profession.
"A career in litigation, in advocacy, must not be a race . . . we must strive to think about it to define or redefine it as a journey," said Linda Rothstein, president of the Advocates' Society.
"There is more than a single path to explore, there is time to learn from our mistakes, and there is time to wrestle with the feelings of ambivalence that afflict most successful litigators at one time or another. There is also time to raise our children and time to speak not just of professional success but of professional fulfillment."
While recent statistics show that women are entering the profession in greater numbers than men (women accounted for 57 per cent of lawyers called to the Ontario bar in July 2005, up three-per-cent over 2004), that doesn't necessarily mean that change will automatically follow.
"It's clearly not just a matter of time," said Susan Black of Catalyst Consulting. "Women have been entering the profession for many years now, and given the numbers of women that have been leaving you can see that women who are coming in aren't making it to the partnership ranks.
"There are so many women coming in, coming out of law school, being called to the bar. It isn't a matter of time. I call that the pipeline myth, the notion that if you fill your pipeline at the bottom it will automatically push through the top. It doesn't happen."
Superior Court Justice Harriet Sachs said she's surprised that as the numbers of women grow in law firms, more isn't done to support alternate work arrangements.
"Yes, women are able to take their one-year maternity leave, but when they come back, any kind of adjustment so they can actually spend time with their children doesn't seem to be happening. It doesn't seem to be getting better," she said.
A Catalyst study shows that 84 per cent of women associates polled would choose to work at another firm if it provided more opportunity for work-life balance.
Black pointed to five barriers female lawyers face on the partnership track:
· Lack of mentors: "So when you think about how do we move up, how do we learn the unspoken rules, how do we get championed, really we need to have someone who is older, wiser, more senior help you along."
· Lack of access to informal networks: "When women say they don't get access to informal networks of communication, what they're saying is, 'We don't have the opportunities to get visibility, get placed on client calls the same way, we're not as well-known as our male colleagues.'"
· Lack of role models. "On the more local level within firms or within legal organizations, we need to see those role models to inspire us and show us how it's done, to help us make our own informed decisions about what to do."
· Subtle stereotyping: "The kinds of things we see is a very unconscious perception that women don't have what it takes; they're not tough enough, they're too emotional, they can't be rainmakers, they don't argue effectively. And again, these are stereotypes that are held that people aren't always aware of but that are involved in decision-making around women."
· Work-life balance: "Our research demonstrates again and again the work-life-balance issues . . . are a barrier because of the way law firms are set up. They are a barrier also because of the stigma that can arise."
Ontario Court of Appeal Justice Eleanore A. Cronk said there's no reason why in this day and age more flexible work arrangements are not made for those who need them.
"Flex-hour arrangements, part-time-work arrangements, working at home in the modern age of technology, all are now open to women," she said. "We have actually been freed of the slavery of the office . . . you can actually work if you have to from your dining room table while your children are in the next room, even if it's only one or two days a week."
Kirby Chown, Ontario regional managing partner of McCarthy Tétrault LLP, said there needs to be better firm outreach to women on maternity or adoption leave or those faced with elder-care responsibilities. It's not enough for a firm just to have a good written policy.
"One of the things that has become particularly evident to us and, I think, those in law firms trying to assist women through this period is that we need much more concentrated support around women on flexible work arrangements and on taking maternity leave," she said.
"When you leave your practice and go off on maternity leave and then you come back, it's not just as simple as turning on the tap and looking for your practice to be there."
Elizabeth J. McIntyre, a partner at Cavalluzzo Hayes Shilton McIntyre & Cornish LLP, said the challenge for women, as a critical mass, is to make a difference in their firms, on the bench, or as benchers of the Law Society of Upper Canada. She said at her firm there are men and women who work part-time or from home for various reasons.
"With technology, people can work at home part of the time. You need to make sure you have good communication between the lawyers. When a man goes off on a long trial for a month, like my senior partner has been in Ottawa for the last year on a commission of inquiry, nobody suggests that his practice will disappear, so with the right attitude and the right effort it certainly can be done."